SANDY — U.S. international center back Becky Sauerbrunn is off to the Rose City.
The 34-year-old veteran of the U.S. international team and first-ever signee by Utah Royals FC has been approved to be traded to the Portland Thorns, a source close to the Royals informed KSL.com on Tuesday.
The source spoke on condition of anonymity because the trade has not been announced, but an announcement is forthcoming. The trade was first reported by Equalizer Soccer and The Athletic.
Sauerbrunn requested the trade, the source confirmed, and the Royals obliged with a move to Portland, where the 5-foot-7 native of St. Louis has owned an apartment with her boyfriend for several years. As soon as the trade made sense — and new NWSL commissioner Lisa Baird was installed to approve the transaction — the move was easy to forge.
"I'm at the point in my career where I want to be home," Sauerbrunn said in a video released by the Royals. "True to their word, Utah supported me in making that happen."
A message to #URFC Nation from @beckysauerbrunnpic.twitter.com/54v7mck4oC

— Utah Royals FC (@UtahRoyalsFC) March 3, 2020
The Royals won't be without a center back for long, even if they are sending the player who has been viewed as the face of the franchise since its move to the Wasatch Front to the Pacific Northwest.
Portland is set to send defender Elizabeth Ball to Utah, as well as $150,000 in allocation money. At least $100,000 is guaranteed per the trade, while the remainder will be triggered by incentives, according to the source.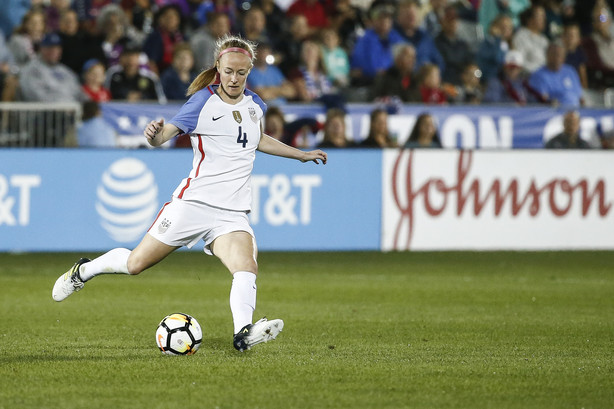 Ball, 24, made 15 appearances in 2019 for the Thorns, who advanced to the NWSL semifinals against the Chicago Red Stars. The 5-foot-6 native of the Richmond, Virginia area logged 13 starts and 1,089 minutes in her most recent season after coming out of Penn State prior to the 2018 campaign.
A non-federation allocated player, Ball has experience with the U.S. youth national teams, but is viewed as a rising player on the international circuit rather than an established vet like Sauerbrunn — commonly viewed as one of the best center backs in the world and leader of the two-time defending Women's World Cup champions.
The younger center back Ball will fit in with second-year Gaby Vincent and Rachel Corsie, the Scottish team captain who is expected to miss time annually with national team commitments.
Utah opens the preseason March 9 at the Zions Bank Real Academy in Herriman. The Royals and Thorns will kick off the NWSL regular season April 14 at Providence Park, a week before Utah's home opener April 24 at Rio Tinto Stadium (8 p.m. MT).
×
Related Stories