HERRIMAN — After a three-month layoff due to the coronavirus pandemic, live soccer returns to Utah's mountains Saturday with the NWSL Challenge Cup.
The tournament, which is currently set to take the place of the nine-team professional women's soccer league's 2020 season, will kick off Saturday at 10:30 a.m. MDT with the two-time defending champion North Carolina Courage and Portland Thorns FC. The match, which will be played at Zions Bank Stadium in Herriman without fans but will air on CBS, will be the first professional women's soccer match in U.S. history to air on network television.
All games will also be available live on CBS' subscription streaming service CBS All Access, with replays available on CBS Sports Network.
The tournament run-up wasn't without its challenges, though. After as many as six players tested positive for COVID-19, the Orlando Pride pulled out of the tournament recently, leaving the field with eight teams that will be seeded into a tournament following a four-match preliminary stage.
Utah Royals FC opens tournament play on Tuesday at 10:30 a.m. MDT against the Houston Dash. All teams will be isolated in an "NWSL Village" located on or near the campus of the Zions Bank Real Academy in Herriman, except for the Utah Royals — primarily because many of the players already live in apartment complexes in the area, or with family members during the past three months.
But the Pride's withdrawal set a serious statement for tournament play over the next month: the virus is still out there, and extra precautions for health and players will be strictly enforced.
"I think what has really hit home to our group is that we still have to hunker down," Utah coach Craig Harrington said after training this week. "This is a serious thing. Everyone is making sacrifices … We have to make sure we're being even more precautious.
"We've had all negative tests so far, which has been magnificent. We're in a tighter lockdown, but it's worth it to get to go out there and do what you love to do."
Here's a look at the eight teams that will be playing in Utah over the next month.
The favorites
North Carolina Courage
If there's a powerhouse in the National Women's Soccer League, it's North Carolina.
The Courage have won each of the past two NWSL Cup titles, as well as the last three regular-season championships since relocating from upstate New York following the 2016 season.
From U.S. internationals Crystal Dunn, Jessica McDonald and Abby Dahlkemper to Lynn Williams, Jaelene Daniels (ne: Hinkle) and Debinha, the Courage are set to make a run at yet another championship.
The contenders
Portland Thorns FC, Chicago Red Stars, OL Reign
Each of these three teams has the potential to challenge North Carolina for the Challenge Cup title, but each also enters the tournament with several question marks.
The Thorns will be without goalkeeper Adrianna Franch, due to a knee injury, but will have U.S. international (and former Utah Royals FC defender) Becky Sauerbrunn and U.S. teammates Lindsey Horan and Meghan Klingenberg. They'll also rely on two rookies at forward.
OL Reign from Tacoma, Washington, will be without U.S. star Megan Rapinoe, but will look to build through Alana Cook, Sofia Huerta and reigning NWSL Rookie of the Year Bethany Balcer.
But perhaps the biggest question mark is the man on the bench, as former Olympique Lyonnais and Paris Saint-Germain coach Farid Benstiti takes over as head coach for new U.S. women's national team manager Vlatko Andonovski.
The Red Stars have been consistent under head coach Rory Dames, and seemed to break out during last year's run to the NWSL Championship before losing to the Courage. Chicago seemed to get better, adding Alta High product Kealia Ohai Watt and Makenzy Doniak to a group that includes former BYU standout Michele Vasconcelos.
But the Red Stars also have arguably the biggest question mark in the field: how do they replace Sam Kerr, last year's NWSL MVP who moved to Chelsea in England during the offseason? Replacing the Australian star who scored 34 goals in 40 appearances with Chicago will not be easy.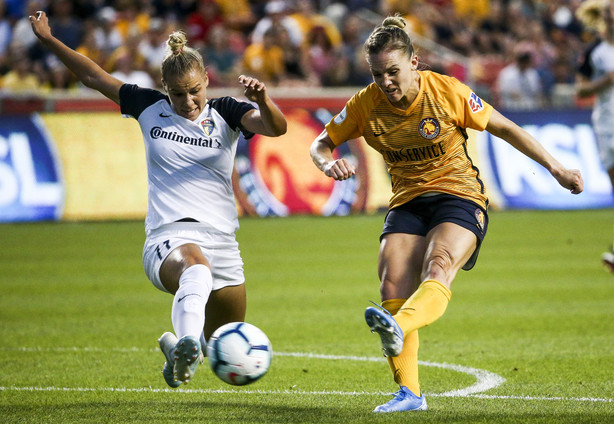 The dark horses
Washington Spirit, Utah Royals FC
Washington was described by many observers as an up-and-coming side primed for a breakout season in 2020 before the pandemic shuttered the original schedule.
The Spirit barely missed the 2019 playoffs, and were primed to build on their success behind players like U.S. international Rose Lavelle and former BYU star Ashley Hatch, not to mention reigning NWSL Goalkeeper of the Year Aubrey Bledsoe.
Newcomers Ashley Sanchez from UCLA and Brooke Hendrix from West Ham will look to replace the loss of Mallory Pugh, who was traded to Sky Blue FC in the offseason.
The Royals have been consistent, but not spectacular, in their previous two seasons in the league, and new coach Harrington will be tasked to improve on a side that faded late in the 2019 season after a hot start.
He'll rely on several newcomers to do so, including draft pick Tziarra King from North Carolina State and French midfielder Aminata Diallo, as well as new center back Elizabeth Ball and returning international defender Taylor Leach. Will it be enough to overcome the offseason departure of Sauerbrunn, Becca Moros and Katie Stengel, as well as the U.S. star Christen Press, who is one of several internationals not playing in the tournament?
The longshots
Houston Dash, Sky Blue FC
Perhaps no team rebuilt itself more in the offseason than New Jersey's Sky Blue FC, which added Mallory Pugh to pair with fellow U.S. standout Carli Lloyd, and also brought in McCall Zerboni and Midge Purce at forward.
But both Lloyd and Pugh will miss the tournament with injuries — a less-than-stellar start to a season when the squad hoped to improve on last year's 5-5-14 record.
Houston lost Huerta and Watt from last year's seventh-place squad but returned Jane Campbell in goal. They also added Shea Groom and Stengel to help England international Rachel Daly, who had one of her best seasons as a professional with five goals in 17 league matches.
The eliminated
Orlando Pride
The Pride won't be coming to Utah after six players and four staff members tested positive for COVID-19, but we'll take a moment to recognize them for what they brought to the tournament: a renewed attention to detail in adhering to policies designed to stem the spread of the virus.
"I think it was a bit of a wake-up call, even for people who are doing the right things," Utah winger Diana Matheson said. "The reality is, cases are rising in Utah, and everyone has to be quite vigilant. As members of this community, we have to set the example, make sure we are wearing our masks, and doing the right things."
"Once the tournament gets started, we are going to be quite locked down and self-isolated, so there's not going to be any margin for error there."
×
Photos
Related Stories