SANDY — Utah Royals FC has a lineup for the upcoming NWSL Challenge Cup, with kicks off Saturday at Zions Bank Stadium in Herriman.
Perhaps just as notable as who will suit up is who will not be in uniform.
That lineup will not include the team's ace goal-scorer from a year ago, Christen Press, the U.S. international who scored six goals with two assists last year in her first full season with the club.
"It is deeply painful not to be able to play the game I love, and to watch the broader effects of the global pandemic on our league, sports, and our world," Press said in a statement from the club. "Regrettably, given the uncertainty created by COVID-19, I must elect not to participate in this tournament. I know how fortunate I am to be able to make this choice. I have enormous respect and gratitude for those who do not have the luxury to choose whether to report to work, including our selfless and heroic first responders.
"I look forward to supporting my teammates during the tournament in Utah."
The NWSL released every roster across the eight-team league pool Monday, a compendium of 22-28 players per squad that will suit up in Utah in what will likely be the only competitive environment of the 2020 season. Players are not required to play in the tournament, per agreements with both the NWSL and U.S. women's national team players associations, nor are they required to be available to play in the first game of the tournament. But they must be included on the roster to play in any game, according to league roster rules also released Monday.
Utah's roster is headlined by team captain Amy Rodriguez, the 33-year-old former U.S. international and team captain; one-time U.S. goalkeeper Nicole Barnhart, 38; current U.S. fullback Kelley O'Hara, who has been healthy and training with the team for the past two weeks; and former Spanish international midfielder Vero Boquete, 33.
Here's the complete roster:
Goalkeepers: Nicole Barnhart, Abby Smith, Melissa Lowder
Defenders: Elizabeth Ball, Rachel Corsie, Taylor Leach, Gaby Vincent, Katie Bowen, Kelley O'Hara, Mallory Weber, Marissa Sheva, Michelle Maemone, Maddie Nolf
Midfielders: Vero Boquete, Diana Matheson, Desiree Scott, Chestley Strother, Lo'eau Labonta, Aminata Diallo, Gunny Jonsdottir, Kate Del Fava
Forwards: Brittany Ratcliffe, Amy Rodriguez, Arielle Ship, Tziarra King, Taylor Lytle, Holly Daugirda, Raisa Strom-Okimoto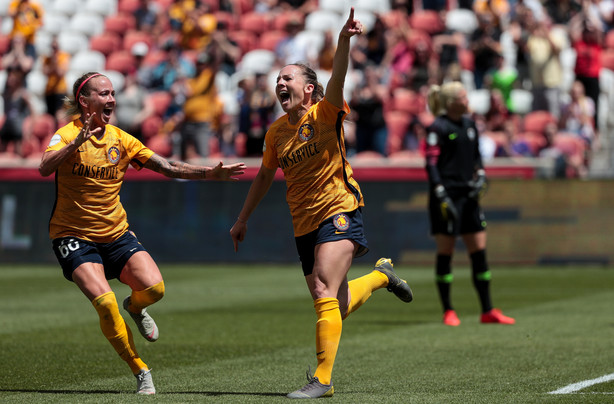 After the Orlando Pride withdrew from the tournament Monday due to six positive cases of COVID-19 among players and staff, the NWSL went to reworking the schedule. The Royals, who were originally scheduled to face former BYU star Ashley Hatch and the Washington Spirit in the opener, will now face the Houston Dash next Tuesday, June 30 at 10:30 a.m.
The remainder of the Royal's Challenge Cup preliminary stage will include:
— Sky Blue FC at 10:30 a.m. July 4
— OL Reign of Tacoma, Washington at 10:30 a.m. July 8
— Chicago Red Stars at 8 p.m. MT July 12
All games will be streamed live on CBS' subscription streaming service, CBS All Access. Replays will be available on CBS Sports Network.
The roster also includes recently signed French international midfielder Aminata Diallo. Her availability for the first game remains questionable, but she'll be eligible to play once she arrives in Utah.
Diallo was signed by the Royals on March 11 but has been in her homeland due to visa and travel restrictions spurred by the COVID-19 pandemic.
In conjunction with the roster release — and no doubt to add another forward to the Press-less Royals — Utah announced the signing of former Utah forward Holly Daugirda to a short-term contract.
The 5-foot-6 winger from Skyline High who started every game of her four-year Ute career scored five goals with 11 assists while starting every game of both the 2018 and 2019 season. She was an electric goal-scorer in high school, totaling 77 goals for an Eagles program that won the Class 4A state title in 2015, a mark that earned her Gatorade Player of the Year honors.
"I am more than thrilled to have signed with Utah Royals FC," Daugirda said in a club statement. "I am excited to represent and compete at the highest level for such a great club. Being a native of Salt Lake City, I am most looking forward to the opportunity to compete in my home community."
Daugirda joins fellow Utah alum Carly Nelson to sign with the professional ranks Tuesday. The former Timpanogos High goalkeeper signed a short-term deal with OL Reign, joining former Riverton High star Darian Jenkins' squad for the 2020 NWSL Challenge Cup.
×
Related Stories