Editor's note: These answers are based on interviews and information current as of the time of publication. Please be aware that new information may be discovered by health experts after publication. We're working to keep this information as up-to-date as possible.
SALT LAKE CITY — When it comes to COVID-19, things certainly have changed over the past few weeks. On Wednesday, governors of northeastern states hardest hit at the beginning of the U.S. pandemic listed people coming to their states from Utah as something that would trigger a 14-day quarantine period.
It's a complete reversal from March and April, when Utah leaders said those coming from areas like New York or New Jersey should quarantine in Utah for the same length of time upon arriving. Their request comes as Utah continues to see some of its highest case totals over the past few weeks.
Gov. Gary Herbert argued what the state has done since the beginning of March has been working most of the time but noted "that doesn't mean we should put our head in the sand and ignore the red flag warning of increased infection rates." Utah's shift in cases, which hasn't been attributed to an increase in tests, is something that he said everyone in Utah should be concerned about.
Since this pandemic began, we've asked you, our readers, to submit questions to us that we can dig up the answers for. And as COVID-19 has returned with a fury, we look at how it returned and other facets of the disease.
How and where are people getting sick?
We've already answered a bit about where the cases have grown over the past few weeks and since the pandemic began. But we can also go into the numbers a bit deeper.
Salt Lake County remains the hotbed for Utah's COVID-19 cases, which isn't all too surprising. The Salt Lake County Health Department reported 9,460 cases through Tuesday. But its percentage of Utah's COVID-19 cases has remained relatively steady over the past few months. In fact, it even dipped a bit during this acceleration phase. On May 25, the county accounted for 54% of the state's cases. It has accounted for about 47% of cases since then, which equates to about 50% of all cases to date. That means other areas are picking up more cases, too.
The most noticeable of those is the Bear River Health Department covering Cache, Rich and Box Elder counties in northern Utah, which jumped from 105 cases on May 25 to 1,356 cases by Wednesday. The Southwest Utah Public Health District (Beaver, Garfield, Iron, Kane and Washington counties) went from 331 cases to 1,200 cases by Wednesday. Using the percentage of all cases, Bear River and Southwest Utah accounted for 1.2% and 3.9% of cases in the state, respectively, by May 25. Since then, they've accounted for 12.2% and 8.5% of Utah's cases, respectively.
At the same time, Davis County has doubled its cases and Utah County has nearly doubled its cases in a month. Weber-Morgan Health Department is close to tripling its cases. Those three areas have accounted for about 26% of all cases since Memorial Day.
How about some of the areas that were hardest hit per capita earlier? Summit County now has 474 total cases but only 68 new cases since May 25; San Juan County has 120 cases since May 25, but that's much improved from the 258 cases it reported between April 11 and May 25.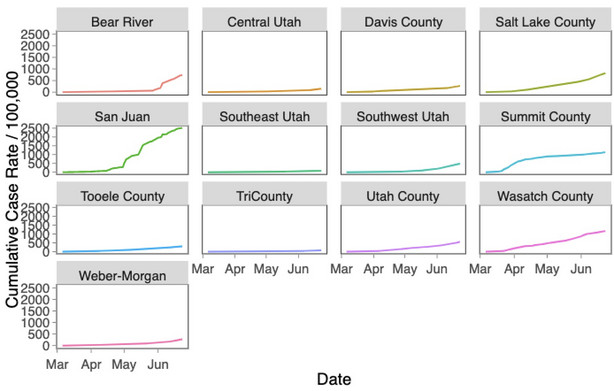 So how did we get here?
Charla Haley, a spokesperson for the Utah Department of Health, explained that there have been cases through social interactions but household contact with family members still remains the overwhelming reason for spread.
Indeed, the state health department reported 63% of coronavirus exposure was due to exposure with a known contact; within those cases, 60% of them were spread within the home. Social interactions account for another 21% of cases involving a known contact.
Only 3.7% of cases are tied to health care facilities and 2.3% to travel. Where does that leave the other one-third? About 13% of cases are officially listed as in-state without known contact, while another 18% are either unknown or still under investigation — this is where workplaces may come into play.
The state's outbreaks — defined as when multiple people have the same epidemiological link — are happening in workplaces, nursing homes or assisted-care facilities. Many state restrictions on workplaces were lifted beginning on May 1, which allowed workers to return to businesses defined as "nonessential."
According to the state health department website, there have already been more than 300 outbreaks that have resulted in over 2,600 cases, and workplaces are a big reason for that. One example of this was a meatpacking plant in the Cache Valley; as detailed in a previous mailbag, 287 cases were confirmed after a little more than 1,000 people at the plant were tested.
"Workplaces account for two-thirds of our outbreaks, so we encourage everyone to practice good physical distancing, wear face masks when physical distancing is impossible, stay home if you're sick, and wash your hands regularly," Haley wrote in an email.
Is it true that actual COVID-19 positive tests and positive antibody tests are being lumped together in daily totals?
"No," Haley says. The state only takes into account positive tests conducted by health officials. Some health care providers have rolled out antibody testing, but those numbers aren't included in Utah's COVID-19 case numbers.
Did the protests increase the daily numbers?
This is another "no," according to state health officials. Haley said there have been one or two COVID-19 cases related to protests, which were formed in response to the death of George Floyd in Minnesota police custody, also on Memorial Day.
There have been dozens of protests against racial injustice in Salt Lake City over the past few weeks and protests have also been held all over the state. While there has been at least one confirmed case at a protest, it hasn't reached the point of the state health department issuing an alert to people who attended a certain protest and not a significant source for the rise in cases to date.
If case numbers and deaths are rising, why are we transitioning to green? What does green mean?
As we now know, Dunn wrote a brief to Utah leaders last week recommending that the state move to orange on the guideline scale if cases persist at the rate they currently are at. The recommendation was made citing concerns that increasing cases may overwhelm hospitals and intensive care units as early as July.
Herbert acknowledged that Dunn's note is considered along with other inputs when it comes to deciding what the state does. On Wednesday, he said he's put a two-week pause on moving any place in the state currently at yellow to green. The areas currently in green are rural counties with few cases throughout the pandemic.
But moving to green comes down to messaging more than anything else. As KSL.com reported after Kane County first reached green on June 12, the state made drastic changes to what green means. It essentially went from being life after COVID-19 to recommendations on how an individual can protect themselves and stop a potential spread from happening.
The state recommends that residents in those counties and people who visit them to still practice social distancing, wear a mask in situations where they can't keep at least 6 feet apart, stay home if they are exhibiting even mild COVID-19 symptoms and wash their hands with soap and water for at least 20 seconds.
Another question about this also arises from Dunn's note. Could Utah move back to orange?
"That's always been on the table as we started this effort … we can dial it back," Herbert said. "We hope that doesn't happen. These next two weeks will be somewhat critical. We'll see how people's behaviors change. We hope that they'll change for the better; and if we can get on top of this infection rate and turn it to go into the other direction, I would hope there would be no need to dial it back."
Why are masks not mandatory?
Following Dunn's note, which strongly recommended this as a solution if cases continue to climb, Salt Lake County Mayor Jenny Wilson filed a request to make masks mandatory in public settings. Herbert said the request will be considered in a meeting Thursday; if approved by the state, it would be the first part of Utah where masks are mandatory.
We know Utah's COVID-19 woes over the past month. Officials saw totals double in less than a month's time. But data published by the Philadelphia Inquirer Wednesday better shows how Utah and other states without mask mandates stack up with the rest of the nation over the first three weeks of June.
They found states that didn't have any mask requirements experienced an 84% increase in cases, and places where only employees of certain businesses were required to wear masks experienced a 70% uptick. On the other hand, states that required both employees and patrons of certain businesses to wear masks saw a 12% decrease during that span, and states with mask requirements in all public areas experienced a 25% decrease.
Herbert said he's a "big fan" of wearing masks and rifled off a few statistics about how masks help, including studies that show that masks are helping decrease droplets from coughing and sneezing — and that airborne transmission has become the biggest reason for COVID-19 spread. That said, it appears at this point if we're going to see face masks and coverings made mandatory, it's going to come from a local government and health department angle.
The governor issued an executive order that face masks must be worn in government-run buildings but local mandate requests will be reviewed one-by-one before they are approved.
"There's a process that I really am committed to so that every area of the state is treated the same. We want to have a request for any of these adjustments to come from local government leaders, where they have some ownership to this working with local health departments and then they bring the information to us," he said Wednesday. "We'll work with our state health department and then we'll meet and we'll make the decision on that request."
What is the best treatment right now?
There are two drugs that have emerged in recent months: remdesivir and dexamethasone.
Both have elicited enthusiastic responses from Dr. Anthony Fauci, the nation's leading expert on the disease, when a study came out in the New England Journal of Medicine in April. It found that patients who received the drug averaged 11 days in the hospital — four hospital days fewer than those who received a placebo.
"What it has proven is that a drug can block this virus," Fauci said at the time. "This will be the standard of care."
Dexamethasone has gained acclaim across the pond. As the Associated Press reported on June 16, United Kingdom officials authorized the drug for coronavirus patients after a University of Oxford study found it reduced deaths by one-third. Fauci called that study "good news," as well.
Even though advances are being made, Haley points out there still isn't one treatment that works for everyone. That may still be months away.
"The best defense we have is to encourage everyone to be vigilantly doing their part," she said. "Limit their number of close contacts through good physical distancing, wearing a mask when physical distancing isn't possible, stay home if you're sick and wash your hands regularly."
If we ate at a restaurant and the next day it was closed for COVID-19 should we do anything? Are we at risk?
This is another question we asked Haley. She said a local health department will inform anyone within "a few days" if they were considered to be in close contact with anyone who was infected.
"If you don't receive a call, you don't need to do anything," she said.
Does Medicare cover COVID-19 or antibody testing?
Haley said the state health department works with Medicaid, not Medicare, but even then COVID-19 testing is free through the CARES Act.
"If you are uninsured and meet residency/citizenship guidelines, you may be eligible to receive coverage for COVID-19 testing and other related services," she added. More information about that process can be found on the state's website.
If you have questions about the coronavirus, please submit them to the KSL.com Google response form below for future installments.
Submit Your Questions:
×
Related Links
Related Stories