Editor's note: These answers are based on interviews and information current as of the time of publication. Please be aware that new information may be discovered by health experts after publication. We're working to keep this information as up-to-date as possible.
SALT LAKE CITY — We're nearing the end of another month of life under the COVID-19 pandemic, and it's possible that we'll start to see some restrictions lifted by the start of the next one.
Gov. Gary Herbert's "Stay Safe, Stay Home" directive will come to an end on Friday, and he said last week that he's eyeing an opening of some businesses shortly after that. This news comes as there are now 4,233 confirmed cases of COVID-19 in Utah, according to numbers released by the Utah Department of Health on Monday. Of those cases, 349 have been hospitalized and 41 Utahns have died from the disease.
Before we answer some of your questions below, one quick note. There's always someone asking about COVID-19 symptoms and The Centers for Disease Control and Prevention has updated its COVID-19 symptoms list recently. Symptoms of the disease may include: fever, cough, shortness of breath or difficulty breathing, chills, repeated shaking with chills, muscle pain, headache, sore throat and new loss of taste or smell, according to the federal agency.
We know you still have questions about the coronavirus, safety measures and other things related to COVID-19 during all these developments. So, here are answers we've found to some of the questions you've asked us.
Why is Gov. Herbert looking at reopening when we have not shown any decrease in cases, let alone a 14-day streak of declining cases?
Unfortunately, we weren't able to get ahold of the governor regarding this question. Utah Department of Health's epidemiologist Dr. Angela Dunn, who was included in discussions of the state plan, fielded a similar question during a press conference Monday that gives insight to the decision.
"We are seeing an additional number of cases every single day; however, that growth rate is slowing down, so that's a good sign that we are entering a plateau phase," she said. "We're going to watch that and hopefully that continues for at least two weeks or one incubation period. In terms of the positive rates of our tests, we want to see that go low. We want to increase the number of people we test, but decrease the number of positives we have with all of those tests. That's a sign we're testing everyone who needs to be tested for COVID-19 while also controlling the spread."
On one hand, the state department has seen a steady rise in new cases. From April 16 to Monday, the department has reported 1,550 new cases; on the other hand, the number of Utahns tested has doubled from 49,678 to 100,195 during that same 11-day span. Dunn is talking about the rate of positive tests, which has slipped from 5.4% to 4.2% during this timespan.
"We look at our trends in case rates. What we're seeing statewide is a slight increases in the past week; however, those reporting delays could play a part in what we're seeing," she said. "We're looking for a two-week trend in plateauing followed by a decrease in cases. … Whenever we're in contact with elected officials or a local health department, we advise them to look at that plateau followed by a decrease."
The Utah Leads Together 2.0 plan gives us the best glimpse of what to expect in Utah over the next few months. In that, the state decided to leave the possibility of having different measures in different regions. For example, St. George or Logan may have looser restrictions than Salt Lake City if it's determined there's high risk in Salt Lake City and moderate risk in those other areas.
"This pandemic is impacting every geographic region a little differently and every geographic region has different ways that the disease is spreading, so I think it's important for elected officials to be able to take all of those individual situations into consideration when implementing policies," Dunn added. "It's a good thing that they're able to tailor it to their needs."
And as she points out, life won't go back to what it was like before the coronavirus just because some portions of the economy may reopen in May.
"There are a lot of restrictions that are placed on businesses opening to ensure social distancing and ensure prevention of COVID-19 spread. I think that's the right way to do it — this kind of slow rollout of opening up businesses while continuing to monitor for disease," she said.
Even as the state could reopen some of the economy by the end of the week, there is an important caveat that every Utahn should remember before heading outside. If cases go up at higher rates in the coming days and weeks, a city, county, region or state could go back to a uniform directive advising people to say home. So even as some things might reopen, continue to wear masks outside if you have them and continue to physically distance yourself when outside because that's not changing.
"The goal is to go from red to orange and continue loosening up restrictions because we're seeing a better control of COVID-19 here in Utah; however it is good to know we do have those triggers that will alert us that maybe we moved too soon and we need to increase the restrictions back."
What businesses are going to open after May 1?
Gov. Gary Herbert lifted a ban on elective surgeries in Utah last week, so that's one of the changes you'll see. As a result, everything from nonemergency hospital visits to dental offices have already reopened.
Once the directive ends on Friday, here's what you can also expect to see:
Restaurants can allow dine-in options with "extreme precaution." Dunn said this means restaurants should have tables spaced 6 feet apart, outdoor dining is encouraged and employees would wear masks. It's encouraged that payments are made without physical contact.
Fitness centers can be open, but each business should follow physical distancing and cleaning guidelines
Personal services can operate under strict hygiene protocols. In addition, both the customer and service provider must wear face coverings. Everyone should be monitored for symptoms.
In-person operation of events and entertainment are allowed "with strict social-distancing requirements and increased cleaning regimen."
Hotels and other accommodations are allowed but precautions with shared spaces and increased cleaning are recommended. Self-serve buffets should remain closed and employees should wear face coverings.
As for your standard place of business, the state recommends that employers still encourage teleworking, if possible. Otherwise, "enacting strategies to minimize the economic impact. Businesses that necessitate on-site work should monitor workforce for symptoms and well-being."
Related:
I am immunodeficient. What extra precautions and measures can I take?
As we roll into what's expected to happen in this "orange" phase, it's worth pointing out the Utah Leads Together 2.0 plan factors in those most at-risk for severe COVID-19 cases. Those who are considered high risk in the state include people who are immunodeficient, people with underlying health conditions and those over 65 or living at senior living facilities.
The state's plan recommends much of what has already happened in the past few weeks to continue. First, high-risk individuals should limit their travel. If possible, you should telework or limit travel to work-related travel only. Those who fall under the high-risk categories should also:
Limit visiting friends or family unless there's an urgent need
Limit attending gatherings of any number of people outside your residence, especially if it's with other high-risk individuals
Do not visit hospitals, nursing homes or other residential care facilities
Take extra precautions and avoid close contact with multiple people. If you have caretakers, have the same caretakers if possible.
There are also guidelines for people who interact with high-risk populations because, as has been stressed over and over again, you could spread the disease to someone who will have a worse COVID-19 outcome than you if you get sick. Those recommendations are:
Wear a face covering or mask when within 6 feet of others, especially when interacting with someone who is considered high risk.
Wash your hands frequently, especially before interacting with a high-risk individual. This is especially if it includes feeding or caring for that person.
Limit visits to hospitals, nursing homes or other residential care facilities.
Retail and grocery stores can create windows where high-risk groups can come without risk of other groups
Pharmacies can waive prescription delivery fees for high-risk individuals
Workplaces can allow high-risk employees to telework or minimize face-to-face contact in workplaces, such as creating ways to maintain 6-foot distances between workers.
Will it be safe to travel outside of your home state this summer?
We've had about a dozen people ask similar questions in the past few weeks, which makes sense. As we're inching closer to warmer weather, a lot of people probably had vacation trips planned for this summer. There are also some people who may have new family members born or have a loved one pass away in other states. We've gotten questions from people who plan to fly or drive to various places in the country, so if you've asked about travel in the Google form, consider this the answer to your question too.
The CDC currently only recommends essential travel out of state and even within the state you live in. Essential travel within your community is defined as doing tasks like going grocery shopping, getting gas or going to a doctor's office; essential out-of-state travel is travel for an essential job or to provide medical or home care for others. Dunn urges Utahns to follow that same guideline.
"We certainly know there are higher case rates in other states and that would increase someone's likelihood of getting COVID in another state and potentially bringing it back to Utah," she said. "So nonessential travel is still recommended against at this time in the outbreak."
But could that change come summer?
"A couple of months is hard to tell. This seems to change hour by hour," she continued. "Our recommendation right now is definitely not to have nonessential domestic travel. We'll keep you updated as that changes. Nationally, we're still in the acceleration phase of this outbreak; that means that, as a whole, the U.S. is seeing an increase in the number of cases and the increase of the growth rate every single day. It's definitely not controlled, so we won't open up those domestic travel restrictions until we see more of a plateau nationally."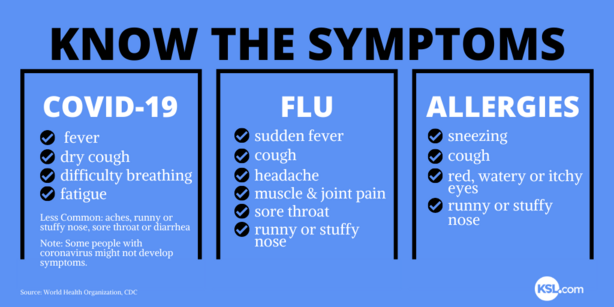 My daughter is moving home to SLC from Florida. When she gets to Utah, she will have been in Maryland for two weeks and Florida before that. Does my family need to quarantine when she gets here? We have two essential workers in the household.
Looping this into the previous travel question, everyone traveling to Utah from another state or country is encouraged to self-quarantine for two weeks. On top of that, the Utah Coronavirus Task Force recommends that "while someone is on self-isolation, everyone in the home should quarantine for at least 14 days and monitor for symptoms."
How quickly do test results come back?
It depends on the result of the test. As the state's Coronavirus Task Force points out, those who test positive tend to get their results before those who test negative. It may take up to three days to get a positive test back and a little bit longer to learn if your test came back negative.
How many cases in Utah have recovered?
Aside from symptoms, this has been the top question we've received since creating a forum for you to submit questions you have about the coronavirus. In a previous mailbag, we explained it was a difficult answer because state health officials weren't exactly sure either. Recently, the Utah Department of Health found a workaround, so here's a brief explainer of how Utah recoveries are counted.
The department now counts any case reported 21 days after a positive test excluding deaths is considered a COVID-19 recovery by the health department. As of Monday, 1,641 people have recovered in Utah, which is 39% of the total confirmed cases in the state to date. Meanwhile, hospitalization remains only 8% of cases and Utah's mortality rate remains about 1%.
Once you've had the COVID-19 virus are you immune to it? I think not but want to settle a debate. Thanks!
This is similar to a question answered last month, but there's some recent information that gives us a good reason to update.
This is still no evidence yet that people who have recovered from COVID-19 and have antibodies are protected from becoming reinfected, researchers wrote in a scientific brief published by the World Health Organization on Friday.
"Most of these studies show that people who have recovered from infection have antibodies to the virus; however, some of these people have very low levels of neutralizing antibodies in their blood, suggesting that cellular immunity may also be critical for recovery," researchers wrote in the brief. "No study has evaluated whether the presence of antibodies to SARS-CoV-2 confers immunity to subsequent infection by this virus in humans."
Dunn said the state health department has advised leaders about this.
"We can assume — if it's similar to other coronaviruses — that there is some level of immunity, but we do have evidence from other countries that reinfection is possible," she said. "Until we really know the impact of developing immunity due to COVID-19, being able to reopen things based on immunity is still a gamble. That's why we recommend this slow approach to opening up the economy, where we still have social distancing measures in place and we still have interventions that prevent the spread of COVID-19 in the event that immunity isn't strong or doesn't last very long."
So if you've had COVID-19 and recovered, Dunn recommends that you follow the same public health measures as everyone else.
How close are we to having a readily available antibody test for the general public?
This ties in nicely with the previous question, as antibody tests will likely provide health experts a clearer picture of COVID-19 in the world. For example, a recent antibody study done in New York found that 21% of test subjects from New York City and 14% from New York State had antibodies related to the coronavirus. Conversely, the percentage of people who have tested positive in that city was 1.8% as of Sunday, based on confirmed cases and 2018 population estimate and 1.5% in the state based on the 2019 estimate.
Summit County health officials pointed out during a meeting last week they will be a part of a pilot study conducted by Utah's ARUP Laboratories, but it wasn't clear when that was expected to begin.
Summit County Health Department director Rich Bullough explained during a virtual meeting on Friday that antibody testing may provide a key role during Utah's "recovery" stage, which is expected to begin as early as the end of this week because it may not only show the extent of the virus in Utah but also determine who gets the first vaccine shots in the future. But he also pointed out that validated antibody tests are "few and far between" at the moment.
That's starting to change. For example, ARUP began distributing a wider number of antibody tests to hospitals and laboratories across the country on Friday, according to Dr. Brian Jackson, ARUP's medical director. This comes after only having a limited capacity, so University of Utah Health and Intermountain Healthcare were the only ones with the ability to test through ARUP.
In an email Monday, he told KSL.com that the laboratory has no current backups and will soon have the ability to conduct 30,000 tests per day. That's helping make antibody tests become more widely available.
There are other options available, but Bullough reminds people that be wary of cheap at-home tests you may find online.
"There are $10 tests out there — I used to work at a bike shop for many years and there was a saying that if you have a $10 head, buy a $10 helmet," he said. "You get what you pay for. So, we're trying to make sure if we're going to utilize antibody testing, they're the right tests that are accurate and that's the path we're moving down. We will see them."
The World Health Organization also wrote about antibody test concerns in that aforementioned scientific brief.
If one suspects they may have been exposed to COVID-19 in mid-January to February 2020 but recovered from it, is there a test that could possibly tell if you were indeed exposed? I'm asking because of the symptoms I had previously, which was like nothing I've ever experienced in my entire life.
So we got several questions asking basically the same thing. They had symptoms of COVID-19 before the real wave hit Utah in March and before people were really aware about what COVID-19 was. Most said they were from areas of high tourism in southern Utah or the state's top ski resorts. Given that Utah's first several cases were travel-related, this is plausible.
First off, antibody tests could answer if you already had COVID-19. Dunn said the state health department is also working with hospital systems to look back at people who tested negative for influenza earlier this year and retesting them for COVID-19 or reaching out individuals for an antibody test to get a more accurate assessment as to when the coronavirus made it to Utah and what the spread has been in the state.
"That is an ongoing investigation that we're doing," she said.
Do we have any reason to believe that schools may remain closed until January 2021?
It's certainly possible this could happen. Students typically return to public schools in August, but that's quite a ways away before a decision like that is made. Utah's colleges and universities are giving us a glimpse of what to expect. They're currently planning on having students on campus this fall, David Woolstenhulme, the state's higher education interim commissioner, told the Utah State Board of Regents last week.
Even so, they were also planning for the possibility of different public safety guidelines on campuses. So it's still too early to know if public schools will adopt similar measures come fall.
How do all these data compare to influenza data for the same time frame?
It's easier to answer this question looking at the national data, although some of it is based on estimates. The CDC estimates that anywhere from 39 million to 56 million influenza cases were reported between Oct. 1, 2019, and April 4. In addition, anywhere from 24,000 to 62,000 Americans died from influenza during this timeframe. For the sake of clean numbers, let's say the total number infected and deaths are based somewhere in the middle of those ranges. That's 47.5 million cases and 43,000 deaths.
The Johns Hopkins University's COVID-19 Global Cases by the Center for Systems Science and Engineering reports there have been nearly 1 million infected with COVID-19 and 56,144 Americans who have died from it, as of Monday evening.
But remember, COVID-19 cases came much later in the flu season. So let's see how they overlapped. Using an internet archive service, we can see that the CDC's median flu estimate was 38.5 million cases and 32,000 deaths from Oct. 1, 2019, through Feb. 22. That means an estimate of about 9 million cases and 11,000 deaths between Feb. 22 and April 4. In comparison, the first U.S. COVID-19 death wasn't reported until Feb. 29 and the wave of coronavirus cases came flooding nationwide during March. On April 4, Johns Hopkins reported there were 308,000 COVID-19 cases and 10,800 deaths associated with COVID-19.
So as you can see, the number of flu cases nationwide is significantly more even during the same timespan where information overlaps, but the mortality rate nationwide leans vastly toward COVID-19. The mortality rate for the flu from the overlapping period was about 0.12% and nearly 0.01% overall from Oct. 1, 2019, through April 4. COVID-19's mortality rate during the overlapping period was 3.5% and is about 5.7% overall, as of Monday evening.
If you have questions about the new coronavirus, please submit them to the KSL.com Google response form below for future installments.
Submit Your Questions:
×
Related Links
Related Stories