Editor's note: These answers are based on interviews and information current as of the time of publication. Please be aware that new information may be discovered by health experts after publication. We're working to keep this information as up-to-date as possible.
SALT LAKE CITY — The number of COVID-19 cases in Utah is gradually growing. As of Tuesday, 5,449 cases had been reported in the state, as well as 456 total hospitalizations and 56 total deaths.
By this point, Utahns are aware of the general numbers and how life is functioning during the pandemic, but we know you still have questions about the coronavirus, testing, safety measures and other things related to COVID-19. So, once again, we dug around for answers to some of the questions you've asked us.
Can I have a test without having symptoms?
After nearly two months of testing, the state still has a list of specific symptoms that would trigger the need for a test. Those are: cough, fever, shortness of breath, muscle aches and chills, and decreased sense of smell or taste. If you don't have any of those symptoms, you're unlikely to be tested.
But this is a question that plays into something else several of our readers have asked about: asymptomatic carriers. We've heard of several famous asymptomatic cases; in Utah, that was Jazz guard Donovan Mitchell, who only learned he had COVID-19 after the entire team was tested following Jazz center Rudy Gobert's positive test on March 11. Since we know asymptomatic carriers can still spread the virus, it could complicate some of the measures set up to prevent the spread during Utah's orange "moderate-risk" stage. More specifically, someone could still spread the coronavirus after getting screened for symptoms.
Another way to look at this question might be: At what point would Utah consider just testing everyone in the state regardless of their symptoms? Dr. Angela Dunn, the state's epidemiologist, said it's already happening in some areas of the state under specific circumstances.
"Asymptomatic testing definitely has a part in controlling this pandemic," Dunn said. "We are targeting specific high-risk populations and those more likely to have been exposed to COVID-19, and testing them regardless of symptoms. Once we get that established, we'll look at the data and determine if it's accurate enough to roll out statewide. But at this point, we're really focused on a targeted asymptomatic testing strategy."
Why is Utah at a 1% death rate for COVID-19 while the U.S. is at 5.9%, and the world is at 7%?
Just for clarification, this question was submitted Monday and we have adjusted the figures to be consistent with Tuesday's coronavirus counts.
We explored this a bit in the first mailbag. Even before the pandemic began to really ravage the U.S., other countries that had been affected were experiencing different mortality rates.
Let's start with Utah because we've heard a few theories for the state's low COVID-19 mortality rate since the outbreak began. One theory Dunn said early on is that Utah's cases are different than other parts of the U.S. because the demographics are different. Utah continuously ranks as having the youngest population in the country, and the state also consistently finds itself ranked as one of the healthiest overall when looking at several underlying health factors. When you consider those most at risk for severe complications from COVID-19 are people 65 years old or older, or with underlying health issues, it makes sense Utah's COVID-19 mortality rate is lower than most parts of the country.
But there's another factor that might explain this too: testing.
The mortality rate is defined by deaths caused by COVID-19 divided by confirmed cases of COVID-19 . When it comes to COVID-19 testing, Utah also ranks pretty high there too. According to Politico, Utah was one of only 17 states that entered the week having tested more than 120,000 people. Crossing 2019 Census population estimates, Utah rated third behind New York and Massachusetts in testing per total population, among 17 states.
In an interview with NPR last month, Natalie Dean, an assistant professor of biostatistics at the University of Florida, said that since testing isn't consistently available from state-to-state and country-to-country, there are different standards based on testing availability. That leads to a skewed mortality rate percentage.
Here's a simple way to look at it using her explanation. Let's say there's State A and State B. State A might only be able to test those who are extremely sick, which means those who have mild symptoms don't get tested. State B might have enough tests to include those with mild symptoms. The end result is State B will likely have a lower mortality rate because there will be more people testing positive that likely won't even be hospitalized.
"We also know that there are a lot of people who are infected but don't develop symptoms, so that means that there's actually a much bigger denominator than what is reflected in this observed case fatality rate," she told the national news outlet.
Looping all this together, it's possible Utah's low rate is based on having fewer people at risk for a severe case, or because many people with positive results won't even end up hospitalized. The national and global counts may very well go down as more people get tested or after antibody testing shows many people already recovered from the coronavirus in states and countries with the highest mortality rates. Since the data is incomplete, there's still time that the mortality rates in Utah, the U.S. and the world will begin to mirror each other.
What do the experts think of the possibility that this current virus will mutate this winter and become worse — just like in 1918-19?
We obviously know from lessons learned from the influenza pandemic a century ago that the second wave of influenza did the most damage as that virus mutated. The death toll in the U.S. in October 1918 was 195,000 alone, according to History.com. Since then, doctors have documented trends in coronaviruses easing off during the summer and coming back in the fall.
"If it is consistent with other coronaviruses that are more common, we could expect a decline in our cases in our warmer months and then potentially another surge once respiratory and flu virus season starts up again in the fall," Dunn said during a media briefing last month. "As public health, we are definitely expecting and preparing for a potential second wave in the fall of 2020.
"What's particularly concerning about a potential second wave is that we don't have a lot of cases here in Utah, so we can't expect for a lot of herd immunity; and a vaccine won't be available by then, so we're going to have to continue to rely upon people isolating themselves when they are sick to prevent the spread of the disease further," she added.
But there are potential signs that this coronavirus has already mutated. For example, scientists at the Los Alamos National Laboratory led a study that found 14 virus mutations already. The worst of those emerged in Europe in February and became the dominant form when it spread, researchers wrote in the study which was published last week. They wrote that it could make people "susceptible to a second infection."
Alan Wu, who oversees some of the labs at San Francisco General Hospital, told the Los Angeles Times that there's been speculation among experts that there are two strains of the virus — one more common on the West Coast and another more common on the East Coast. That theory has been based on how differently the virus has impacted both regions.
The newspaper also quoted the lead author of the study, who wrote that it was "worrying" that a mutated virus was rapidly spreading; nevertheless, she added: "Please don't only be disheartened by it. Our team at LANL was able to document this mutation and its impact on transmission only because of a massive global effort of clinical people and experimental groups, who make new sequences of the virus (SARS-CoV-2) in their local communities available as quickly as they possibly can."
We believe, whatever their motivation, the media is disingenuous not revealing per capita data. Do you have it for New York, Utah, America?
We've reported on per capita information since the Utah Department of Health and the Salt Lake County Health Department have released case rate data by local health department and zip code, respectively. But this is a good time to review where that data currently stands.
Let's start within the state. As of Tuesday, the highest case rate since the pandemic began remains the Summit County Health Department. The department has a crude rate of 911, which means in a population of 100,000, about 911 people would have COVID-19. That's compared to 245.7 in Salt Lake County, which has the most overall Utah COVID-19 cases by a wide margin, according to the state health department.
The data shows a new hot spot has recently emerged. San Juan County now reports a rate of 770.3. The southeastern Utah county didn't report its first case until March 28 — the third-to-last health district to report a case. There were 37 cases by April 24, 47 cases on Friday, and 119 cases on Tuesday. The county also reports two deaths.
Dunn said this rise has been associated with the Navajo Nation. On Monday, the Navajo Department of Health reported it had nearly 2,500 cases and 73 total deaths across its area since the outbreak began. The state sent mobile labs to the area to test community members when the sovereign nation requested help, Dunn explained on Monday.
But where does Utah stand compared to the entire U.S., and where does the U.S. stand compared to the world in per capita cases? According to Data USA, Utah entered Tuesday with a case rate of 168 cases per 100,000, which is near the middle of the pack in the U.S. There were nearly two dozen states with lower case rates, according to the website.
Within the western portion of the U.S., Utah ranked as the fifth-highest rate behind Colorado (292), Washington (202), New Mexico (184) and Nevada (181). New York, which has a rate of 1,630 cases per 100,000 people, had the highest per capita rate among the 50 states. Montana entered Tuesday the lowest, reporting 43 cases per 100,000 people.
Johns Hopkins University, which emerged with the best data analysis essentially from the beginning, has a breakdown of case rates per each county in the country. The map shows the largest hot spots along the northeastern seaboard, along with pockets of the southeastern U.S. and around the Navajo Nation, as well as various pockets within the U.S.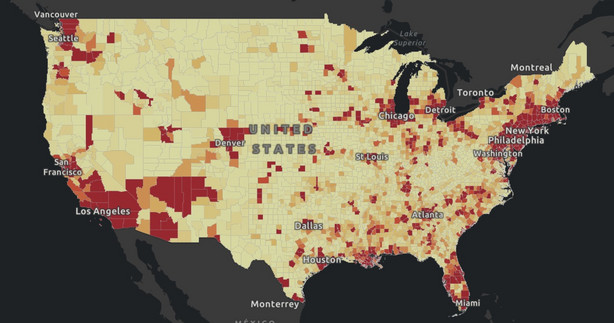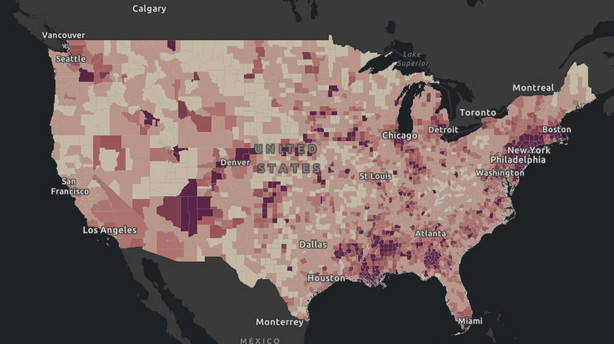 The university also has broken down COVID-19 deaths by country per capita. As of Monday, Belgium had a dubious lead in that category, reporting about 69.37 deaths per 100,000 people. That was followed by Spain (54.42), Italy (48.12), the United Kingdom (43.33) and France (37.63). The U.S. was listed seventh with a rate of 21.07 deaths per 100,000 people.
When exactly should you wear a mask?
Dunn has stated on multiple occasions that masks should be worn in situations where it's impossible to maintain at least 6 feet apart. That means when you're at work, a grocery store or any facility where you're more likely to be within 6 feet of someone else, you should wear a mask or other face covering.
In fact, with the switch to orange (moderate risk) last week, masks or other face coverings are still strongly encouraged even as some coronavirus-related restrictions are eased back. Face coverings are strongly encouraged regarding face-to-face interactions under the plan.
Utah's official guideline for the general public states: "Face coverings worn in public settings where other social distancing measures are difficult to maintain." This general public guideline remains in place even during the low-risk, or yellow, phase of Utah's plan.
Similar recommendations are made for businesses: "Face coverings worn; ensure that face coverings are available. Minimize face-to-face interactions, including with customers."
Why are we not letting our children participate in outdoor youth sports with limited spectators?
Youth sports are another popular question that we've received since the pandemic began. And even in the move from red to orange, the state guidelines still include "do not engage in close-contact or team sports."
The reason has to do a bit with the previous question. Under orange, physical distancing — staying at least 6 feet apart — is strongly encouraged. You can limit spectators, but that doesn't eliminate the risk of competitors, teammates and referees/umpires in shared spaces.
"Due to the nature of some team sports, social distancing isn't possible," a spokesperson for the Utah Department of Health explained in an email to KSL.com on Tuesday.
To expand on this thought further, it's not until the yellow phase that the guideline changes to: "Exhibit caution when engaging in close-contact or team sports, including symptom checking of participants." While Gov. Gary Herbert hinted last week that some parts of the state may start moving to yellow this summer, other parts of the state were bracing to remain orange for a good part of the summer at the very least.
When Herbert announced there would be a switch to orange last week, he also explained that sporting events would likely return until sometime around the recovery period. That is currently anticipated to start at the beginning of October, according to the state's projected COVID-19 recovery timeline.
"Our football season is in September, we're going to lose some of our high school sports, it appears, because of that same kind of issue," he said. "Arenas and gatherings of large amounts of people will probably be the last part to recover as we move through this coronavirus challenge."
If you have questions about the new coronavirus, please submit them to the KSL.com Google response form below for future installments.
Submit Your Questions:
×
Related Stories