PROVO — Yoeli Childs will go down as one of BYU basketball's greats, leading the Cougars back to the AP Top 25 and a likely NCAA Tournament were it not for the COVID-19 pandemic.
But before he was a star on the court, he was just another black teenager in Utah.
And while he didn't try to call out any particular person, group or organization with a passionate Instagram post Tuesday night, he did want to address the elephant of racial inequality in his home state.
Protests calling for change to systemic racism and an end to police brutality have been largely peaceful during the past three weeks. But Childs said there's still a problem in Utah — and it will take everyone's best effort to fix it.
"I want to share my genuine view as a black man living in this country and a black man that grew up in a predominantly white area," Childs wrote. "If you feel attacked by my personal experience then I would ask you to try your best to understand that I am not attacking you or being aggressive (I understand that tone is difficult to read). If you feel uncomfortable, that's OK, this is a serious topic."
He then recounted how he realized at a young age that he was different from the predominantly white area where he grew up. A former Bingham High standout in South Jordan, Childs didn't call what small children said to him as "racism," but "a normal response to seeing something, or someone, that looks different."
But the problem continued. When he was 11, he recalled seeing an "older white woman" in a grocery store parking lot who was visibly afraid of him. He's been followed and accused of stealing in stores.
He was called "all kinds of racial slurs," he said, mostly during high school basketball games, all in public.
He was later pulled over in Provo during his four years playing at BYU because, he said, the police officer "did not believe my car was in fact mine."
Childs even recalled an experience from his brother, saying a police officer "had a gun pointed at his face" for 40 minutes while he searched his car after pulling him over on the freeway.
"These are experiences that almost all black people face across the country," Childs said. "There is a deep-seeded racism that has painted black people as criminals."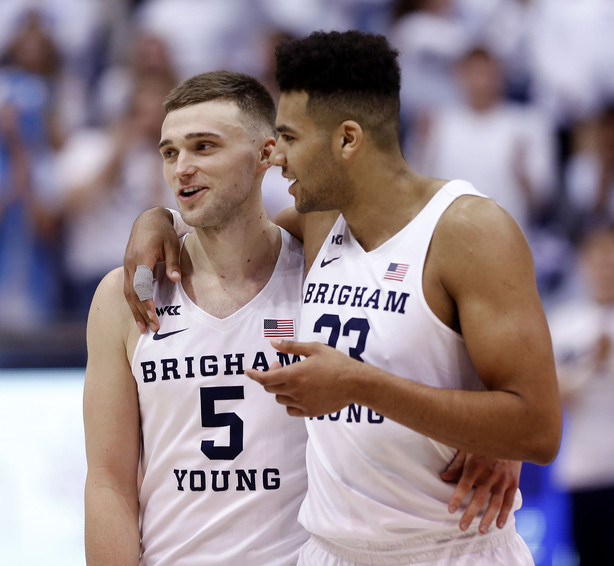 He then continued.
"I understand that everyone's lives matter. Everyone knows that 'all lives matter,' but not everyone knows that Black Lives Matter. Black lives have been treated as lesser for the entire history of our country. We are seen as threats and criminals because of the traditions passed down through generations. I'm reminded of how when our nation was founded, the Declaration of Independence stated, 'All men are created equal,' but at the same time, the country was being built by slaves on stolen land."
Childs said that systemic racism can be both visible, such as in the form of written and codified laws, as well as invisible, as happens when racist ideas and practices are passed down from generation to generation. He said he's angry, sad, hurt and "desperate for change," but decided to channel those emotions into being the change he hoped to see in the world.
"I just hope that people hear my story, and don't think that I'm trying to do anything that I'm not," Childs said Wednesday morning on BYUtv. "I'm really just trying to share my experiences and bring us together."
Childs wasn't calling out all of Utah. The way BYU fans embraced him, loved him, chanted his name, and stuck by him even when he received a nine-game suspension from the NCAA for violations stemming from one year when he had initially declared for the NBA draft is proof that there are good people in this state.
Utahns are kind, helpful and willing to set themselves aside in the service of others, said Childs, who was not a member of the state's dominant religion, The Church of Jesus Christ of Latter-day Saints, until midway through his BYU career.
"Now it's just important that we educate ourselves on a topic we haven't seen much in our state," Childs said. "Once we educate ourselves on those things, the rest will take off — especially in this amazing state, because people are already so kind, helpful, and willing to set themselves aside to help other people.
"It's amazing to see how wonderful the people in this state are, and to have that confidence in our people."
Aside from that, the next change most people can effect is in their inner circle: their family, their community and neighborhood, the church group, and so on. National change will come from local reform.
"The conversations you have with your parents, your siblings, and your kids, especially. The way that you raise the next generation will make a bigger impact than you can realize," Childs said. "I think that way we make lasting change is within our families. And if we have tens of thousands, millions of people doing that, then that's where I think the biggest change comes."
×
Related Stories