SALT LAKE CITY — A few miles apart, at two different times, protesters gathered — one in the "front yard" of Salt Lake City in the warmth of the afternoon sun, the other on the sidewalk and street in front of the closed state Capitol under grey skies and an almost constant downpour.
Their purpose was the same — remember people lost to violent acts involving police, to protest police brutality, to call for criminal justice reform. Their tone, however, was as different as the weather that accompanied each gathering. But as different as the atmosphere was at each protest, the objectives are remarkably similar — police reform.
Saturday afternoon on the lawn of the Salt Lake City-County Building, teacher and coach Kamaal Ahmad led protesters committed to working with local police to create change, and ended the event with handshakes and hugs with Salt Lake Police Chief Mike Brown.
The other — organized as a vigil for 22-year-old Bernardo Palacios-Carbajal who was shot multiple times in the back as he ran from police while carrying a gun on May 23 — emanated anger born of the heartbreak, pain and frustration of feeling like authorities don't respect their lives because of the color of their skin.
When he saw an overturned police car on fire on television last weekend, Ahmad felt like he had no choice but to head to Washington Square where daylong protests had turned destructive, violent and dangerous.
He parked a couple of blocks west of City Hall and walked toward the violence. On his way, he passed a police officer in riot gear whom he'd seen playing with his son at the same recreation center where Ahmad and his 4-year-old go to play soccer. He choked back emotion Saturday as he described what it was like to see the legitimate concerns of his community be devoured by violence, endangering the lives of people like him and people like the officer he'd come to admire over the years.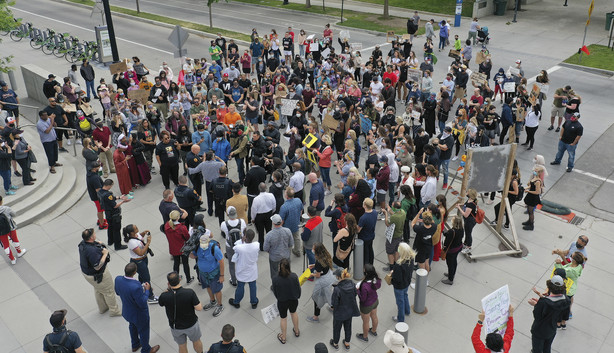 Almost immediately, the coach who will be an assistant junior high principal next fall, took to Facebook to organize another protest. This one, he promised, would adhere to the nonviolent principles that Dr. Martin Luther King Jr. advocated.
Exactly a week later, in the same place where he watched a police car burn and vandals damage and steal from a 7-Eleven, he introduced a crowd of about 350 people to several young activists, who talked about their own experiences, their own fears and their own hopes before he and Salt Lake City Mayor Erin Mendenhall took to the microphone on a warm and windy Saturday afternoon.
"I wanted to make sure the voices in my community are heard," Ahmad said of why he wanted to organize another protest on the same day, in the same place where violence erupted after several hours of peaceful protesting.
Ahmad said moving to Utah changed his mind about how to handle issues like the ones that now grip the country.
"What changed my heart, and why I think this is a very unique place," he said, "and I'm not telling you Utah is perfect, but this is the fourth state that I've lived in, but it's the first one where I felt like a human being with our law enforcement."
Ahmed invited several students to address the crowd, and they offered moving, insightful stories about their lives, and a plea to help them find solutions.
One young woman said she was tired of worrying about her own safety, and that of her family members. A young man talked about being part of a youth program offered by Salt Lake police and how that gave him better insight into the complexity of the issues. It did not, however, change the reality that policing was unfair and often deadly to Americans of color, especially African Americans.
"Being marginalized shouldn't be a crime," said 21-year-old MJ Powell. "And it's not a police officer's job to be judge, jury and executioner."
Related:
The college junior finished by reading a list of those who'd lost their lives at the hands of police, and then he said, "This is why we say black lives matter."
Mendenhall talked about a map from the 1940s that she keeps in her office which details how the city was redlined, meaning that banks wouldn't give loans to homeowners or businesses in certain areas, because there were "too many minorities, too much risk. That is the history of redlining in Salt Lake City.
"The reason I keep it next to my desk," Mendenhall said, "is because those communities are still oppressed. They have a lower rate of graduation. They have lower economic standing. They have lower income. There is more affordable housing. There is more crime. Even the rate of obesity is greater in these communities because of the lack of access to food."
Mendenhall said it was "hopeful and rejuvenating" to participate in a protest that acknowledged the racist foundation on which policing and governing structures were built, but also committed to finding the humanity in the other side and working together to solve problems.
"We know this is about every facet of society," she said. "This is about every system, in every statute, and every law that is on the books that was built on a flawed and racist foundation."
The city's first protest on May 30 in the aftermath of Floyd's death had boiled over as demonstrators spray-painted vulgarities on the police station and state Capitol and burned a patrol car, prompting Mendenhall to implement a weekend-long curfew followed by a nightly curfew that was lifted on Wednesday. The ensuing demonstrations have drawn large crowds but remained peaceful.
After Mendenhall's comments, retired Rev. France Davis offered a prayer, and then the group, led by Ahmad and Mendenhall walked to the Salt Lake City Public Safety Building where the met Brown near the crosswalk. They committed to making Salt Lake City an example of how race relations can be improved and problems can be solved that the rest of the country could model.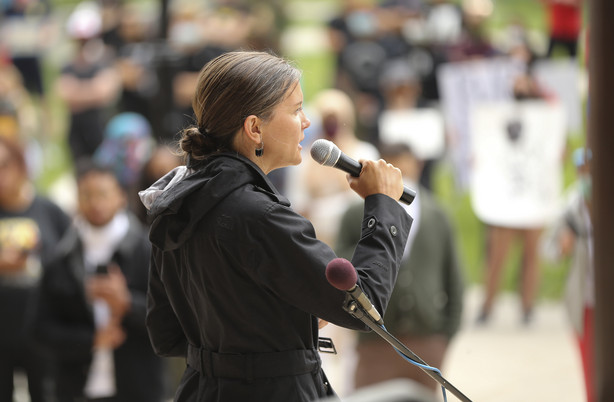 For Brown, it was an emotional moment after a week of turmoil and controversy, including the release of video Friday afternoon that shows some of his officers firing at least 20 bullets at Bernardo Palacios-Carbajal, who was running from police. At a press conference, Mendenhall called the body camera footage of the shooting "disturbing," and he became another martyr for protesters Friday night.
Brown was again emotional when asked what the gesture from the protesters meant.
"It's been a rough week ... (for) the whole nation," he said. "But this shows how important it is to come together. It's too easy to hate from afar, to misunderstand from afar. But when you come together and shake hands and experience (each other's) humanity, it changes things."
About 1,000 protesters endured wind and heavy rain at the state Capitol to pay tribute to Palacios-Carbajal, as well as others, including George Floyd, whose death sparked protests across the world. They crowded the sidewalks, spilling into the intersection and up onto lawns of nearby buildings, as about two dozen Utah Highway Patrol troopers stood on the Capitol steps.
The family of Palacios-Carbajal huddled under a red canopy, the crowd surrounding them on every side. The median became a memorial to Bernardo, with framed pictures of him, burning candles and flowers. Several speakers called for the officers who shot him to be fired, arrested and charged with murder.
"Justice for every people who die at police hands," said Lorena Burciaga, a close family friend of Palacios-Carbajal. "The laws we must change. ... No more. Everybody deserves dignity. Everybody deserves respect. We are humans. ... We have feelings. Bernardo run, like a child, very scared. He was very scared, and the police kill him. They don't respect nothing about him."
She said his last words "before dying were, 'I don't want to die.'"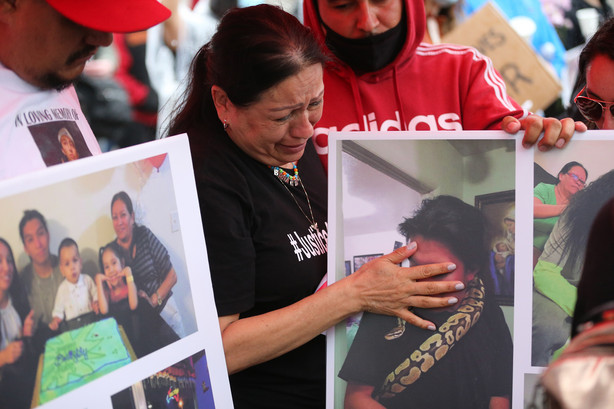 Burciaga said he wanted to travel and do many things with his young life. She told a story about how during the recent earthquake, he ran from his room to his mother's room, putting his body across hers to make sure she was safe.
"He had too many dreams," she said, switching from English to Spanish. "He wanted life, for many, many years. One day, because he was a great son. He was mama's boy. He loved mom at all time."
Many displayed "Justice for Bernardo" signs and the crowd chanted in both English and Spanish. Other chants referred to Rose Park, the Salt Lake neighborhood where Palacios-Carbajal lived.
Other signs said, "Don't shoot," "History is watching" and "By any means necessary" while others called for justice for Breonna Taylor, a black woman shot and killed by police in Louisville, Kentucky, who broke down her door on March 13, and justice for Floyd, who died at the hands of white police officers in Minneapolis who knelt on his neck.
"Cops shoot them like animals," one speaker told the crowd. "Even the heavens weep today. ... Justice! Justice!"
At some point, all 1,000 or so protesters got down on one knee underneath a nearby flag at the Capitol flying at half-staff in honor of Ogden police officer Nathan Lyday, who was shot and killed after responding to a domestic violence call. Lyday's funeral was held earlier Saturday.
Around 7 p.m., about 800 of the protesters decided to march to where Palacios-Carbajal was killed, about 900 South and 300 West. There they knelt, talked and chanted for an hour in a steady downpour of rain. At 8:15 p.m., with the police blocking streets for them, about 500 people made the 2.5 mile trek back to the Capitol. A few protesters drove, while others handed out water, rain ponchos and snacks.
As they marched they chanted. Among the sentiments expressed, some in the group called out, "Whose streets?" And others answered, "Our streets!"
×
Related Stories