PROVO — In the summer of 2016, a 37-year-old black man named Alton Sterling was shot and killed in Baton Rouge, Louisiana, the victim of a far-too-common attack on black individuals by white police officers.
Across town, the moment had a profound effect on a young Eric Mateos. In only his second stop as an FBS college football coach, coming up on his first full-time job as tight ends coach at LSU, Mateos still remembers gathering his players together and discussing the tragedy in a team meeting.
He remembers looking into their faces and seeing the pain from a group of mostly black student-athletes.
And while Mateos, who is half-Cuban but mostly viewed as white, never faced the same kind of racial injustice that has driven many black Americans to the streets in protest once again over the past two weeks, he vowed on that day to never let another moment pass without speaking up.
"That kind of changed me forever," Mateos said recently on BYUtv. "It really changed my perspective about being silent.
"As coaches and those in sports, everybody wants everyone to 'do their job.' But after experiencing that a few years ago, I decided that if something like this came up again, I wasn't going to just be quiet and stick to sports. That's why I've chosen to not stay silent."
Now the offensive line coach at BYU, Mateos has used his platform to speak out on racial injustice in a time when racial tensions in America are boiling over. In the two weeks since the death of George Floyd while under the watch of four Minneapolis police officers, protests have rocked nearly every major American city — and several internationally — with cries of "no justice, no peace" and "black lives matter."
The movement is even hitting college football, and Mateos was one of the early adopters in the sport to speak out in the latest round of social justice. He poured his heart into a 16-part Twitter thread that highlighted his thoughts and experiences, and began with a simple decree.
"Staying silent is too comfortable and easy," he tweeted. "The 'stick to sports' crowd can move along."
Staying silent is too comfortable and easy. The "stick to sports" crowd can move along. My heart is far too broken for our country to just hide and watch while I stay silent. I have too many people I love that are scared of the system. I'm scared for them.

— Eric Mateos (@CoachMateos) June 1, 2020
Colleges across the country have grappled with a new crisis even while dealing with reopening in the midst of the COVID-19 global pandemic, and football programs are not immune. Professional athletes and coaches are lending their voices and platforms, and college athletes and coaches aren't far behind.
But as more coaches, players and administrators speak out, BYU's role in promoting social justice and racial equality can be magnified. Cougar head football coach Kalani Sitake has been involved every Thursday with a Zoom call of FBS coaches, an event conducted by San Jose State running backs coach Alonzo Carter to discuss issues pertaining to minorities in college football, which has just 14 African-American head coaches in the Football Bowl Subdivision.
Sitake's role in the discussion is important, as the first native Tongan head coach in FBS history. So, too, is the role of the school that employs him.
"As an athletic department, we are aligned with BYU and The Church of Jesus Christ of Latter-day Saints to 'stand against racism and violence in any form, and are committed to promoting a culture of safety, kindness, respect and love,'" the school's athletic department said in a statement.
"We pledge our commitment to join with collegiate athletic departments across the country to enact positive change and foster a 'fundamental respect for the dignity of every human soul.'"
It's been 42 years since a monumental declaration from the university's sponsoring institution, The Church of Jesus Christ of Latter-day Saints, that lifted a ban on holding the priesthood levied against black African men since the 19th century — ramifications of which are still felt in today's church. As another round of racial tensions strikes America, BYU can be a leader.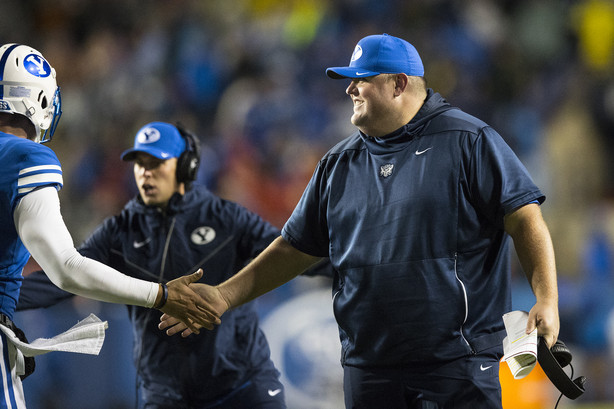 Change might take time, but actions speak louder than words. BYU's actions — unlike statements linked to the university's past — reflect values of inclusion, at least in the coaching staff. Led by a Tongan head coach, the Cougar coaching staff is a mix of white, black and Polynesian, from Sitake to offensive coordinator Jeff Grimes to running backs coach Harvey Unga and cornerbacks coach Jernaro Gilford.
The Cougars would be wise to lift up their own light and not stay silenced, in following the words of their offensive line coach. Coaches from Texas' Tom Herman to Michigan's Jim Harbaugh and Ole Miss' Lane Kiffin are joining student-athletes in marching with local Black Lives Matter chapters, while others have been criticized for tone-deaf and tepid responses, like Clemson's Dabo Swinney.
BYU can't afford to stay silent.
Racial injustices and some forms of racism are being exposed daily, even in college football, which has long held true to its "stick to sports" attitude. Just last Friday, the University of Utah suspended defensive coordinator Morgan Scalley while the school investigates a text message containing a racial slur he sent in 2013.
Several former players have rallied to defend Scalley, who has apologized for his actions, while a few have added to his missteps. The investigation into further misconduct remains ongoing.
In Provo, it wasn't long ago that prejudiced opinions seeped into everyday campus conversation.
When former BYU defensive back Derwin Gray was roaming the Cougar backfield from 1989-92, he says he dealt with conversations tinged with racism — both overt and implicit — regularly.
Gray, who holds a Ph.D. and currently serves as the lead pastor of Transformation Church, still remembers conversations with his Book of Mormon professor teaching about Latter-day Saints' now-disavowed theories on curses and black skin.
On another occasion, a white football player called a black football player by a racial slur, nearly starting a war on the practice field, with the Cougars' Polynesian pipeline separating the two factions.
When Gray began dating his wife, he remembers a Latter-day Saint teammate telling her, "You know that's not right."
It's a battle he's been fighting for each of his 49 years, the former NFL safety said recently on BYUtv.
"White supremacy is not just putting on a cape and burning a cross," he said. "White supremacy is an inherent belief that 'I am better than'; the reality is, if we are people of faith, then each and every human being is made in the image and likeness of God. The majority of people in the world are people of color."
The past two weeks haven't been the first time racial tensions have enveloped America. But today's moment feels different. Because it's not just black people speaking up and fighting against social injustice. They're joined by supporters of all races and ethnicities.
"We've been bullied for so long, talking, screaming, yelling, fighting for help, and nobody has stepped up and stopped the bully from bullying us," Gilford said. "Now people are finally starting to step up, and it's going to take everybody."
That's the key difference, said Gilford, a former all-Mountain West defensive back in 2003 who came to BYU after starring in his hometown of Hawthorne, California.
"It helps, knowing that everybody has our back," Gilford said. "We understand that black lives matter, and that all lives matter; that's not the point. We're just trying to get an even playing field, and make sure that everybody understands and sees what is going on."
BYU can play an important role in the change needed to heal society, because of its place in the college athletics landscape, in academia, and in the larger Christian world.
But it starts with change — turning from an attitude of "I'm not racist" to "I'm anti-racist," Gray said.
It begins with a word that Latter-day Saints preach every Sunday.
"I think there has to be honest and real conversation, beginning with repentance, beginning with 'I want to learn,'" said Gray, who has authored multiple books on the subject, including "The Good Life: What Jesus Teaches About True Happiness" that debuted this month.
"How can we make peace? Not just be on the sidelines, but be actively making peace."
Action and change will be required. But perhaps the most important thing white people — including close to 99% of BYU's campus — can do is stop and listen.
"Right now, it's on us as coaches to listen, and I think that's what (BYU athletic director) Tom Holmoe has encouraged us to do," Mateos said. "Just listen; be there. Some guys will need us more than others, and as long as we're there first and can provide an open ear, it will lead to more — especially on our campus."
×
Related Stories