VERNAL — In a remote stream on the South Slope of the Uinta Mountains, Utah Division of Wildlife Resources biologists were hard at work Monday harvesting eggs from wild Colorado River cutthroat trout.
This process, called "egg take," is a critical part of the DWR's efforts to restore cutthroat trout to their historically native range throughout Utah.
Cutthroat trout are herded into holding pens in the stream, where biologists and volunteers then sort the males from the females. Once sorted, the females are spawned for their eggs, and the males for their milt. Eggs and milt are then mixed to fertilize the eggs on-site before they're shipped to a fish hatchery.
"(The eggs) we collected today are getting shipped down to an isolation station," said Bryan Englebert, a regional sportfish biologist for the DWR. "They spend two weeks down there, then before they hatch, they're shipped up to our local fish hatchery. Most of them get stocked out as fingerlings, whether that be for a sportfishing opportunity, a put-and-grow idea, or a conservation project."
While most casual anglers are probably familiar with the concept of fish being raised in hatcheries, and then planted in popular waterbodies to sustain a put-and-take fishery for the general public, they probably aren't as familiar with the conservation efforts Englebert mentioned.
The cutthroat conservation program
Cutthroat trout are the only trout species native to the Western United States; Utah is home to historically native ranges for the Yellowstone, Bonneville, Bear Lake and Colorado River cutthroat. These fish, once found in abundance throughout the Rocky Mountains, have since seen their native range dramatically reduced thanks to a combination of human development, water diversions and the introduction of nonnative fish species such as brown, brook, and rainbow trout. Cutthroat trout have faced a battle against extinction since the '70s.
Egg takes — like the one that occurred on Monday — are one of the most valuable tools biologists have used as they've restored cutthroat trout to 2,287 miles of streams here in Utah. Egg takes allow fisheries biologists to quickly add native fish back to their native range, avoid the spread of aquatic diseases and ensure genetic diversity among the trout population.
"A lot of the progeny of the fish we're collecting today are going in the High Uinta lakes for either put-and-take fishing or conservation purposes," Englebert said Monday.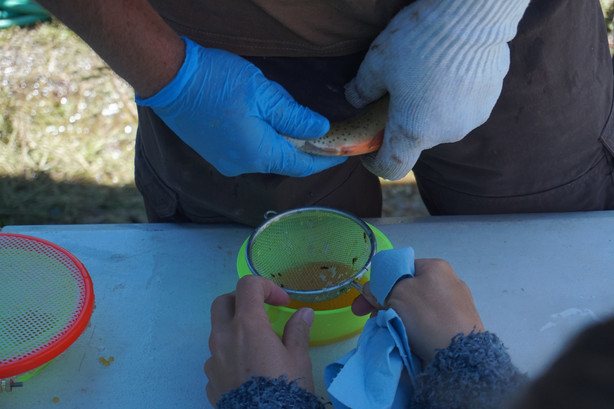 The biologists need thousands of eggs — and thousands more fry — to achieve the genetic diversity necessary to ensure the trout can exist in the wild.
"That allows those fish to persist if they have a minor adaptation," Englebert said.
He followed that up with examples of strains of cutthroat trout stocked in warmer areas of Utah that are more tolerant to warmer water and lower oxygen levels than the fish he took eggs from on the South Slope of the Uinta Mountains. That's a large part of why the eggs harvested on Monday will only be used to stock other waters within the South Slope region of the Uintas.
The reason for the work
If it seems like an awful lot of work to go through for a fish, consider this: these actions taken by the DWR actively help cutthroat trout stay off the Endangered Species List. If cutthroat were ever listed, angling opportunities throughout Utah would be dramatically reduced — especially for cutthroat trout.
"We want the maximum genetic variability on the landscape," Englebert said. "We don't want to see them become listed because we failed to do our due diligence to representing a genetic diversity."
In addition to keeping cutthroat off the Endangered Species List, these efforts are doing wonders to ensure that this unique fish doesn't go extinct. However, cutthroat restoration doesn't come at the expense of other sport fishing opportunities.
Englebert stressed that the DWR doesn't plan — nor want — to treat every stream and pond in the Uintas. Big rivers and lakes likely won't see massive cutthroat restoration efforts. He said that places that are harder to access and likely not at the top of anyone's favorite fishing spot list are likely candidates for cutthroat restoration.
"Ideally, in another 20 years, we're gonna have a more diverse fishing opportunity," Englebert said. "We'll have tiger trout and brook trout and grayling and a few golden trout and cutthroat all on the landscape and available sometimes within a few minutes of each other. If we just have a stunted brook trout fishery, that's not really an acceptable scenario. That's not what I want to see as a fish biologist. I want to see maximum opportunity."
---
×
Photos