SALT LAKE CITY — Many Utahns have been juggling multiple responsibilities the last few months between working full-time and parenting full-time. It's an adjustment for both parents and kids, especially now that summer is in full swing. One Utah mom is using strategies she's recently learned to help her daughter get the attention she needs during the workday.
Sara Judd, a nurse and patient safety manager at Intermountain Primary Children's Hospital, has a new co-worker these days — her adorable 5-year-old daughter, Evie.
"She is incredibly sweet," Judd said. "But she's also kind of mischievous!"
Judd's first week working from home, nearly three months ago, was rough. She hadn't heard much from Evie and was under the impression her daughter was doing a great job of entertaining herself. Moments later, Judd realized otherwise.
"I log off, I go in the bathroom and glitter is in every single crevice," Judd described, and all over Evie's face.
That's when Judd took the advice of Intermountain Healthcare's Callie Kofoed, a child life specialist at Intermountain Healthcare's Primary Children's Hospital.
"Having some kind of routine, or at least trying to, can work wonders," Kofoed said. "Have them help create the schedule and then post it where they can see it."
She said this gives children a sense of control, predictability, and well-being. Kofoed tells parents to schedule outside time, quiet time, meal times and unstructured play times.
Judd took note. "Every day we're going to brush our teeth. We're going to make our bed. We're going to eat breakfast," Sara explained.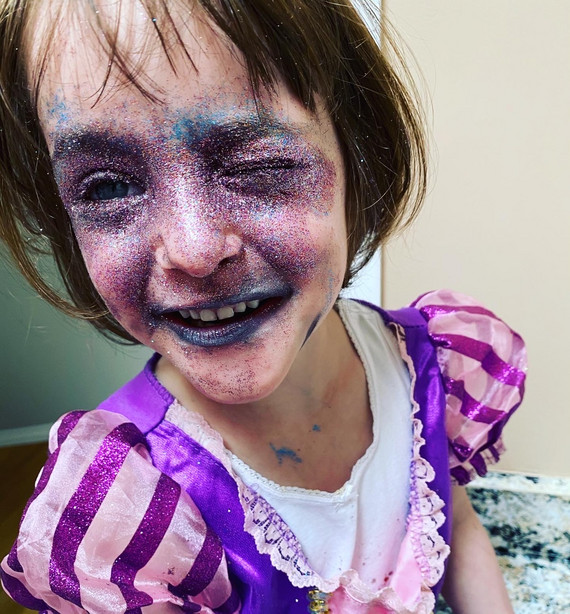 She uses sticky notes to list the day's activities on the wall at Evie's eye-level. She schedules in play time with her daughter between meetings so she can tune into Evie's needs.
"Putting the phone down, not looking at my emails, not looking at anything else, just doing whatever it is that she wants to do, and trying to do it with the sticky notes as best as I can," Judd explained. She said when she gives Evie 100% of her attention during her breaks, her daughter usually behaves better later on in the day.
"Then the child is less likely to need constant attention throughout the day, because that fills them up," Kofoed explained.
"We can do a craft in 10 minutes," Sara said, "Or we'll go outside and take her doll for a stroller walk."
Kofoed says kids need play time to digest big emotions and feelings. "It's how they process the world around them. Kids need opportunities to be kids, they need creative outlets," she said.
But when mom or dad need to buckle down, Kofoed suggests finding creative ways to signal to their kids that it's time for them to work.
"You can put on a silly hat or you can tie a ribbon on the doorknob, just to give those kids a cue that it's focus time and that interruptions, unless it's an emergency, should be avoided," she suggested.
And if a child does interrupt, kindly remind them, "Hey, now remember the schedule at 2 o'clock. It's our one-on-one time," Kofoed said.
Kofoed also recommends enlisting grandparents or friends in a virtual play date. "If you have a very important work call, you could ask Grandma to tag in and set her up on a virtual call where she and the child could read stories back and forth, as well as singing songs, or just talk," she said. Kofoed added this might help kids not feel as lonely.
Judd reserves screen time like a movie or Khan Academy for when she can't be interrupted. Or she will save a brand-new activity, like a fresh pack of Play-Doh, for a long stretch of work.
Kofoed suggests finding unique ways to transition from one activity to the next. She said you could play a fun song or set an alarm to give your child a cue that it's time to move on. "All those things can be very helpful," she said.
One day Judd got caught up in meeting after meeting and didn't stick to the schedule. She once again found Evie in the middle of another mess.
"She comes in and she is just covered in ketchup, and I had to pause and say, 'I'm so sorry, but my daughter just washed her hair in ketchup,'" Judd said. She had emptied the entire bottle of ketchup and was using it to spike her hair. She then used blankets to clean up the mess!
Judd found her coworkers were surprisingly understanding. "They said, 'You know what, it's OK. We've been there,'" she explained. She was grateful for their patience and grace.
When another coworker found herself in a similar situation someone responded to their team meeting saying, "You never have to apologize for being a mom, too."
Judd has internalized that message during these unprecedented times when she is trying to do her best. She tells other parents to just be patient with themselves. "We're all just doing it together," she said. "None of us have this figured out."
Kofoed reminds parents to still take care of themselves by eating right, getting enough sleep, and exercising. "If we aren't in tune with our own needs and our emotions, then it's going to be very hard to support children," she said.
She also tells parents to stay flexible, and make adjustments if the current routine isn't working. "These schedules should not be rigid rules, they should more like be more like guidelines," she said. "You can celebrate when things go well in a day and forgive yourself and your children when they don't."
Kofoed encourages parents to reassure their kids that this is a temporary situation and to avoid sharing difficult news or having hard conversations right before bed. "Those conversations are best to be scheduled or had during the day. And then at night, when kids are winding down and ready to go to bed, it's great to sit down together and talk about gratitude and talk about positive things," she said.
For parents who could benefit from talking to someone during these difficult times, they can call Intermountain Healthcare's COVID-19 emotional health relief hotline at 833-442-2211.
×
Photos