SALT LAKE CITY — A Taylorsville man accused of brandishing a bow and arrow and threatening a crowd of protesters on Saturday afternoon was charged on Thursday and later arrested and booked into Salt Lake County Jail.
Brandon Earl McCormick, 57, was charged Thursday in 3rd District Court in Salt Lake City with aggravated assault and two counts of possession of a dangerous weapon by a restricted person, all felonies, according to court documents. He also faces a misdemeanor charge of threatening or using a dangerous weapon in a fight.
Earlier Thursday, Salt Lake City police said that McCormick had been screened by the Salt Lake County District Attorney's Office for charges of aggravated assault and possession of a weapon by a restricted person, and they anticipated he would be arrested and charged in the case.
The state is requesting his bail be set at $100,000, according to charging documents.
Videos of the incident posted on social media show McCormick getting out of his car and yelling at protesters, and then brandishing the bow and arrow and threatening demonstrators, according to witnesses. McCormick is tackled immediately, the videos show.
Protesters were gathered near 400 South and 200 East on Saturday afternoon calling for justice in the death of George Floyd, a black man who died while in police custody in Minneapolis last week.
McCormick was in his car near 415 S. 200 East on Saturday afternoon during protests, according to charging documents. McCormick's vehicle stopped due to traffic and protesters in the road.
McCormick then got out of his car and yelled an expletive and "all lives matter," according to the charges. He went back to his car, got a large knife and began walking towards people in a crowd while yelling at them. He was also seen brandishing the knife at the people around him, charges say.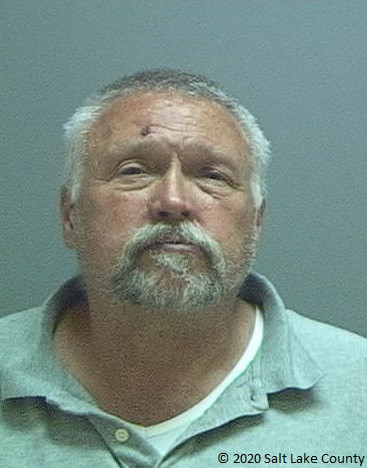 More video footage from the afternoon shows the incident with the bow and arrow, according to the charging documents.
McCormick returned to his car and got the bow and arrow from the back seat. Video footage shows him loading an arrow into the bow and drawing the arrow back, charges state. He is also seen pointing the loaded bow at people in the crowd as if to shoot them, according to charges.
A total of 46 protesters were arrested following Saturday's protest in Salt Lake City on suspicion of failing to disperse, violating the city's curfew order, or assaulting police officers. There were 21 officers treated for medical reasons Saturday; most for heat exhaustion, but some for assault injuries.
Utah court records don't list many cases in the state involving McCormick, but he was charged with assault, a class B misdemeanor, in Taylorsville Justice Court on May 7, which was just weeks before protests began. Details about the incident weren't provided in the records, but the Deseret News reported that the charges stemmed from a road-rage incident. Unified police told the outlet that McCormick claimed he was cut off by another driver, which eventually led to a fist fight between the two drivers; McCormick left the scene but was cited by police at his Taylorsville home.
He is currently awaiting trial in Taylorsville Justice Court in that case, charging documents from Thursday indicate.
According to his Facebook page, he's originally from Barstow, California. San Bernardino County public court records show McCormick had a lengthy criminal history there with felony convictions.
Utah charging documents indicate McCormick was previously convicted of battery on a peace officer, making him restricted from possessing a dangerous weapon.
McCormick's Facebook page also contains a plethora of extreme far-right posts with some containing violent ideation about left-wing political figures.
Salt Lake County District Attorney Sim Gill's office is continuing to gather evidence in the assault case involving McCormick. Anyone with further information is encouraged to call Gill's office at 385-468-7700 or email DistrictAtty@slco.org.
×
Photos