Estimated read time: 8-9 minutes
This archived news story is available only for your personal, non-commercial use. Information in the story may be outdated or superseded by additional information. Reading or replaying the story in its archived form does not constitute a republication of the story.
SALT LAKE CITY — Hundreds of people gathered at the Salt Lake City and County Building on Monday evening in a more peaceful protest against police brutality, another in a wave of protests that have occurred across the state and nation after the death of Minnesota man George Floyd in police custody last week.
Organized by the Party for Socialism and Liberation, speakers in Washington Square Park called for major police reforms and an end to the capitalist system they said supports injustice.
"Our goal is to demand the end to the police brutality across the U.S. that's been really coming out, as well, through the national protests and the police crackdown in response," said Party for Socialism and Liberation member Moira Turner shortly before the protest began at 6 p.m.
Turner said the system in the United States is "built on the genocide of Native, black and brown people, and we condemn the crackdown on the protests, we condemn the police, and we are calling for the prosecution and conviction of all four officers that were involved in George Floyd's death."
But she called for a peaceful protest.
"We're doing everything in our power to keep it that way," Turner said.
Protesters marched from the park to the Salt Lake City Public Safety Building, watched over by hundreds of police officers.
As an 8 p.m. curfew ordered by Salt Lake City Mayor Erin Mendenhall descended on the protest, organizers pleaded with the crowd to disperse; most did, though some then drove to the Utah Capitol building and gathered across the street from a line of Utah Highway Patrol troopers guarding the Capitol steps.
Other protesters made their ways elsewhere in downtown Salt Lake, with some ending up near the Vivint Smart Home Arena and others further east on South Temple.
Other than a few tense moments and minor skirmishes, and some minor damage, the protest remained peaceful.
There were no reports of any injuries to protesters or police officers as of Tuesday morning, Salt Lake City police detective Greg Wilking said.
Salt Lake City police arrested 16 people Monday, and Utah Highway Patrol troopers arrested two more, according to a tweet from Salt Lake police. The majority were arrested on suspicion of failing to disperse.
One man, later identified as Roger Nuankdo Dyujay, 21, was arrested after police found he had a loaded handgun while at the protest, Wilking said. Dyujay became confrontational with officers and then decided to flee the scene, but officers caught up with him and discovered he had a gun, Wilking added.
Although it was mostly peaceful, there was some damage. One arrest was also made of a protester that had a loaded handgun on him. We are now working to enforce curfew. https://t.co/0yQ8glmh7Jpic.twitter.com/WeyES6SoJl

— SLC Police Dept. (@slcpd) June 2, 2020
Early in the event, protesters held signs calling for justice for Floyd and chanted slogans like "No justice, no peace!" as several speakers stood on a Washington Square picnic table to address the large crowd through a microphone.
They mourned the death of not only Floyd, but local man Bernardo Palacios-Carbajal, who was shot and killed by Salt Lake City police a week ago, and others like Louisville, Kentucky, woman Breonna Taylor.
After the speeches, the protesters marched through Library Square to the public safety building and chanted at the officers guarding its entrance to "kneel with us."
After a while, one of them did.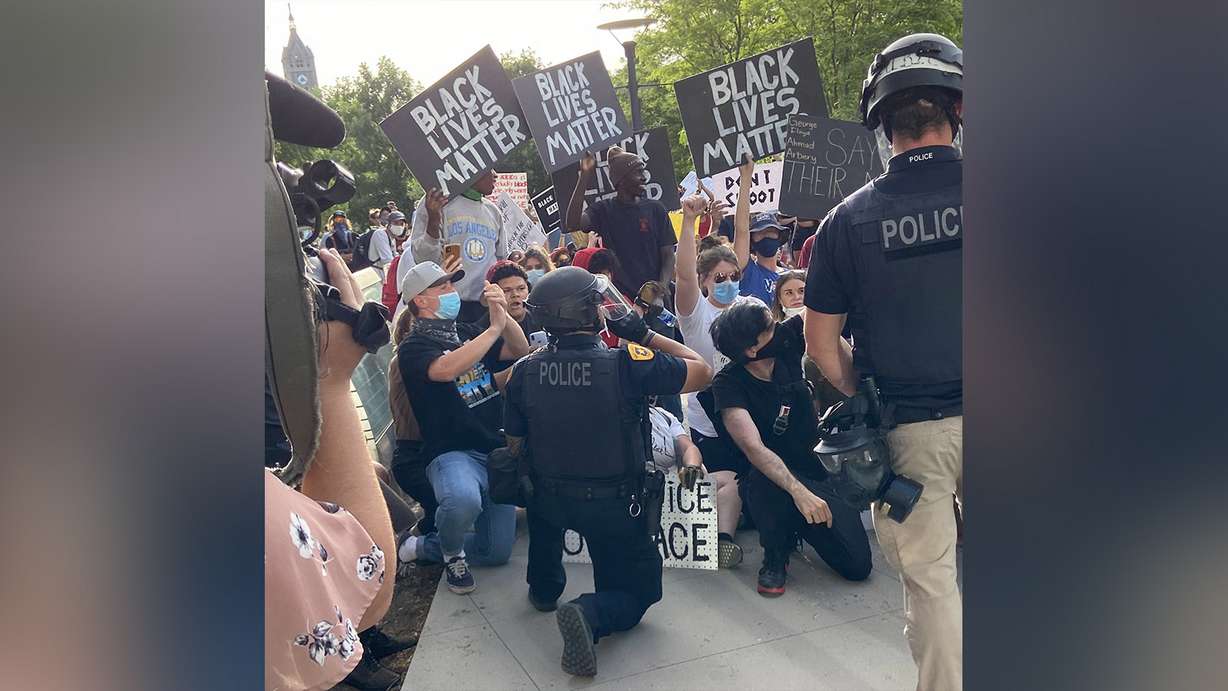 "If we can keep everything peaceful and that means me taking a knee to make sure things stay peaceful, that's what I'll do," Salt Lake City police officer Metui Tautuaa told the media after the crowd had largely dispersed from the public safety building entrance and began walking around it.
Tautuaa said he supports the protesters' cause, too.
"I understand why they're protesting," he said. "I'm just as upset as them. What happened is not right, and it does need to stop."
The symbol was not lost on many protesters, including Andy Reynosa, who stood among the section's organizers.
"We do appreciate the person who took a knee with us — the cop," Reynosa said. "It means that at least someone heard us, and he has the respect to hear us. We appreciate that a lot. Once he sat down and took that knee, we all clapped because it means a lot. It hurt his pride, but he's willing to admit it, and he's here with us. That's awesome."
Moments after officer Tautuaa's act, MJ Powell approached the line of officers as the crowd began to move on to other marches, and thanked several of them for their service. He wasn't there to start a fight, he said; he knows several of them, personally.
"There are great people that work for this department," Powell said. "This is a peaceful demonstration. I'm a Black Lives Matter activist, but I'm also a human being. I like to think freely and clearly, and when people here want to talk, we don't shut that down. We encourage conversation.
"Conversation accomplishes more than bricks and looting every day. I'm not going to allow them to make a narrative out of that."
To anyone who wanted to talk, to simply have a conversation and discuss the issues the protesters wanted to discuss, Powell said they should be allowed to do so. That's why they gathered downtown Monday evening.
"It takes people to speak their minds," he said. "This is what America was founded upon. The moment we lose that, we lose ourselves as Americans. Freedom of speech is important. Freedom of the press is important. This is why I'm here today."
Protesters walked around the public safety building and then began to move back toward Washington Square as curfew fell. An increasing number of police officers, playing a recording warning the crowd to disperse, gathered near the public safety building as protest organizers exhorted others to move away.
At 8 p.m., organizer Deja Gaston grabbed a megaphone and asked the crowd to disperse from the steps of the City and County Building. Within 20 minutes, after further exhortations from organizers, most of the protesters had departed the scene.
By 8:50, as a handful of protesters gathered in front of the heavily fortified Capitol, troopers warned the group that arrests would begin within 15 minutes. Later, some protesters were taken into custody as the UHP moved its line slowly down Capitol Hill.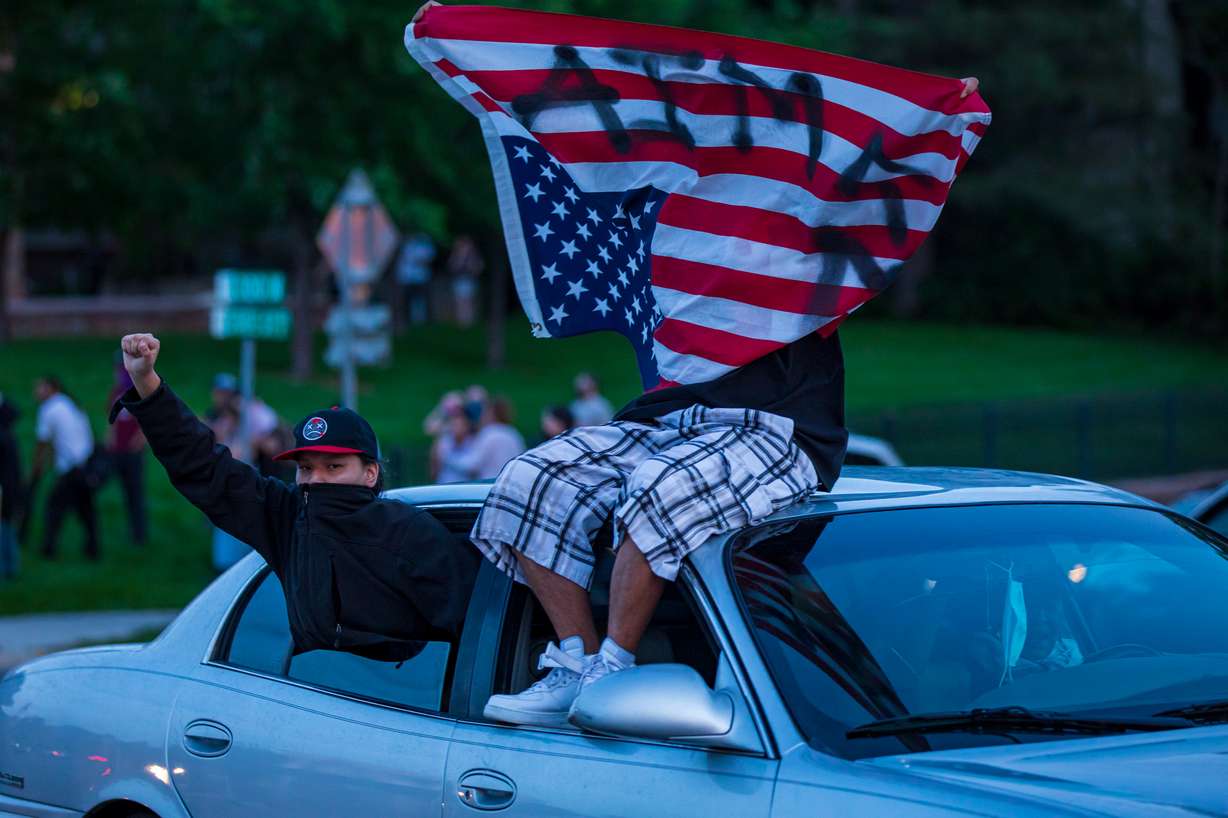 A large group of protesters got into a standoff with a line of police officers east of State Street on South Temple, and after police had the group completely surrounded, a leader of the group was able to help the group disperse peacefully.
"We're gonna do this the right way," the man told the group through a megaphone. "May we leave?"
The leader of the group with a megaphone appeared to negotiate with Salt Lake City police officers to leave the scene peacefully and go home.
Protesters were then seen making their way south on State Street as the evening's events came to an end.
Keeping the protest to a peaceful calm and not one that caused the vandalism in Salt Lake City similar to Saturday's events was important to Gaston, and the rest of her party.
"The media is going to take away from people who are dying," Gaston said. "The media is going to focus on property being damaged. I know personally that property of the state was damaged, but that's replaceable, but what's not replaceable is people who were killed.
"The fact the media were paying attention to that and not the reason for this is another reason why we're mad. It's another reason why our voices have gone unheard. We're trying to yell and scream, and we had to break stuff. But today, I didn't want that to be the message. I didn't want another reason for the media or the cops to incite more violence on our people. I know that happened on Saturday, but oppression has happened for 400 years."
Simard Stanford hails from upstate New York, coming to the Salt Lake Valley to live with his sister. And what he saw Monday wasn't anything like what he's seen from police officers in New York City, or even the more mild-tempered public servants upstate.
What he saw was plenty of mutual respect from both officers and protesters alike.
"It's all about respect at the end of the day," Stanford said. "If they see we can respect what they want, they should be able to respect what we want.
"We only got to this point because of lack of respect from them. We had to raise damn-near hell to get heaven — and we're still not there — nowhere close to heaven. (These protests are) international now, and we respect them. Nobody went crazy. They should respect that, and if they see that everywhere, they should respectfully say, these guys are working with us and we should've been working with them all along."
Contributing: Jacob Klopfenstein and Carter Williams, KSL.com
×
Photos
Related Stories