OGDEN — Nate Lyday, the 24-year-old Ogden police officer who was killed in a shooting this week, "exemplified the nature of the true guardian," Police Chief Randy Watt said Friday.
Lyday died Thursday in an Ogden shooting that also left a gunman dead and another law enforcement officer injured.
Lyday had worked with the Ogden Police Department for 15 months, according to Watt.
'A son of Ogden'
Standing in front of an Ogden police car adorned with flowers and American flags, a visibly emotional Watt honored Lyday in a Friday morning news conference outside the Francom Public Safety Building in Ogden.
"A warrior, guardian and public servant, officer Lyday sacrificed his life on behalf of the threatened and fearful family at the scene, the citizens of Ogden in the immediate area, the greater Ogden community and the fellow law enforcement officers who were with him," Watt said.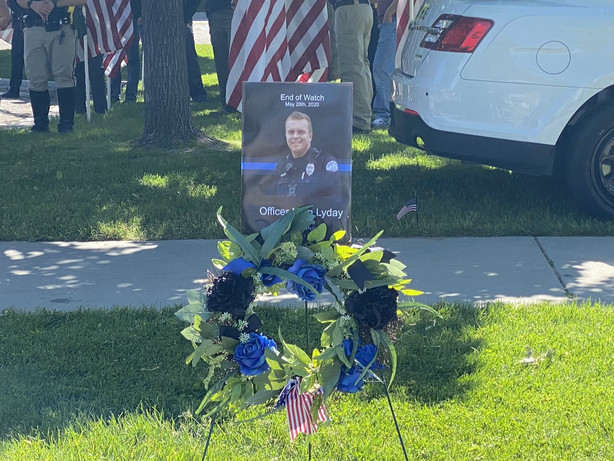 A "son of Ogden," Lyday was born in Ogden at McKay-Dee Hospital and graduated from Weber State University with a degree in criminal justice, Watt said. Lyday was a second-generation law enforcement officer — his father worked in law enforcement in Davis County, Watt added.
Lyday went to Taylor Elementary School, Mound Fort Junior High and Ogden High School, Watt said. As a young man, Lyday worked at the Fresh Market at the intersection of 20th Street and Harrison Boulevard, the chief said.
Lyday also was about to celebrate his fifth wedding anniversary with his wife, who had recently graduated from Weber State University, Watt added.
"We are grateful for Officer Lyday — for his service, his friendship and his example," Watt said. "We will mourn for a short period, but more importantly, we will celebrate that he lived."
---
Ogden Police Chief Randy Watt honored officer Nate Lyday in a news conference Friday morning. Watch the replay of the event below.
Lyday's family members added more flowers to the police car behind Watt as the chief finished his remarks.
Lincoln Avenue, in front of the public safety building, will remain blocked for several days. People are invited to visit and pay tribute to Lyday in the coming days, Watt said.
America First has established a memorial fund account to offer financial assistance for fallen Officer Nathan Lyday's family. Thank you for your outpour of support during this difficult and tragic time.
America First Credit Union
Nathan Lyday Memorial Account
Account # 9115916

— Ogden City (@OgdenCityUtah) May 29, 2020
Domestic violence call leads to shooting
Lyday died after police responded to the 300 block of Jackson Avenue about 12:14 p.m. Thursday on a domestic violence call.
A woman called 911 and reported her husband threatened to kill her, but the call was disconnected and attempts to reconnect with her were unsuccessful, police said.
Police reported that when officers arrived at the address, they confronted a man, later identified as John Benedict Coleman, 53.
After they confronted him, Coleman went inside a home, shut the door and then began shooting at officers through the door. Police returned fire as they dragged injured officers away from the home.
Lyday was shot and transported to McKay-Dee Hospital where he later died from his injuries about 12:27 p.m., Watt said. An Adult Probation and Parole officer, who has not been identified, was also injured but was released from the hospital later Thursday afternoon.
SWAT team members who responded to the scene later found Coleman dead in the home.
A search of court records reveals no prior criminal history for Coleman in Utah aside from four traffic violation cases; however, Ogden Police Lt. Brian Eynon said Friday that Coleman had a criminal past.
Police have been to the home before for domestic violence-related incidents, Eynon added. Coleman did not have a gun when officers confronted him outside the home, and they did not know he was armed until he began shooting at them through the door, Eynon said.
Several children were safely taken away from the home after the incident. Further information about the domestic violence call and shooting has not been given.
Domestic violence resources
Help for people in abusive relationships can be found by contacting:
Tribute procession for Lyday
A tribute procession for Lyday has been scheduled for Friday afternoon as law enforcement officers will escort the officer's body from Salt Lake area back to Ogden, according to a news release from the Ogden Police Department.
The procession will start at the Calvin Rampton Complex of the Utah Department of Public Safety, 4501 S. 2700 West in West Valley City, at 4 p.m.
Any law enforcement officers or emergency services personnel wishing to join the procession should gather at the parking lot at 4315 S. 2700 West by 3:45 p.m.
The procession will follow 2700 West to 4700 South, and then to I-215, where it will proceed northbound to Legacy Parkway. From there, the procession will continue on to U.S. Highway 89 as it turns into Washington Boulevard in Ogden.
The procession will follow Washington Boulevard north to 21st Street, past the Francom Public Safety Building. From there it will head back south along Washington Boulevard, ending at 34th Street at Lindquist's Ogden Mortuary.
Members of the public are invited to view and show support for the procession as it passes by, but are asked to stay safe and out of the roadway. The procession is expected to end between 5 and 5:30 p.m.
×
Related Stories