LAYTON — Tuesday wasn't the way Isaac Morris hoped to address his classmates as senior class president at Syracuse High.
Neither, though, were a lot of things about his senior year, which was cut short and pushed online for more than two months as a result of the COVID-19 pandemic, just as it was for seniors across the state of Utah.
"After all this, our senior year was cut short," said Morris, speaking in a virtual commencement exercise streamed on KSL.com. "Or in other words, it was the best 2½ years of our lives."
The feeling was mutual for his classmates across the Davis School District.
Ninety-six percent of seniors graduated from the district, or 72,897 students spread across 90 schools. For the first time, and in large part due to the coronavirus pandemic, all 10 high schools streamed virtual commencement ceremonies on live.ksl.com.
"Staying home for 11 weeks made us realize there are good things from staying in school," said Emma White, a senior class vice president at Davis High.
Graduation ceremonies are coming to an end across the state, meaning the senior Class of 2020 will move on to the next phase of their lives.
Though the coronavirus took so much from this year's senior class — spring sports, senior prom, and a traditional graduation ceremony among them — students of the Class of 2020 chose to focus largely on what they had Tuesday night, rather than what they didn't.
They had each other. They had health, most of them. And they still had their friends — even if social distancing and self-isolation have kept them apart for the final term of their high school careers.
"The reason we were all devastated when school was canceled was because of all the happy memories we made," said Bountiful student body president Andrew Hyde, who helped organize a movement called "Rise Together Utah" over the final weeks of the school year. "So, let's stop focusing on the things we lost this year and focus on the things we gained."
By now, most of the seniors who spoke Tuesday night have acclimatized to their situations. It's easier to focus on what you gained — the graduation of a lifetime, for example — than what you lost.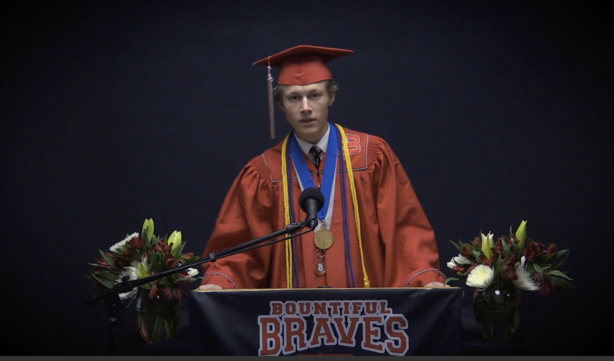 Before the final curtain call of their senior year, high school had one final lesson to teach them — in the form of COVID-19.
"We didn't choose the change, but we can choose our response," Davis senior class president Madeleine Morrell said. "Let's remember these lessons for years to come.
"Let's remember the happiness of these last 18 years."
Tuesday allowed seniors to get back to the meaning of "commencement" — not as an end to high school, but a beginning of the next chapter of their lives. For many, that will include college, church missions, military service, or even marriage. For all, it will include a new story.
"This is only the beginning of all of our stories," Layton senior Spencer Stringham said. "The best is truly yet to come for us."
That's why there were no tears in Tuesday's prerecorded ceremonies. Or if there were, they weren't tears of sadness, but tears of joy — common to all seniors in late May every year.
"We need to not focus on the ending of our high school year, but rather focus on the beginning of the rest of our lives," Morris said. "Dare to begin the next chapter to your story. Dare to begin your future. Be who you want to be, and don't be afraid to grow up."
×
Related Stories