TAYLORSVILLE — At first, Taylorsville High valedictorian Ian Moore was disappointed he and his classmates wouldn't get the traditional graduation ceremony, with the "Pomp and Circumstance," the giant venue with friends, family and loved ones looking on, and all the regalia that others got.
It was just another thing missing from his senior year: prom, spring sports, yearbook parties, senior trips. Now add "graduation" to the list.
Then he realized he wasn't alone — the Class of 2020 in Utah is a large class, and nationwide, high school seniors are going through the same thing.
Besides, this isn't the first time the noted Taylorsville swimmer has done hard things, dating back to when he first took up the sport at the beginning of high school. It's also not the first time he's seen a down situation pay off with a big reward.
"I was able to get better at it, and we went to state for the first time in almost 10 years," said Moore, who won a Region 2 title in the 50 free in 2018. "Being able to be a part of that success at Taylorsville is something I'm really proud of."
Another thing he's really proud of: graduation. Moore will lead a pack of 514 graduates through the Warriors' celebratory parade Thursday and Friday, an experience most Utah high schools have received this year — but few (if any) others had tasted in previous years.
Across Granite School District, 4,020 seniors donned a cap and gown, walked across the stage set up in empty auditoriums, parking lots, and other heavily sanitized structures in the final bow for the Class of 2020.
Granger leads the district's eight traditional high schools with 650 graduates, followed by Hunter's 597 and Cyprus' 540. Skyline graduated 461 seniors, Kearns added 426 and Cottonwood had 336.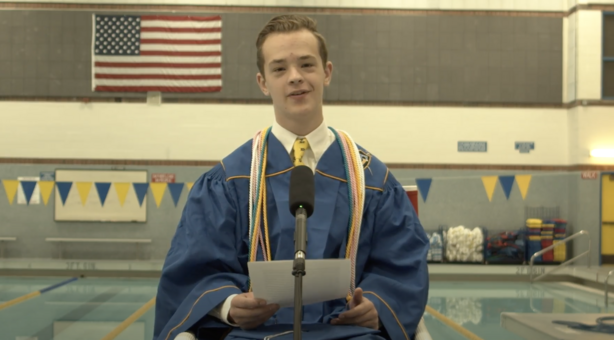 It wasn't without challenge. Olympus saw 496 graduates file through two six-hour sessions of makeshift, socially distanced walk-thru ceremonies Wednesday and Thursday, followed by Friday's virtual graduation program streamed on live.ksl.com.
After the exercises, the Titans will return to the school Friday night for a parade in their honor, with each student riding in a car driven by a parent while galleries of teachers and faculty cheer them on.
It's not a perfect round of graduation events. But it's something, and similar traditions are erupting around the state.
And maybe most important for the Class of 2020, it's theirs.
"It's definitely surreal," Olympus senior Austin Tullis said. "There's never been anything like this, and it definitely feels like it. It's surreal, but we'll make it through it."
Tullis' trek across the stage was followed by one final reunion of friends on the Titans' football field, a popular spot for the basketball player and golfer. Next up, he'll serve a two-year mission for The Church of Jesus Christ of Latter-day Saints in Montreal, Quebec, before enrolling at BYU to study business.
Before that, though, he just wanted one final sendoff: a graduation, like every other senior before him.
"It was a little weird, but they did a great job of making it feel more normal," Tullis said of Olympus High's faculty and administration. "We just wanted the experience of graduation. You think about this for your entire senior year."
Ditto for classmate Madi Wilson.
"To be able to walk, with all my friends, that feels normal," the senior student-body officer said. "I think being able to dress in cap and gown and to see these diplomas, to have our families cheer as we walk across the stage, it made it feel like a graduation."
Wilson plans to enroll at BYU in the fall (barring another pandemic-related setback).
But before then, she made one final, lasting memory of high school: proving to the world that not even a pandemic could stop the Class of 2020.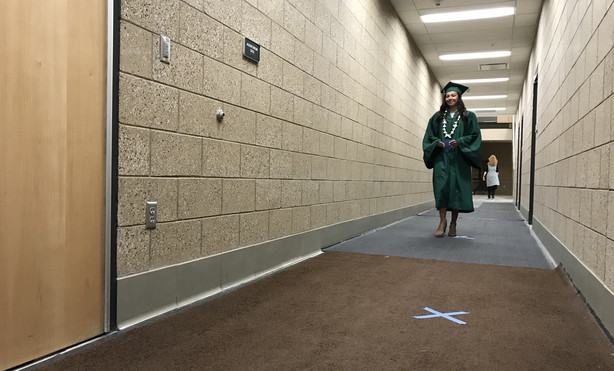 "I think this is something that I'll be telling for generations to come: how we were able to walk during a time of corona," Wilson said. "At one point that wasn't really an option.
"I think it's super exciting. We may not remember the speakers in years to come, but we'll for sure remember how we walked. For a while, we didn't know if we could do anything like this."
Taylorsville's Moore plans to study at the University of Utah, where he'll compete with the collegiate Utah Masters' club program while studying computer science. He hopes to eventually earn a spot on the Utes' men's swimming and diving team.
And why not? He's already experienced more through four years of high school than the average generation. What's one more challenge?
"It's experience that will strengthen us, and make us stronger together," Moore said of graduation. "We have a bond that no other group has because we're going through this together."
×
Related Stories