PROVO — The roar of the crowd as Timpview senior Sylvester Avei received his diploma was as loud as almost anything he's ever heard.
As he got out of his family's truck to walk on stage and accept his diploma as a graduate of the Class of 2020, his family made the noise — cheering, screaming, clapping, even blasting a few air horns, which are usually banned at indoor commencement exercises.
Thursday evening's commencement was unlike anything he'd ever seen. And it was just what the Avei family — mom, dad, brothers, sisters, cousins and all — needed.
"My family definitely went all out for it. It was much more than simple," Avei said. "My whole family has been looking forward to this. It's a huge thing in our Samoan culture, when we graduate. I think this is the normal for us."
About 515 seniors from Timpview walked across the stage to graduate Thursday night in an outdoor, drive-thru procession (similar to other schools) that started along Timpview Drive and ended in the school's parking lot, according to Timpview principal Fidel Montero. The 150 staff and faculty members who lined the street celebrated and honored those seniors with a little bit of normalcy after two months of online schoolwork, no spring sports, and virtual graduation ceremonies, including many that will be streamed on live.ksl.com.
Count this week as a success.
It's a different type of graduation for a different type of class, whose senior year was disrupted due to the COVID-19 pandemic. But it was also memorable and unique — another defining characteristic of the Class of 2020.
"It totally felt normal. Our teachers have put forth all their effort online, and they've really helped us out with graduation," said John Doxey, Timpview's student body president. "They really helped us get that walking experience that we were going to miss out on — but this was more than I expected."
Doxey will head off to college at BYU-Idaho — as soon as the pandemic will allow him, at least — and then serve a two-year mission for The Church of Jesus Christ of Latter-day Saints. But Thursday night was a memory he said he'd cherish forever.
"This is a lifelong memory," he said. "I remember my brothers and sisters graduating across the stage at UVU. That's great. But this way, we're already with the family, no waiting in line; it's such a great experience."
Walking out of the back of a pickup truck or trailer — or even a boat, on at least one occasion — epitomizes how the Class of 2020 did things: in their own way.
In many ways, it couldn't have been better, said Provo High senior class president Megan Pope, whose class celebrated graduation Tuesday.
"I thought it would be sad not to walk across the stage with my teachers, family and friends," Pope added. "But being able to drive past the teachers like that was so much closer. It speaks to my time at Provo High and how I got to build those relationships."
Pope will continue on to Utah Valley University in the fall, where she will become another incoming freshman in a sea of the largest public university in the state. But for one shining moment, she — along with her graduating class — was the center of attention.
While it's hard to thank the COVID-19 pandemic for anything, it has caused many to remember the seniors who lost the final two months of their high school careers.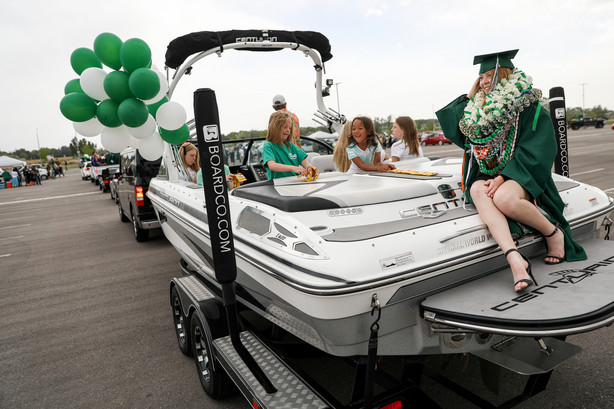 And that's something Pope said should be granted to all graduates every year.
"Everybody's giving us so much attention and caring so much. It's so, so sweet of everyone to do that," she said. "Nobody's going to forget this, and I think that's even better. I'm a middle child, so that makes it even better.
"I hope future classes don't take for granted their graduation ceremony. That's all we wanted, and I hope we can be an example for them to be grateful for what they have."
COVID-19 took graduation — as well as other iconic memories like prom, spring sports, and senior night — away from the Class of 2020. But it's a group that has already overcome a lot. And for one memorable week, they took a part of their losses right back.
"We've had four years here at Timpview," Doxey said, "and we're not going to let six weeks of COVID-19 destroy our memories."
×
Photos
Related Stories