SPANISH FORK — Bryson Evans has been to a few graduations in his life.
Normally, he showed up on a warm, sunny spring day. He filed into a large mass of humanity wearing his Sunday best, sometimes struggling to stay awake during a speech by a principal or school board member or even selected students.
Then he stood up and clapped as his friend or sibling heard their name called, with raucous applause as they walked across the stage.
That last part was pretty great, and something he looked forward to.
The rest of it? Not very memorable.
But Wednesday's graduation at Maple Mountain has been memorable for Evans — and not just because it's his own. It's been a unique graduation ceremony, special to the Class of 2020 after a pandemic took away many of their own special memories.
"I've been to a couple of normal graduations, and I don't remember much about them," said Evans, the Golden Eagles' valedictorian of the Class of 2020. "But I have a feeling I will never forget mine.
"This is a very unique, and definitely memorable experience."
Across Nebo School District, commencement exercises got underway Wednesday. In the age of the COVID-19 pandemic, Springville, Maple Mountain and Payson held their virtual graduation ceremonies Wednesday. Salem Hills and Spanish Fork will continue Thursday; many graduations are being livestreamed at live.ksl.com, with accompanying drive-thru diploma receptions with teachers and faculty congratulating graduates at a socially distant and occasionally masked fashion.
While many of those graduation ceremonies were nontraditional, they were equally unforgettable — like graduating on horseback, which is how Springville senior Alli Johansen celebrated her special day.
"I was bummed at first, but then I thought we could make this work," said Johansen, who received her diploma while riding Ginger, her riding partner since third grade. "We do a lot of parades, so she's used to all the fame. She likes it."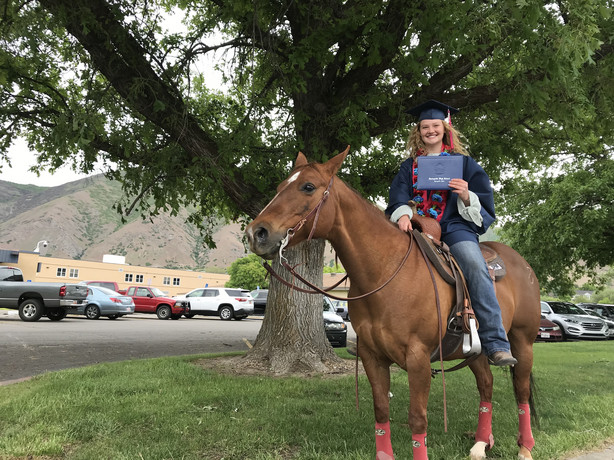 Johansen was named Pony Express and Fiesta Days rodeo queen during her high school career, so celebrating with Ginger — as well as her family, who accompanied her graduation trot — was the best way to mark the occasion, she said. It's a moment she said she'll never forget.
"This was way better," Johansen said. "For me, personally, it was way better. I'll definitely remember this. It's great."
Evans, too, admits it was difficult to wrap his head around the pandemic and school restrictions early on. Around two months ago, his life changed — along with the rest of the Class of 2020 — when Gov. Gary Herbert enacted a soft closure of all Utah schools to combat the spread of the novel coronavirus.
Since then, however, Evans' classmates have been able to grasp the unique situation they've been in. Sure, there's no commencement exercise to embrace, no senior prom, or senior night for baseball, softball, track and field, boys' soccer and lacrosse teams.
But it's hardly a shock. This is, after all, the generation of students that came into the world on the heels of the September 11 terrorist attacks in New York City. Graduating during the largest pandemic since the 1918 Spanish flu is just par for the course.
"It's been a ride, in our personal lives and in the world and politics over the past 18 years," Evans said. "We've been through such an interesting period of time. We'll have stories to tell."
For most, their academic career isn't over. Evans, an honors graduate with 10 Advanced Placement courses and an ACT score of 35, plans to study biology at the University of Utah with eyes on becoming an epidemiologist. He was part of Maple Mountain's five-year run of consecutive state titles in the Science Olympiad, and he's performed with the school's chamber singers for the past two years, including last year as tenor section lead.
Wednesday wasn't just a graduation ceremony; it is truly a commencement, a new beginning, a daylong celebration of life and a unique senior class, complete with a parade around each school, lights on at the football field at 8:20 in honor of the Class of 2020, and fireworks at dusk.
"It's kind of like a day of celebration," Evans said. "I didn't think we'd get all this … I've been really impressed with all the work they've put in, to try to make us feel special in these uncertain circumstances, I think it's really cool."
×
Photos