WEST VALLEY CITY — Earlier this week, Diana Abrajan wasn't sure she was going to graduate.
But Friday, she passed the test that was the last remaining hurdle to earning her high school diploma from Granger High School. It was cause for celebration because neither of her parents graduated from high school. Her father started working after elementary school and her mother only went as far as junior high.
Sadly, neither was there to cheer her on because Diana's father was deported when she was about 4 years old. She and her mother joined him in Mexico.
As she approached junior high age, Diana, who was born in the United States, wanted to come to Utah to go to school.
"I just wanted to come here to study. My parents were OK with it. They supported me but they weren't able to come here because they don't have any papers," she said.
She has lived with her aunt and cousins, although they are more like brothers and sisters to her, Diana said.
On Thursday and Friday, Granger High School's faculty formed an applause tunnel to celebrate its senior class. It was a bittersweet occasion for Diana, who at once felt proud to be a high school graduate but saddened that she was apart from her parents.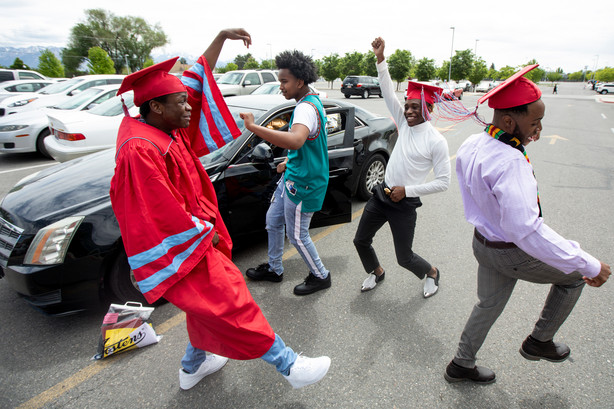 "Yesterday, I saw my friends on social media. I envied them seeing them with their caps and gowns with their parents," she said.
One of her teachers, Kristin Estes, convinced her to take part in the graduation walk to celebrate the culmination of her long journey. Her aunt was unable to attend Friday's festivities because she had to work.
Diana credits Estes for helping her over the finishing line. "She's like a part of my family," she said of her teacher.
Diana was nearly 13 when she came to Utah to go to school. At first she lived in Davis County, which was challenging because the school was not diverse and Spanish was her first language.
"You kind of feel isolated, kind of alone. When I came here I just wanted to cry all the time. I felt like, no one understands you," she said.
She later transferred to West Lake Junior High School and met students who were proud of their Latino heritage, which made her feel more comfortable, she said.
West Lake feeds into Granger High School, and on Friday, Diana joined fellow seniors she has known since junior high in an unconventional processional.
"It feels great," she said.
Diana said she is exploring university programs in Utah that offer aviation.
"I want to be a pilot. I'm not sure where to start but I will figure it out," she said.
×