SALT LAKE CITY — How clean is the air your children are breathing? It depends on what school they go to, according to a new study by the University of Utah.
Researchers took data from nearly 200 sensors and analyzed fine particulate matter levels, or PM2.5, at 174 schools in Salt Lake County and found that schools with higher minority populations and low-income students were exposed to greater levels of pollution — even on days when air quality was deemed "good."
"Even when conditions are good air, it does not mean there are no ill health effects on those days," said Sara Grineski, senior author of the study and a professor in the departments of sociology and environmental studies,
The study showed that underserved neighborhoods and their schools experience the highest concentrations of fine particulate matter, which can damage lungs just hours after exposure.
Particularly, schools that had a 21% increase in the number of Hispanic students were associated with a 12% increase in concentrations of fine particulate matter, findings revealed.
The study also found that charter schools were exposed to 20% higher concentration of PM2.5 than other schools, and Title 1 schools for low-income families were also disproportionately exposed to more pollution.
"The persistence of these injustices — from the pretty clean, but health-harming levels all the way up to the horrific air days — at schools serving racial/ethnic minority kids is unacceptable," Grineski said.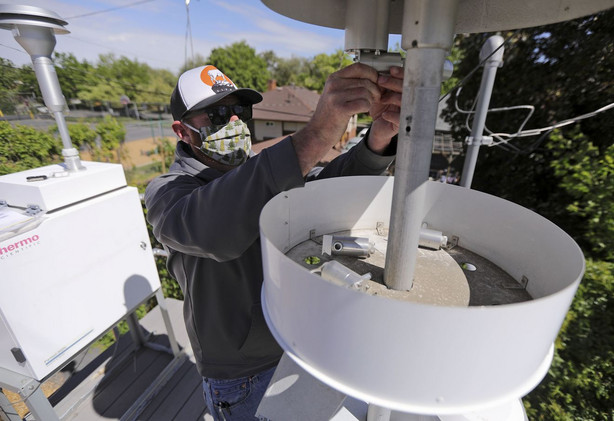 Elevation plays a major role in exposure to pollution in Salt Lake County, with less exposure on the eastern benches of Salt Lake County compared to the flat lands on the west side of the valley.
The valley is where there is the most industrial activity and concentration of traffic with I-15 and I-215, she added.
"It is not a good thing," she said. "It is something we wish we didn't find."
The study measured pollutant levels in three distinct time periods: when the air quality was deemed "good" under the threshold defined by the U.S. Environmental Protection Agency, when air quality was at moderate levels and when it was at its worst, during an inversion.
Grineski said the results were consistent during all three periods, with low-income and minority students being exposed to more pollution.
"When we see increases of students who are Hispanic or Latino, we see significant increases in the PM2.5 under all three of the scenarios we examined," she said. "No matter what the air pollution is like in our study, we still see that pattern of injustice replicating itself."
Related:
Grineski said the findings were not surprising given earlier research the university conducted.
"Our team has done another study in the Salt Lake metropolitan area where we looked at neighborhoods, not schools," she said.
Researchers hope the findings are a catalyst for leaders to make changes involving these schools, such as upgrades to filtering systems, installation of double-pane windows and other measures that can help reduce exposure to pollution.
School districts, too, can use the findings to be more thoughtful regarding the location of new schools, she said.
"We can make sure we are thinking about environmental hazards, and air pollution is one of those considerations," she said.
Ciriac Alvarez, a policy analyst with Voices for Utah Children, said equity among youth populations is a high priority for the advocacy organization, which has tracked the results of the study.
"With this study, of course, the results are disappointing. But we know these issues exist so it is important to look at these studies. "
The study, she added, also illustrates that health outcomes in minority or low-income communities are not always related to lifestyle choices, but environmental and structural settings.
×
Photos
Related Stories