PROVO — The state of Utah is going all yellow.
When Utah Gov. Gary Herbert announced that the state would move from the orange, moderate-risk phase of COVID-19 response to the yellow, low-risk response beginning Saturday, one of the first things he mentioned about the new phase was an increase in athletics.
The governor's designation, which applies to all state-owned land outside of Salt Lake City, West Valley City, and the counties of Grand, Summit and Wasatch, allows for congregations of groups as large as 50 individuals. That means that, while spectators will be expected to maintain proper social distancing standards, many local recreational sports are back on.
Various criteria will remain in place, Gov. Herbert said. They include checking temperatures of all participants and maintaining adequate spacing to continue to slow the spread of COVID-19.
Of course, those in the high-risk category, such as the elderly and those with immunodeficiency disorders, should continue in at least the orange phase of moderate risks.
But what about healthy adults, many of whom are involved in local sports? Recreational leagues and youth sports will be allowed to make their own decisions, under the state's guidelines. But the full answer is a lot trickier than simply turning on the next baseball game or soccer match, or organizing team practices for football in the fall.
"It's a slow opening of the valve," Gov. Herbert said, "and I think people should approach it in that kind of context."
High school sports remain shuttered by the Utah High School Activities Association, in conjunction with the State Office of Education's soft closure of all Utah schools through the end of the year. Herbert said Thursday that K-12 schools will remain closed.
While Utah Jazz players have been allowed to enter the team's practice facility for individual workouts, the return of the NBA is not immediately on the horizon. Neither is MLS, although Real Salt Lake players have also recently been allowed to return to team training facilities for individual workouts.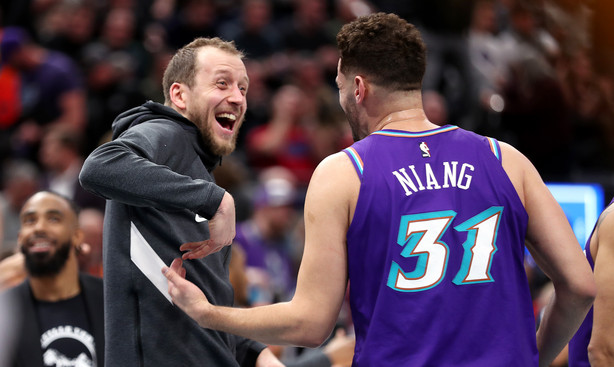 Major League Soccer extended its moratorium late Thursday night on small group and team training through June 1. Teams may continue to open outdoor training facilities for voluntary individual workouts, as RSL has done for the past week, and medical personnel are able to use facilities to conduct treatment and rehabilitation procedures.
While teams are consulting regularly with local government and public health officials, the ultimate decision on a return to play lies in the hand of the governing league.
Likewise with the University of Utah, the bulk of those decisions will fall under Pac-12 and NCAA jurisdiction. The conference has ordered all athletic facilities be closed until May 31, and Thursday's announcement in the Beehive State won't change that.
Ditto for Utah State and the Mountain West, which are under a similar May 31 closure order. The conference has been consistent in urging sports not be played until students are allowed back on campus, as well.
But Thursday did spark optimism for the Aggies.
"We are encouraged by today's announcement about moving to the yellow or low risk level in the state of Utah as it relates to the coronavirus," Utah State athletic director John Hartwell said. "Utah State athletics, in concurrence with the university, will continue to examine our policies and procedures for a safe return for our student-athletes.
"Although our athletic facilities will remain closed through the end of May, today's announcement does move us closer to resuming our normal routines, which includes all of our student-athletes preparing for competition this fall."
Related
Although BYU football competes as an independent, the university has also closed all athletic facilities on a similar timeline as its peers, per NCAA recommendations. Those guidelines haven't changed.
"We've discussed contingency plans for a variety of scenarios," BYU spokesman Duff Tittle said. "Currently all athletic facilities are closed through the end of May. Reconsideration of the closure period could take place if COVID-19 circumstances prompt a change in strategic directives from state leaders and the BYU administration."
The university released a statement earlier Thursday saying that a decision regarding fall classes won't be made until July. BYU's campus remains closed, with instruction pushed online for both spring and summer terms, and all outside events such as sport camps and camps sponsored by The Church of Jesus Christ of Latter-day Saints at church-owned facilities (including BYU) have been shuttered for the year.
"Ideally, the university would like for all of its students, faculty and staff to be on campus learning together, and we are working on plans that we hope can make that happen in some form," the university's announcement reads. "BYU's first priority, however, must always be the health and safety of the members of its campus community. For this reason, BYU's leadership will continue to work closely with state and county health officials, as the university studies the possibility of holding classes on campus or continuing with remote learning."
×
Related Stories