HERRIMAN — In many ways, Thursday was far from a normal day for Real Salt Lake players as they reported to training.
Before he could enter his own designated quadrant of one of the training, Albert Rusnak had to report to the RSL Academy outdoor fields wearing a mask. He was asked questions about having any potential symptoms of COVID-19. When it was all done, site workers checked his temperature; anything over 100 degrees would send him away.
And then, he was finally allowed to kick a ball, by himself, with 10-plus feet away from any teammate and an assistant coach who oversaw workouts in the middle of the field.
So it was hardly normal.
But boy, was it good to be back.
"Step by step, we're getting there," Rusnak said. "I was very happy to finally be on the pitch."
And even if it felt like a "prison" in terms of how long it took to get to the grass, just being outside made it worth it. Even if he had to wait for a staff member to retrieve, sanitize and return every errant ball.
"There's a lot of stuff we will probably get getting used to for the next couple of weeks," Rusnak said. "But it's the only way to go at the moment."
Most Major League Soccer teams returned to individual workouts at outdoor facilities over the past 48 hours, a crucial step toward resuming a league that has been suspended since the day after the NBA shut down following Jazz center Rudy Gobert's positive diagnosis for COVID-19.
Each team feels a long way from returning — Rusnak projects it would take him close to a month to feel fully "fit," or game-ready — and each team may be just as far out.
Midfielder Damir Kreilach doesn't think MLS will be able to return before July 1, though the league hasn't given any indication of when it would resume beyond noting it is "extremely unlikely" to return before June.
But they'll play again; Kreilach, who trained before Rusnak in an earlier session Thursday morning, is confident in that.
"How we will finish the season, I don't know — because of the situation in each state," the Croatian international admitted. "Of course, it will be good to bring the season to the end. I'm sure MLS will bring out some interesting construction with what we will do.
"At the end of the day, all our players are excited about that and want to bring the season to its end. We play for the fans, and we miss them a lot."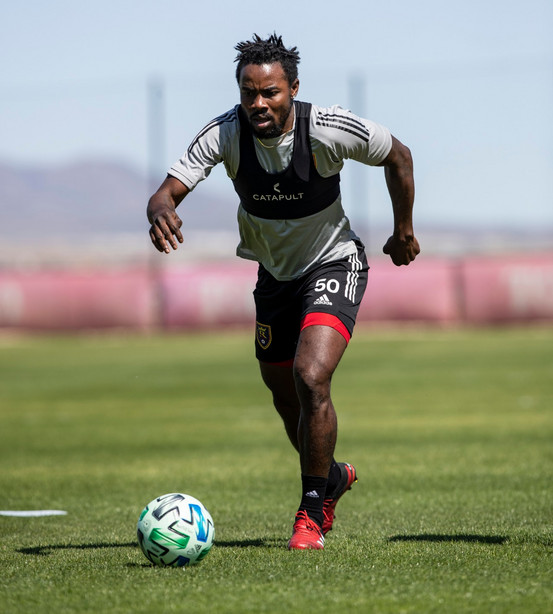 If and when the league does return, it's highly likely that at least some games will be played without fans in the stadium.
Rusnak hasn't played a game in a near-empty stadium since his days with the Manchester City Reserves as an academy player, so that could be weird. But he admits it's a better option than cancelling the season, as several friends and former teammates recently saw happen in Holland's Eredivisie.
"I can't imagine winning a trophy and there are no fans to celebrate," Rusnak said. "But on the other side, I think many fans would appreciate if games were played so they could watch on TV — and they could support at home.
Still, MLS won't rush back immediately, like Germany, where the Bundesliga is scheduled to return May 16.
"It's better to delay it by 1-2 weeks than to rush it out and then have to have a break again," Rusnak added.
×
Photos
Related Stories