SALT LAKE CITY — Most of Utah will transition to the yellow, low-risk level for COVID-19 starting Saturday, Gov. Gary Herbert announced Thursday.
Grand, Summit and Wasatch counties, as well as Salt Lake City and West Valley City, will remain in the orange, moderate-risk level, Herbert said. The rest of the state will transition to low risk at 12:01 a.m. Saturday.
"I like the trend, I like the numbers, I like what's taking place," Herbert said.
Utah saw 129 new COVID-19 cases Thursday and no new deaths as the state continues to plateau with cases of the disease.
Herbert also announced that a moratorium on evictions meant to protect renters from losing their housing during the pandemic will not be extended and will expire Friday.
Switching to yellow, low COVID-19 risk
In the switch from orange to yellow, groups of up to 50 will now be allowed to gather in social settings that aren't controlled by a business or other entity, according to retired Maj. Gen. Jefferson Burton, the acting head of the Utah Department of Health.
People will also be allowed to leave their homes as needed under the yellow designation. Team sports will also be allowed, so long as players are frequently monitored for symptoms and spectators observe social distancing.
Herbert clarified Thursday afternoon that only youth and club sports will be allowed. School sports sanctioned by the Utah High School Athletics Association will still be prohibited. K-12 schools will also remain closed for the remainder of the school year.
Public pools also will be allowed to open, as long as people observe social distancing while on the pool decks, Burton said.
Those changes, among others, are outlined in the phased health guidelines portion of the Utah Leads Together 2.0 plan, which is available at coronavirus.utah.gov.
Though many areas will see loosening restrictions, people who are at a high-risk for COVID-19, such as people over the age of 65 and people who have underlying medical conditions, will face stricter guidelines than the general population.
The full list of changes expected in the yellow, low-risk phase is available at coronavirus.utah.gov/utahs-low-risk-phase.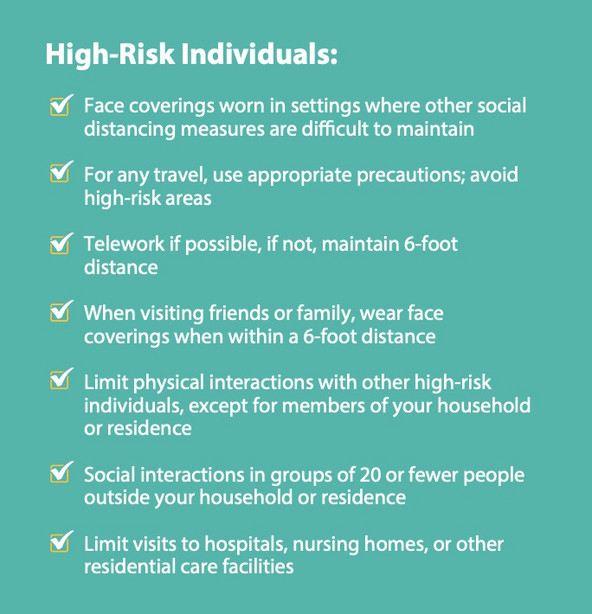 University of Utah Health CEO Dr. Michael Good, who is also a member of the state's Public Health and Economic Emergency Commission, said even though the state continues to move forward with more lenient guidelines, all Utahns must still work to protect at-risk individuals.
"Coronavirus is a bully, it finds and it attacks at-risk individuals," Good said.
The commission is very focused on protecting those people, he added.
---
Gov. Gary Herbert and retired Maj. Gen. Jefferson Burton, along with health department state epidemiologist Dr. Angela Dunn discussed the current coronavirus situation in Utah at a news conference Thursday morning.
Two other members of the state's Public Health and Economic Emergency Commission — Utah Sen. Dan Hemmert and University of Utah Health CEO Dr. Michael Good — also spoke at the news conference. Watch the replay of the event below.
---
State denies Salt Lake County's request to stay orange
Though Salt Lake City and West Valley City will remain at the orange, moderate-risk level, the rest of the county will move to yellow.
The switch comes despite county Mayor Jenny Wilson's request for the entire county to stay at the orange level, her office said Thursday. She requested that the whole county stay in the orange zone for an additional 10 days, according to a statement from Wilson's office.
"We are encouraged that Salt Lake City and West Valley City — who have each experienced a higher positive case rate — will receive exemptions and will continue to operate under the Orange guidelines," Wilson said. "But we also understand that the virus doesn't recognize municipal boundaries and therefore, countywide caution and prudence will still be essential for success."
On Twitter, Salt Lake City Mayor Erin Mendenhall said the city needs to see a two week period where positive cases have declined in order to transition to the low-risk phase.
"Salt Lake County public health data for the capital city, as a whole, shows a consistent, though gradual, increase in positive cases," she wrote. "Dr. Anthony Fauci, the nation's top infectious disease expert, has advised communities to wait until positive cases have declined for at least two weeks before easing restrictions."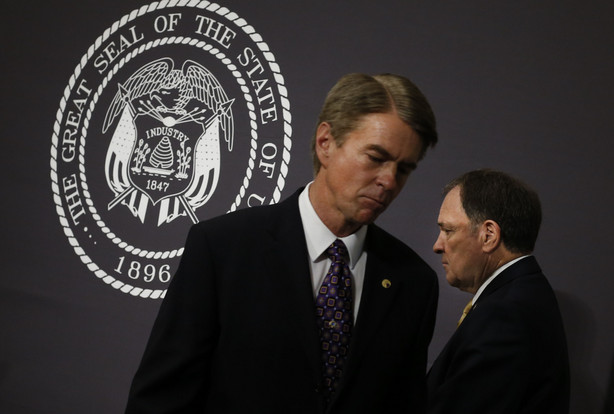 Wilson noted that restaurants were allowed to reopen on May 1, but most in the county did not reopen before May 4 and have only experienced 10 days of operating within the moderate-risk level guidelines.
"While we recognize progress is being made and we have observed a general leveling of cases, we believe that more time is needed to assess the impacts of phased re-opening," she said.
At the press conference Thursday, Burton said jurisdictions that request staying at a different color level from state guidelines must use data to back up their requests.
Such variance requests are submitted to Burton's office and then to Herbert's office for processing.
"The process is pretty well laid out now, I think everyone understands it," Burton said.
Even though the Navajo Nation in San Juan County has been identified as one of Utah's current hotspots for COVID-19, the county will be allowed to move to yellow. Outside of the Navajo Nation, the county had only four COVID-19 cases, according to Burton.
Herbert clarified Thursday in a tweet that the state's guidelines don't apply to the Navajo Nation because it is a sovereign nation that creates its own guidelines.
Utah's decision to move its health guidance from Moderate Risk (Orange) to Low Risk (Yellow) in Southeastern Utah does not apply to the current situation on Navajo Nation lands located in Utah, as these are sovereign lands.

— Gov. Gary Herbert (@GovHerbert) May 14, 2020
New COVID-19 cases
Utah's number of COVID-19 cases has increased by 129 from Wednesday, with no new reported deaths, according to the Utah Department of Health.
Thursday's totals give Utah 6,749 total confirmed cases, with 558 total hospitalizations and 75 total deaths from the disease. Previously, there were 6,620 cases in the state.
There were 99 people currently hospitalized for COVID-19 in Utah as of Thursday, according to health department state epidemiologist Dr. Angela Dunn.
The new numbers indicate a 1.9% increase in positive cases since Wednesday. Of the 160,119 people tested in Utah so far, 4.2% tested positive for COVID-19.
The total number of cases reported by the health department includes all cases of COVID-19 since Utah's outbreak began, including those who are infected now, those who have recovered from the disease and those who have died.
As of Wednesday, health department data shows 3,566 people are estimated to have recovered from COVID-19 in Utah. Anyone who was diagnosed with the disease three or more weeks ago and has not died is considered recovered.
The health department has added more data sets to its coronavirus dashboard, including details on outbreaks at long-term care facilities in the state, and COVID-19 mortality rates and demographics.
The dashboard shows Utah's mortality rate for COVID-19 is 1.1%.
Evictions moratorium won't be extended
Despite some groups calling for him to extend it, Herbert said he will let a moratorium on evictions expire Friday.
The governor said the moratorium was designed to give the state a chance to "pause." But now, there are resources available for renters that will help them pay their landlords, he said.
Unemployment insurance benefits, as well as the $600 federal stimulus, are available to help people out of work. Additionally, the federal Pandemic Unemployment Assistance program offers further help for people who don't qualify for traditional unemployment benefits, such as people who are the sole proprietor of their own businesses, Herbert said.
When asked about undocumented people who do not have Social Security numbers and therefore can't qualify for government programs, Herbert said help is also available for those who still feel they are falling through the cracks.
Those people can call 211, the assistance network administered by the United Way of Utah, or visit 211utah.org. Private entities, such as faith-based organizations, also are available to help, Herbert added.
Contributing: Lauren Bennett, KSL.com
×
Photos
Related Stories