PROVO — There's no telling what the upcoming college football season will look like as the nation still comes to grip with the COVID-19 pandemic.
There's no telling if there's a season, even.
BYU coaches and players didn't pretend to have all the answers about life's bigger questions Wednesday during a daylong Zoom-a-thon hosted by the athletic department.
But if there is a season, there's one date marked clearly in offices, bedrooms and quarantine spaces across the blue sideline.
"There's definitely a circle around the first game," BYU linebacker Isaiah Kaufusi said. "I'm hoping to play in that one, for sure."
The first game, of course, is the near-annual rivalry game with the University of Utah, currently scheduled for Thursday, Sept. 3, at Rice-Eccles Stadium, unless the Pac-12 shifts to an 11-game, conference-only schedule.
And there are several reasons why it matters a little bit more to the Cougars: it's the first game, so there's no looking past it. It's a heated rivalry, the longest-played football series in the university's history.
Oh, and the Cougars have lost nine in a row, and 10 of the last 11.
"With our season being on the brink … we have a team that's coming back like an injured player, feeling like football is being taken away from us," said BYU defensive coordinator Ilaisa Tuiaki, whose team saw spring football end after just six sessions. "We're stoked to get back on track, and to have the opportunity to compete."
"Beat Utah. I'm going to say it," Tuiaki added. "These guys have been eluding us, and we can't wait. We're going to give it to them. We want to beat them this year."
It's the reason players are still working out as much as possible, either individually or in small groups, according to CDC-recommended social distancing guidelines.
It's the reason coaches still report to work every day, calling into Zoom video conferences and dissecting as much tape as they can get.
Even with the near-standstill brought on by the pandemic, BYU continues to meet as a coaching staff. Players continue to work out on their own. Recruiting continues, even in the midst of an NCAA dead period that was extended through July 30. All that means is schools can't host recruits; they can still call, text or message them over social media.
There's plenty of film to dissect, and ways to improve. If COVID-19 causes an adjustment to the fall football schedule, that'll be a matter for another day.
In other words, there's plenty of work yet to be done.
"We had goals and visions, but they're all built on great intentions," Cougars head coach Kalani Sitake said. "The only good thing about intentions is where you start.
"We were accomplishing all our goals through spring ball, and I can honestly say that COVID-19 has not stopped that from going forward. All it's done is adjust things."
Which brings us back to Game No. 1, and the reason NFL prospects Khyiris Tonga and Matt Bushman returned for their senior seasons.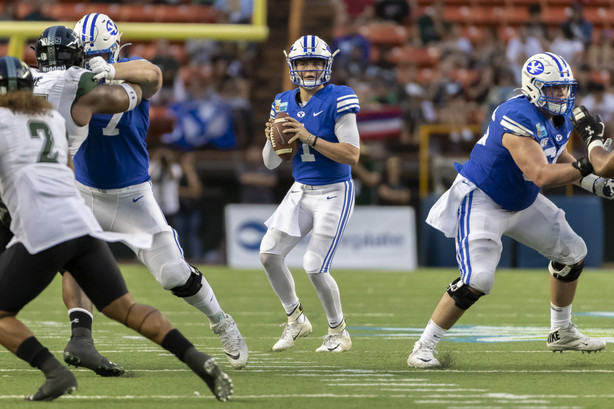 "I've gone 0-3 against them, and I'm really looking forward to playing them my senior year," said Bushman, the 6-foot-5, 240-pound tight end after the mold of his father-in-law, former BYU great Chad Lewis. "I really want to come out on top."
Bushman, whose 1,719 career receiving yards and nine touchdowns rank sixth in BYU history by a tight end, surprised many by forgoing a spot in the NFL draft this April and returning for his senior season. He could have left with his wife Emily, finished his degree online and opted for a professional paycheck.
But Bushman explained how short a college football career can be, and why he wanted to squeeze every ounce of joy out of his own time in Provo.
And he's hopeful to break the cycle of three straight years with six regular-season wins or fewer.
"We're just tired of falling back into mediocre seasons," Bushman said. "We want to be great. We want to be a program that stands out and can compete with the best.
"We're hoping we get every game, and we can have the fans there to experience a great season. We're sick and tired of being mediocre. We want to be great and win some big-time football games."
×
Related Stories