PROVO — In a lot of ways, Kalani Sitake's days during the era of COVID-19, self-quarantines and social distancing are a lot like the rest of us — especially after athletic director Tom Holmoe suspended all athletic events in response to the pandemic.
He's spending a lot more time with family, which is a positive (until his wife Timberly gets sick of him, he jokingly admits).
He's learning a lot more tools to help him on his job, like Zoom video conferencing and how to record a Skype call, even if that might seem like a negative for the technology-averse crowd.
He's even watching old reruns of the NCAA Tournament on CBS, or past MMA fights on ESPN when he gets home from the office.
"We're going through the same process everyone is going through," he said.
He's spending quality time with his kids, even starring in his daughter Sadie's homemade dance video on Instagram. Just like everybody else, right?
But not everyone else has a responsibility of keeping afloat a Division I football program, and that's where changes have come, with responsibilities in recruiting, developing players and helping them maintain their academic standards at BYU.
The coronavirus pandemic halted BYU's spring football after six practice sessions, and Sitake estimates one-third of his players have already returned home as BYU shifts to an online-only academic model the university said this week will last through spring term.
Football takes a bit of a backseat to a public health crisis spurred on by the pandemic. By June or July, when the Cougars normally resume summer workouts, or even by August, when fall camp is scheduled to begin ahead of the 2020 season, that will be more of an issue.
BYU opens the season Thursday, Sept. 3, on the road against archrival Utah. The Cougars return home nine days later, Sept. 12, against Michigan State.
For now, any guesses at a potential postponement or modified schedule are just that — guesses.
"I'm more focused on the here-and-now, and the day-to-day," Sitake told a handful of local reporters Tuesday during a conference call. "I'm focused on the present. Worrying about August in March does us no good.
"Right now, when things change so much hourly, it's hard for us to project and forecast that much. I'm focusing on the now. If we do our part as people, I think it will all work itself out."
With the rate of change the COVID-19 recommendations have sparked, the Cougars could potentially pick up an abbreviated version of spring football, if they're allowed to meet in the next month. But that seems unlikely, and Sitake said he's prepared to go into the season with as much — or as little — time as the NCAA gives him.
"Whatever they say we have, I'll go with it — as long as we're all given the same amount of time to prepare for the season," Sitake said. "We'll be ready for it. If it's a day, two days, a week. We'll be ready for the first game."
For now, there are much more important things than football. Even the thought of pushing back the college football season — currently scheduled to kick off Saturday, Aug. 29 — matters little when considering the ramifications of not containing the virus that has spread across the world.
At least one former BYU coach — Virginia's Bronco Mendenhall — expressed doubt about the timely start of the season.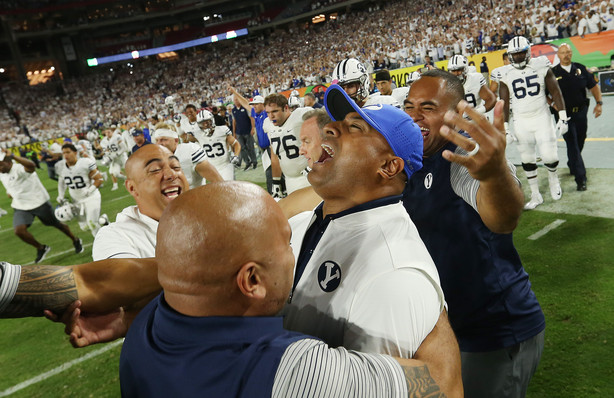 "We're acting as if, and we're making preparations as if, we won't have spring practice," Mendenhall told a group of Charlotesville-area reporters recently. "We possibly won't have players here for summer school, any session, and possibly we won't have the opportunity for anything other than fall camp to begin.
"Knowing that fall camp timing might even be pushed back, meaning that there certainly could be a chance that it's not even a full schedule played this year — if football is played, period."
A year without football? That seems like a drastic measure.
But in the wake of every major professional league in North America suspending its season, from the NBA to Major League Soccer to the upstart Major League Rugby, that certainly seems a possibility.
But it's also a possibility to consider in a few weeks, after health, government and political leaders gain a further handle on the spread of the virus.
"What we're missing out on is the amount of people who are allowed to play spring ball, and those who didn't even get to start," Sitake said. "Whatever they give us, I think we'll be able to work with.
"I envision a lot of different scenarios and options. As head coach, I've looked at all the different possibilities and options. We're ready for all of them."
×
Related Stories