This archived news story is available only for your personal, non-commercial use. Information in the story may be outdated or superseded by additional information. Reading or replaying the story in its archived form does not constitute a republication of the story.
SARATOGA SPRINGS — Stephanie Cowles wore a purple sweatshirt Saturday night, fighting tears as she spoke to the crowd. It was her sister Priscilla's favorite color.
"I know my sister is a fighter, and I know she attracted people just like her," she said. This vigil is for the hope that they're still out there. ... We won't stop until we find them."
Hundreds of people gathered at the Knolls area of Utah Lake Saturday night for a vigil for Priscilla Brenkowski, 18, and Sophia Hernandez, 17, two Saratoga Springs girls who have been missing since Wednesday when they went to recreate on the lake.
The girls were reported missing about 8 p.m. Wednesday after a man fishing on the lake heard one of their cellphones ring along the shore. Police later found one of the girls' car parked nearby, their items on the beach and the tubes both girls were using.
The disappearance prompted a massive search spearheaded by the Utah County Sheriff's Office that carried into Saturday evening and was expected to continue into the early hours of Sunday. Search and rescue crews have scoured the lake for days, and recently launched a land search made possible by volunteers and wildland firefighters.
However, Utah County Sheriff's Sgt. Spencer Cannon said the search will be scaled back in the coming days.
"We are sure they were on the lake Wednesday afternoon," Cannon said. "But beyond that we don't have anyone that saw them any further, that we know of."
Although he fears the worst, Cannon did not rule out the possibility that the girls are elsewhere.
"Because nobody saw them go in the water, we also cannot eliminate the possibility they went somewhere else," he said. "Maybe they're pulling a runaway prank, maybe someone did something to them. We don't know."
Scores of Priscilla and Sophia's friends, family, co-workers and community members gathered by the lake Saturday to share memories and try to remain optimistic. Candles were passed around as the sun set, and family members clutched pictures of the two girls. A gentle breeze momentarily dispersed the hordes of mosquitoes.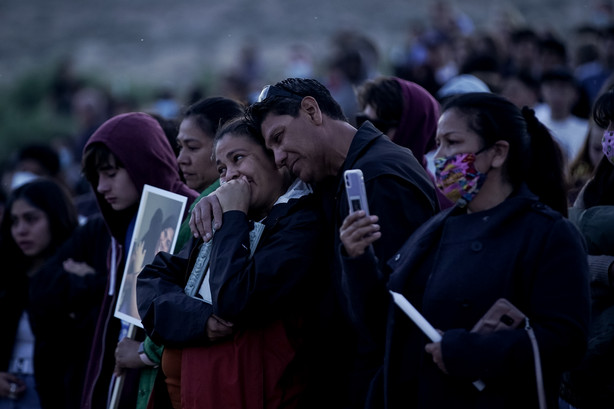 "We still believe and hope that they are somewhere," said Jimmy Hernandez, Sophia's father, who described the pain of not knowing what happened to his daughter.
"I'm going to keep searching for my daughter. We're going to keep searching for Priscilla. I'm not going to stop. We're not going to stop."
"Like her dad said, we won't stop until we find them," said Cowles, who took the microphone shortly after Hernandez. "If you could just continue helping every way we can."
After Hernandez and Cowles spoke, groups of friends and co-workers walked up to share stories of Priscilla and Sophia, girls they remember as bubbly, positive and who loved to dance.
"I've never met anyone who has such similar views as me," said Ethan Oramas, a friend of Sophia. "She is a really open minded person, you can sit down with her and have these really deep conversations and bond ... she just rings. The name Sophia rings in your head. She was there when I was down and I was there when she was down."
×
Related Stories