SALT LAKE CITY — Keyara Jenkins is used to the worry. It comes with the territory of being the wife of a Salt Lake City firefighter. She's felt it for nearly a decade ever since her husband, Kris Jenkins, joined the fire department.
But that worry currently feels a little different.
Kris, who is also a trained nurse, is one of the dozens of Utah health care workers who have gone to New York City to help fight the novel coronavirus in the hardest-hit part of the country.
For over a week, Keyara has heard his stories — stories of the hopelessness of treating patients on the verge of death and not being able to do anything to help; stories of how the virus takes life; stories of sadness of patients dying alone — and she's coming to grips with a potential reality as Kris serves in the Intensive Care Unit of one of NYC's designated COVID-19 hospitals: The virus may follow him home.
"We talk every day, and what he's been telling me, I feel like there's no way around him getting it," Keyara said. "So, now it's more real. He actually is like 90% sure that he's going to get it."
Kris Jenkins had heard about how bad things were in New York and tried to prepare himself for what he'd encounter, but what he experienced during his first shift was still shocking.
He felt a sting as his N95 pinched down against his nose and beads of sweat on his face. He was wearing four layers — scrubs, paper scrubs, a surgical gown, and, lastly, a plastic gown that needed to be worn each time he entered a room to perform a task. And this task was the worst one.
One of his patients had gone into cardiac arrest and died. He and another nurse removed the tubes from her throat and placed her in a body bag — where her body remained for the rest of the night while another patient fought for their life in the same room.
It was a sobering scene in an already sobering place.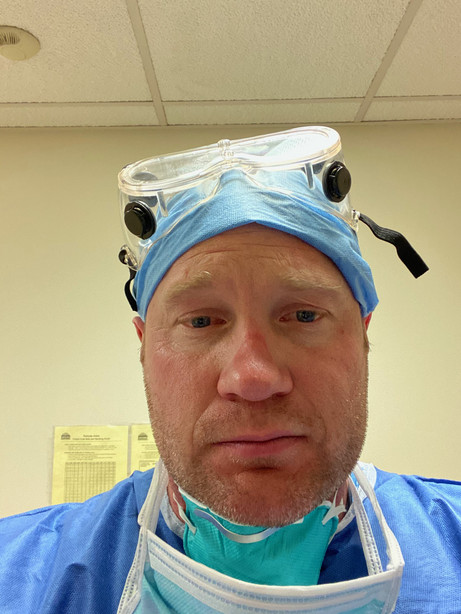 Over his first week, Kris saw at least one patient die each day — and none of them improved.
"Even though I was trying to prepare myself for that," Kris said, "I honestly didn't know how severe this was until I actually took care of my own patients. I've taken care of people that have died of the flu, died of pneumonia, died of sepsis — people die in a different way, it's just like a hopeless battle."
His experience isn't the reality of the entire situation in the city. There are other floors and other hospitals that see patients recover and be discharged — there is still plenty of hope for many. It's just been hard for him to find any for the patients he's treating.
"One of the physicians I'm with says he has yet to extubate someone — meaning he has yet to take a breathing tube out and discharge them to another floor to go home," Kris said.
Kris wanted to be in the heart of the battle. That's just how he's wired. He's not only a nurse, he's a paramedic firefighter, too. Kris would willingly run into a burning building and risk his own life if it meant even the possibility of saving someone else's. So, of course, Kris was willing to run to the center of the pandemic and treat the sickest of the sick if it meant he might be able to help.
Kris will be the first one to tell you it's cliche, but it's still the truth: He wanted to be a firefighter because he saw how important they were during the dark day of Sept. 11, 2001. The acts of bravery from that day made a lasting impression on him and has only been solidified as he's heard those stories during his time with the fire department. To him, this was his chance to help make a difference. It was another Ground Zero — and with his unique training, how could he not help?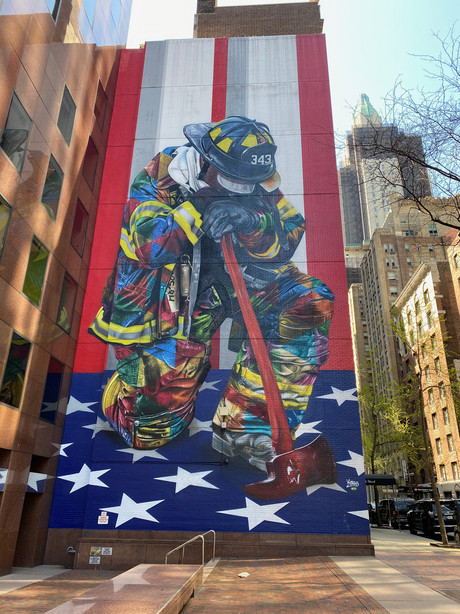 "A lot of firemen in New York have wanted to help him that don't even know him," Keyara said. "They just have this brotherhood. Not being able to help at 9/11, he's like, 'This is my chance, this is my chance that I can help.' Knowing that personality type, I told him, 'I'm not going to take this away from you. I will make sure that I'll do whatever I can to support you in this. Do I like it? No, but I know that you'll regret it if you don't go.'"
Kris has three little kids back at home. He video chats with them each day and sends them messages when he can. The children know where their dad is and that he's helping fight what his young daughter calls the "stupid virus" (she misses seeing her friends), but Keyara said they don't quite understand the gravity of the situation.
"They know their daddy's a firefighter; they're very proud of that," Keyara said.
Even if it means having to share their hero with the world.
That's something that has always been hard for Keyara. When the couple was dating, she originally shot down the idea of Kris being a firefighter because she didn't want to see him consistently be put in harm's way. But when his desire never faded, she accepted it was what he needed to do.
"He's just thrived," Keyara said. "He's just loved being one that just goes and does."
Which has brought Kris to New York fighting something that he says you have to see to truly believe. On his floor, all his patients are on ventilators, they are all nearly maxed out on medications that are attempting to keep their blood pressure as high as possible, and in most cases, he'll eventually see death. A death that is far from peaceful. Kris explained the bodies become so swollen that the only way he can describe them is by comparing them to the Michelin Man.
"Even if it was your dad, you'd go in and you'd have a hard time even recognize he's there," Kris said. "... It would be so hard to watch a loved one go through what these people are gonna go through, and you're not gonna watch him because you're not gonna be allowed next to them."
Kris is using an online blog to keep a journal of the experience. It's so his family and friends can kind of understand what he's going through and seeing, and also, so he can remember it. Throughout his shift, Kris makes sure to make notes of things to recall as he writes the daily entry, but the truth is, some of the images can't be forgotten.
In New York, the coronavirus is different.
×
Photos