SALT LAKE CITY — Utah Gov. Gary Herbert on Tuesday issued a public health order allowing some elective surgeries to continue at the state's hospitals.
Hospital officials say it won't be like flipping a switch to allow all those procedures to resume, though some could take place as soon as Thursday.
Patients who are waiting to have surgery will have discussions with doctors and surgeons, who will monitor the patient's condition to determine how urgently the procedure is needed.
"We're looking at the entire process," said Dr. Sam Finlayson, with the University of Utah.
Elective, or non-emergent, surgeries are described as any procedure that has been previously scheduled. That could include a kidney transplant, cancer tumor removal and other procedures.
Until Tuesday, those procedures had been prohibited during Utah's COVID-19 pandemic as hospitals sought to conserve medical protective equipment for their workers and limit the spread of the disease.
The Utah Hospital Association, in conjunction with the University of Utah, Intermountain Healthcare, MountainStar, Steward Healthcare, Gunnison Valley Hospital and others, created a "roadmap" for resuming elective procedures.
It's color-coded, with "COVID Red" meaning when conducting elective surgeries are high-risk due to the virus, "COVID Orange" signifying moderate risk, "COVID Yellow" meaning low risk, and "COVID Green" denoting normal virus risk.
The group submitted the roadmap to Herbert's office, which considered the recommendations and made the change Tuesday.
"This is a clinically driven decision," said Utah Hospital Association president and CEO Greg Bell.
He noted that although hospitals are getting hit hard economically by the crisis, the roadmap was made only with patients' concerns in mind, not financial considerations.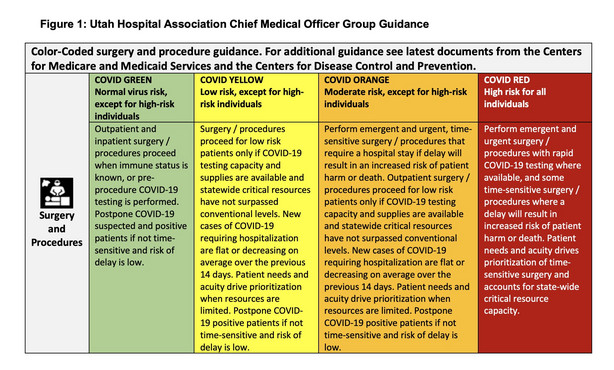 There isn't a specific list of elective procedures that will be allowed to continue, because there are so many variables to consider when planning a surgery, said Dr. Mark Briesacher, senior vice president and chief physician executive with Intermountain Healthcare.
Doctors and surgeons meet with patients to see how they are doing and if their condition is worsening. They also determine whether it's safe for a patient to wait to have a procedure, or if waiting further will cause higher risk for the patient, Briesacher said.
In the red zone, urgent surgeries will continue with rapid COVID-19 testing where it's available, according to the roadmap document. Some time-sensitive elective surgeries will also be allowed to proceed if delaying further would cause a greater risk of harm or death for the patient.
Utah has been in that red zone for the last couple weeks, according to Dr. Arlen Jarrett, with Steward Healthcare.
Utah's hospitals won't transition to "COVID Orange" until new COVID-19 hospitalizations have been flat or trending downward for at least the last 14 days. Outpatient surgeries and procedures for low-risk individuals will only be allowed if COVID-19 medical supplies, such as testing resources and protective equipment, are not at critical levels.
Under "COVID Yellow," surgeries for low-risk individuals can proceed if COVID-19 supplies are at conventional levels.
In "COVID Green," outpatient and inpatient surgeries will proceed if the patient has tested negative for COVID-19, or, if a vaccine becomes available in the future, or the patient is known to be immune to the disease.
In the yellow, orange and green zones, surgeries will be postponed for COVID-19-positive patients, if possible, and if further delay does not cause any major risks.
While the green zone triggers when there is "normal virus risk," it would not necessarily mean a return to normal life, Jarrett said.
Hospitals will be cautious to continue limiting the potential for the virus to spread, he said. Social distancing and hygiene measures instituted by state leaders have so far worked to limit the spread, and hospitals do not want to jeopardize that by resuming elective procedures, he added.
"We want to be careful to not undo the great things that have already been done in this state," Jarrett said.
With that in mind, the group of Utah hospital representatives who came up with the roadmap will continue meeting and making adjustments to the roadmap as needed.
They will continue looking at Utah's COVID-19 hospital admission rates, the spread of the disease in the community, the amount of medical protective equipment available, and the state's COVID-19 testing capacity, Briesacher said.
Continuing to monitor and assess those aspects of the pandemic will allow the hospitals to more easily move back to a more restrictive zone on the roadmap if cases of the disease begin to spike once again.
"We have a good plan going in both directions," Briesacher said.
For more information, visit utahhospitals.org.
×
Related Links
Related Stories