Estimated read time: 6-7 minutes
This archived news story is available only for your personal, non-commercial use. Information in the story may be outdated or superseded by additional information. Reading or replaying the story in its archived form does not constitute a republication of the story.
SALT LAKE CITY — If you're among the many Utahns who set ambitious health and fitness goals for 2020, it's likely you're feeling a little stuck at the moment.
With a global pandemic in full swing, maintaining a healthy mindset, nutritional plan and exercise routine has become significantly more challenging. Twenty four-seven access to your kitchen and the closure of your favorite gyms and fitness studios may make you feel like all hope is lost; fortunately, you still have options.
We asked six local fitness professionals for the best advice they have to offer fellow Utahns who might be struggling to stay healthy while social distancing. Here's what they had to say.
1. Control what you can
Melissa Urban, New York Times best-selling author and Whole30 co-founder said, "If you're experiencing stronger than usual cravings right now, it might help to understand that it's your biology at work. We're hard-wired to crave fast energy (sugar and processed carbs) under stress, and your body doesn't know the difference between being chased by a hungry tiger and the psychological stress of this pandemic."
She added that "it's not a lack of willpower or weakness," rather it's your body reacting to the environment and preparing you for "fight or flight."
Urban recommends you "control what you can control" and focus on behavior that can move the needle on your stress levels. She suggests make a shopping list and stick to it.
"Repeat after me: Buying it is the same as eating it," she said.
She also stressed the importance of prioritizing sleep — especially if that means going to bed earlier — and trying to spend some time every day outside, as green spaces do wonders for your immune system and mental health.
2. Get creative
Reinstating a regular routine could require a little creativity, according to Dr. Tanya Halliday, associate professor in the Department of Health, Kinesiology, and Recreation at the University of Utah.
"The inability to go to our local fitness center can be a large barrier to maintaining activite habits during this time," Halliday said. "The good news? We can still meet physical activity guidelines — 150 minutes per week of moderate-or-vigorous-intensity effort and two days per week of strength training all major muscle groups — in our own homes. The internet is full of free workouts you can follow along with that suit your fitness level and preferences."
---
Move your body, step away from Netflix … at least for a moment. Go for walk, do jumping jacks in your driveway.
–Misty Medina
---
For those of us who are motivated by a strong group of workout buddies, Halliday suggests creating a Google Hangout or Zoom meeting for everyone to join at the same time you would normally meet up for a workout.
"You can chat while you lace your shoes and eat a gel before heading out for some solo miles," she said.
3. Don't stress
Our beloved spin studios are closed right now, but Meredith Clark, a personal trainer and instructor at Rebel House and Therapy Fitness Studio, encourages our Utah fitness family not to stress about where and how we'll keep our workout routines going.
"Try and workout in the morning, instead of planning something later," Clark said. "I call this morning motivation. Schedule a 30-minute workout before your first Zoom meeting of the day."
If you're out of work, Clark recommends setting an alarm and waking up a little earlier than normal "to get those endorphins pumping."
"This way, you'll have the rest of the day to do whatever else with no pressure to work out," she said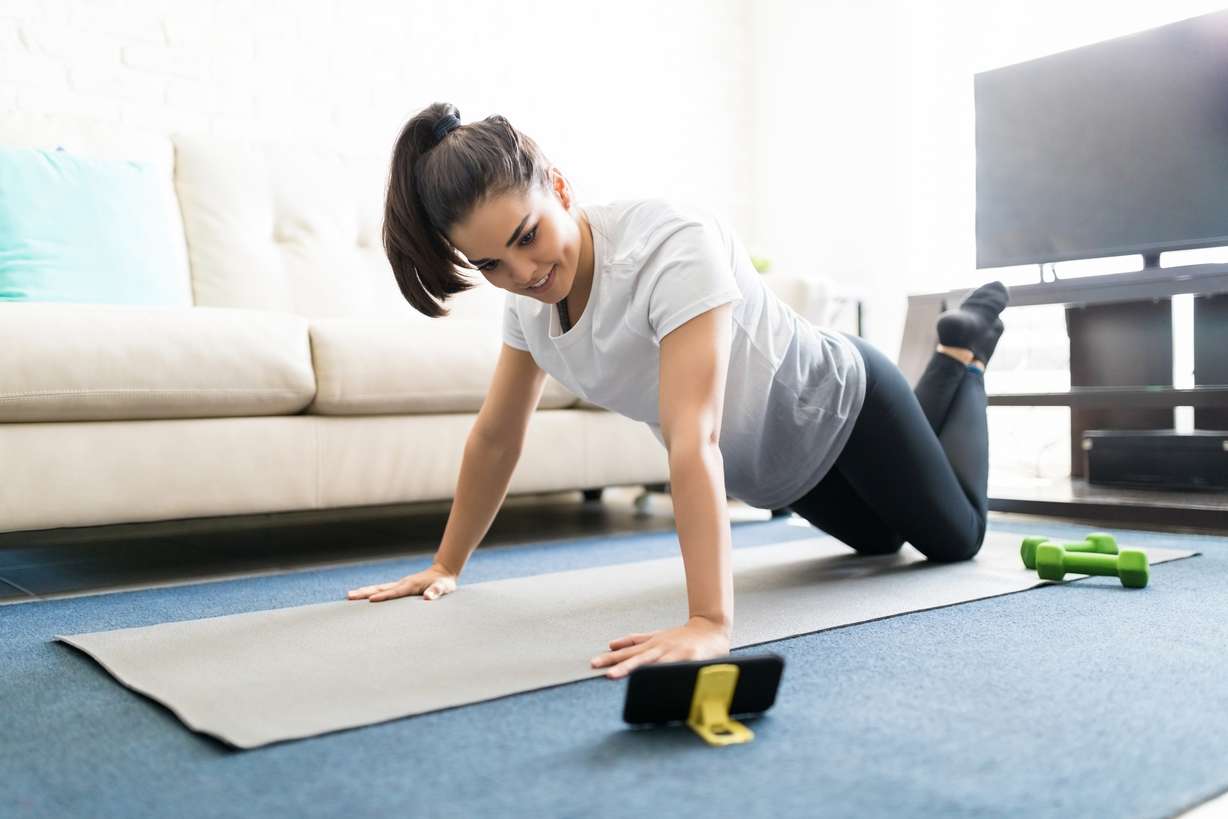 So where will you get the motivation to keep these morning workouts going? Clark suggests creating a workout plan for the week so you can know your options and commit to a consistent routine.
"There are so many free workouts on Facebook and Instagram, take advantage of this! Try something new!" she said.
While you're planning the calendar, Clark said, it's just as important to give yourself a rest day.
"It's important to use this time to relax, and take away some of your 'routine' stress."
4. Improve your self-awareness
"The solution to elevating your existence starts with simply understanding yourself," says Camee Adams, a local wellness coach, personal trainer and WMMA fighter. "Self-awareness is having a clear perception of your strengths, weaknesses, thought patterns and beliefs. It is understanding what gives you energy and what drains you."
When it comes to building the strong self-awareness necessary to maintain forward progress during the quarantine, Adams suggests setting aside time to unwind and process the day. She recommends journaling and reflecting so that you can begin to recognize patterns in your life.
Use your reflection time to recognize your emotional triggers and situations, Adams said. Once you've realized where and how your mindset runs off course, you should "set healthy boundaries in situations, and with people, you've noticed drain you." she added. On the flip side of this, she notes it's also important to make more time for the external positive influences that bring you joy like nature, exercise, meditation and laughter.
Related story:
5. Visualize and attack back
"It's fair to say that life has thrown all of us a giant curveball as of late," said JJ and Erika Peterson, owners of Clean Simple Eats, but they add that we can fight back. "If you really want to take your health —physical, mental, and emotional — into your own hands (and home!), it all starts with creating healthy, sustainable habits and mastering the new 'now.'"
The Petersons recommend starting with a solid weekly menu plan in place because knowing what's on the menu for the week will help you and your family stay organized. The next step is creating your shopping list and getting the whole household involved in cooking healthy meals.
As for the mindset that goes along with sticking to a healthy routine, the Petersons said "approaching each day with gratitude and intention can make all the difference in the world."
To build a healthy mindset for the day, the two recommend starting out by thinking about the day you want to have. Ask yourself things like how you want to feel and act, and allow your day to take shape from the positive intentions you set for yourself.
6. Focus on movement, mindfulness and water
Misty Medina, director of programs and teacher empowerment at Salt Lake Power Yoga, advises those of us stuck at home to keep moving, meditating and hydrating.
"Move your body, step away from Netflix … at least for a moment. Go for walk, do jumping jacks in your driveway, try a live stream yoga class at Saltlakepoweryoga.com," Medina said, "Have fun with it, don't worry about doing it 'right.'"
As for keeping your mindset in check, she recommends engaging in mindfulness activities such as meditation, coloring and reading.
"Really, any activity can be mindful; a mindful moment is where you are single-tasking with care," she said.
And when in doubt, just drink water, Medina suggests. "Your future self will thank you later. Proper hydration is key to wellness. It's also easy and accessible," she said.
Building and sticking to healthy habits can be difficult during totally normal, non-pandemic times. If you're struggling to hold it all together right now, give yourself a break. We're all just doing our best with the crazy cards we've been dealt. Once you've had some time to regroup, make a game plan using some of these tactics to get back on track.
---
#bio_disclaimer
×
Related stories
Most recent Lifestyle stories