HERRIMAN — First and foremost, the COVID-19 pandemic is a public health crisis; one being fought by frontline workers across the medical field while the rest of communities at-large contribute by practicing safe social distancing and taking other precautions to protect their health.
But behind the public health lingers an increasing fallout from the coronavirus pandemic: the economic casualties as unemployment rates soar and families are left in a lurch, searching for income and cash stimulus wherever they can find it.
In sports, that economic fallout has been felt by cuts made by the state of Utah's two largest professional teams — the Utah Jazz and Real Salt Lake. While furloughs may be temporary, so too will be the lack of work for many employees, or so it is hoped.
Across Utah, families, communities and cities are coming together to support local businesses, restaurants and mom-and-pop operations that are struggling with so much of the state's population in isolation. The same goes for the Utah Warriors and the rugby community on the Wasatch Front.
"At the end of the day, sports are fun, but our families and communities are what get us through the day," Warriors general manager Kimball Kjar told KSL.com. "We'll still find ways to enjoy those moments in our lives. Sports have become a major part of the fabric of our community. It's where we go to find common ground and belonging. It's where we find a lot of value in living.
"But at the end of the day, it's not the end-all. It's a human story."
After careful consideration by the Warriors and Major League Rugby's board of governors, no teams have cut employees as the pandemic eases past its first month — and none plan to, either.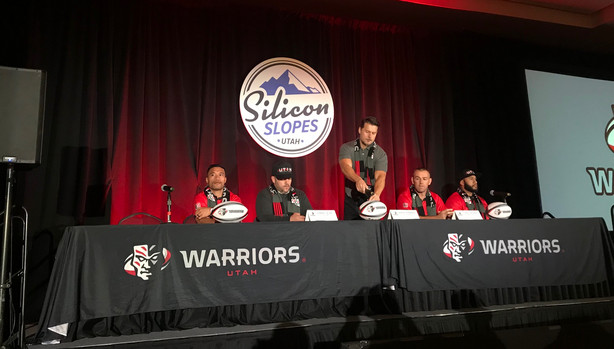 It starts with the players and coaches whose health and safety led to the 2020 season's abrupt cancellation, said MLR commissioner George Killebrew.
"When the COVID-19 crisis began, player well-being was at the center of all decision making," Killebrew said. "When the season was ultimately canceled to protect the players' safety, and to allow our international players to return home to their families, the board of governors made the correct decision to pay all of our contracted athletes their full salaries."
But the olive branch extended beyond the player pool. It reached into front offices, into organizational meetings, to communications staff members and league and team personnel.
It extended to the very culture of rugby, said Warriors co-owner Wade Sherman.
"It's very family-oriented; once you're part of the rugby family, we take care of you," said Sherman, who helps manage close to 1,500 employees as a vice president and site leader of Adobe's Lehi campus. "It's the way the sport is played, it's the way the culture is, and it's really important that we maintain that culture — on and off the field. It's part of what makes the sport so special."
The league will return, and rugby games will eventually be played, with plans to pick up the ball again in late winter or early spring of 2021, Sherman said. Keeping players, coaches, employees and personnel engaged and employed until then is necessary to maintain that timeline.
It also builds loyalty and commitment, even beyond a player's contract or compensation.
"It takes everything to play this game, and we wanted to be fully committed to them and honor their commitment to us, and to the league, by paying their salaries through the end of the season," said Sherman, who played collegiately at Cal and BYU. "It's not easy; it's a financial bite. But we felt like it was the right thing to do."
Of course, doing the "right thing" took support — even, in many cases, capital. Thanks to the Warriors' sponsors like local corporations Intermountain Healthcare, Big D Construction, Thorne Pharmaceuticals, the Woodbury Corporation, the Malouf Foundation and Silicon Slopes, the financial burden was eased. Those steps were "absolutely critical" for a team and league that derives the majority of its revenues outside of ticket sales and television rights, Sherman said.
To be frank, the Warriors likely wouldn't survive without those sponsors, as well as hundreds of season-ticket holders — only two of whom have called to ask for refunds. That bodes well for the Warriors' historic fourth season, a rarity in startup professional leagues including rugby, as they look to a 13-14 team MLR season.
"Ticket revenue is not the majority source of revenue for the Warriors, and I think that's the case for most pro rugby teams and pro sports," Sherman said. "We heavily rely on our sponsors as a source of revenue, which is how we keep the lights on.
"We couldn't do it without them … We are extremely grateful for the group that we have."
To be sure, the Warriors don't have the large overhead costs like their own stadium or arena to manage, or a thousand-plus staff to maintain, with health care benefits and 401K packages. In many ways, that probably makes them unique from larger sports organizations and more able to manage the economic uncertainty spurred by the coronavirus pandemic.
It also allows them to focus on the future while living in an era of uncertainty.
"Rugby provides a community, belonging and connection," Kjar said. "It creates a family that you don't get from other things. We're looking forward to being a part of that coming-out party in a few months, hopefully."
×
Related Stories