Estimated read time: 4-5 minutes
This archived news story is available only for your personal, non-commercial use. Information in the story may be outdated or superseded by additional information. Reading or replaying the story in its archived form does not constitute a republication of the story.
SANDY — When Kory Olsen was a 14-year-old student at East High, he had to go to the other side of the Wasatch Front to play rugby for the famed Highland Rugby Club and legendary coach Larry Gelwix.
It's not that the training wasn't worth it.
But the Leopards didn't have a club team, and the thought of being able to play rugby beyond high school — even at esteemed collegiate club program like nearby BYU — seemed like a faint hope, at best.
When Utah's first professional rugby side unveiled its uniforms and national schedule Thursday at Rio Tinto Stadium, the bearded 6-foot-4 titan was grinning from ear-to-ear.
"From when I started until now, I couldn't imagine having a professional league in this country — let alone in Utah," Olsen said. "To be a part of it is just so exciting.
"This is a once-in-a-lifetime opportunity for me. It's so exciting for the state, for the sport, and for the country to have this kind of professional opportunity. The epicenter will be here in Utah."
That's the plan, at least.
The Utah Warriors will open their inaugural Major League Rugby campaign next Friday, March 30, at Rio Tinto Stadium. After two matches at the home of Real Salt Lake, the club will christen its permanent home — the Zions Bank Stadium in Herriman — alongside the second-division Real Monarchs in time for a match April 20 against Alberta.
It's an exciting proposition for Kimball Kjar, the Warriors' general manager and former BYU rugby coach who has led Utah youth rugby across several programs. But it also scares him a little bit.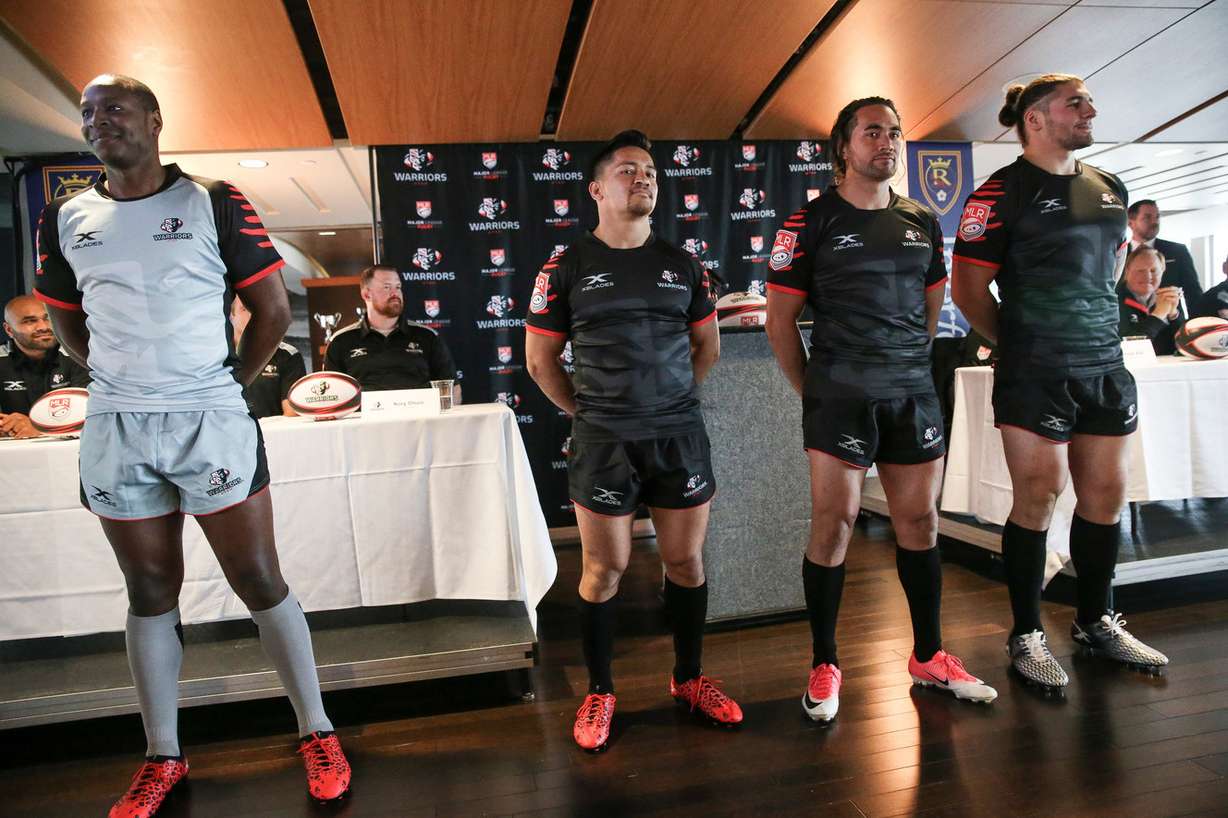 "It's more accessible and more recognizable, especially to the non-rugby community. But at the same time, we don't want to have only 5,000 people in this stadium and make it look empty," Kjar said candidly as he looked out over the Rio Tinto grass. "The response has been great, from the rugby community and others; people are excited to see a new professional sport in Utah.
"They won't be underwhelmed with rugby."
Kjar has been assembling the Warriors' roster for months since hiring Alf Daniels from the Waikato rugby union in his native New Zealand in October 2017. The front office hasn't had to look far for much of its talent; 10 players hail from Utah, with teammates from around the world, including New Zealand, Samoa, Tonga, Fiji and Zimbabwe.
Even Daniels, whose family still lives in Hamilton, New Zealand, has experience in Utah; he helped Gelwix as an assistant coach win a U-19 national title with Highland, in part to coach his son.
Daniels, who gave up playing competitive rugby after returning from a two-year mission for the LDS Church, also spent time running rugby programs at the Church College of New Zealand following a storied career with the country's police force.
Now he's ready to bring his style to the Utah Warriors, whose first home game will come next Friday against the Glendale Raptors — the longest-tenured pro rugby side in the United States and an anchor of the six-team league.
"We want to be a little bit entertaining; we want people to enjoy coming out and watching a game of rugby," Daniels said. "We want it to be big and physical, with big hard runs and big hits.
"We're going to be able to move the ball a lot, and hopefully we'll see a lot of our boys putting the ball down behind the opposition goal post."
The Warriors hope to add their program to the historic line of Utah rugby programs — from the club level to high school, college and everywhere in between.
The squad hopes to become a gold standard in Major League Rugby, which is headquartered in Utah and run by Commissioner Dean Howes, a former Real Salt Lake executive and principal architect of Major League Soccer.
The league will broadcast 13 games on CBS Sports Network, all Saturday in prime time, and just completed an 18-game deal with ESPN Plus, the network's forthcoming over-the-top streaming service that will launch sometime this spring.
New York is already committed to join the league in 2019 — a strong indicator that the league plans to still be around for Year 2, unlike its predecessor the Professional Rugby Organization (PRO).
And Utah hopes to lead the charge.
"Rugby is Utah, Utah is rugby and that's not an understatement," Kjar said. "Rugby has been a part of Utah for generations — whereas in other communities in America, it's still emerging."
If Major League Rugby plays its cards right, it could open up the next great expansion for one of the world's most popular sports into a market that already projects 40 million rugby fans nationally.
"I think we're sitting on a gold mine as far as rugby players have," Daniels said. "The growth that rugby will have in this country is going to start right with MLR. I think the rest of the world will have to watch their backs because USA Rugby is coming at them."
×
Photos
Related stories
Most recent Sports stories