HERRIMAN — This is not a story about rugby.
And yet, it is. At least, that's the tie that binds all these people together.
When Major League Rugby announced the cancellation of its season this week, it left a lot of people in a lurch. Players. Coaches. General managers, team presidents and other front-office personnel around the country.
Though the 12-team league's shutdown during the COVID-19 pandemic didn't make the same national headlines like other sports organizations, certainly like the NBA or even Major League Soccer, it certainly left a hole in a lot of people's lives.
And yet, even those most drastically affected understand.
Understanding and complying, though, doesn't make the loss hurt any less.
"It's definitely a big deal where I come from," said Utah Warriors eight man Jurie Van Vurren, a native of South Africa, where rugby is as big as football, basketball or any other sport in his new home. "Competitions have been cancelled, and I can imagine how it must feel back home. It's what everyone does, from a young age to a professional level. Having all this time off has got to be frustrating.
"But right now, it's much bigger than just playing rugby. It's a world health crisis. We need to consider what impact this has if they don't put any measures in place to try to fight this pandemic."
Van Vuuren spoke to KSL.com as he was searching for a flight for South Africa, to try to get to his family amid a global pandemic. That's what matters right now: family.
The African nation has 240 confirmed cases, according to the Center for Systems Science and Engineering at Johns Hopkins University, with no confirmed deaths. That's well behind the United States, which has more than 25,000 documented cases, or Italy (53,000-plus cases) and China (81,000-plus).
"Right now, it's harder finding flights from the U.S. back to South Africa — and also trying to figure out if I'll be able to get inside the country, with the borders shutting down," Van Vuuren said.
That's on par with the United Kingdom, where as many as 233 people have died because of the virus. That's where Warriors fly half Robbie Povey, who grew up in Northampton, England, has been focusing. He admits that his home country didn't take the global pandemic as seriously as they probably should have, at least not until lately; there's a lot of those feelings going around.
But right now, Povey has been searching for a flight back to the UK before the United States bans international travel for good and he's unable to see his family.
"It just developed really quickly," he said. "As chilled out as I was, it turned into more of wanting to get back there quickly the last few days. Everything is starting to shut down quickly."
So as painful as Major League Rugby's cancellation was, it's taking a backseat to more serious matters — to global health matters.
"At the end of the day, rugby is just a game — even if it is a way of life for some of our boys," Povey said. "But the same with all sports, it's a game and people's health have to come first. That's the one thing we have to look at in the way everything has unfolded so quickly."
As the league suspended operations, then shut down, and focus shifted toward the 2021 season on the pitch, it also shifted beyond sports for the league's personnel.
"We say this is a unique experience and unprecedented, but this is no longer a sports decision or a sports conversation. It's a human conversation," said Warriors general manager Kimball Kjar, a former BYU rugby player and coach. "It's much more than whether or not we're going to be able to cheer on our team. It's whether we'll be able to take care of our family.
"It's not worth the commercial interests or sporting interests. It's a human interest."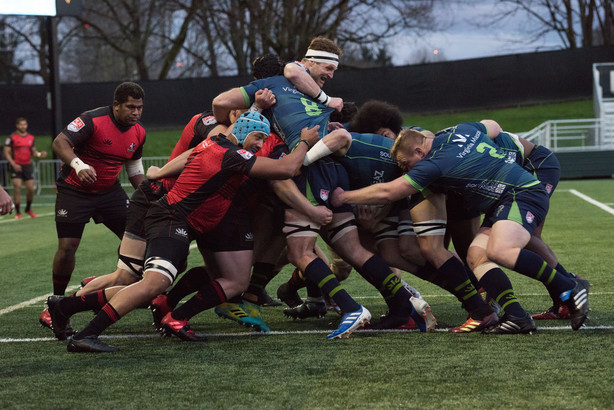 But there is still a sports angle.
At the end of the day, this is a story about rugby. Because rugby has prepared many of these athletes for what they're facing.
It's helped them appreciate family, because their team has become family.
After a disappointing 2-2-12 season in 2019, the Warriors revamped their organization. They brought in new coach Chris Latham, an Australian legend with years of experience in his home country's Super League and England's Premiership.
And while it's impossible to know the full effects, the early returns showed that investment was beginning to pay off. Utah was 2-2-1 through five matches, had yet to play its home opener (that was scheduled for March 13 at Zion's Bank Stadium before the league suspended operations), and were at home for four of their next six matches.
Whether it was because of Latham or his players, as he gave credit, it was probably a little bit of both.
But mostly, it was because of the family, Latham explains.
"We make sure that we treat each other like family," Latham told KSL.com just hours before traveling home prior to Australia shutting its borders to non-essential travel to combat the virus. "Like any successful business, it has to start at the top. The pillars that we have really struck a note with the core values of rugby, and why I love this sport.
"We created an environment where people want to turn out. We create on that players love to be in, and an environment that pushes them to be better."
Season's End
So when the league cancelled the remainder of the competition, it was important that Latham and his staff got a start on preparing for the 2021 season.
But first came family.
"I think it's very important that everyone concentrates on their family and making that everyone is safe," Latham said. "In the meantime, we'll continue to make plans on how to best support our players during the next several months, from a compassionate and a physical point of view."
After the swift-moving pandemic, there's still work to be done — on the pitch, in the stands, and in the Warriors' front office as the club prepares for next year, the unprecedented fourth season of Major League Rugby.
Because there will be a fourth season. Kjar is confident in that as he heads into a year-long "spring cleaning" process in the organization.
"First and foremost, the Warriors and Major League Rugby are not going anywhere. We're not going to fade off into the background," Kjar said. "We have an opportunity to do something that we haven't been able to do, from the inception of the Warriors and Major League Rugby. We've been scrambling from the get-go, trying to keep pace with the fast nature of professional sport and a new league.
"Now we have 300-something days before next season's kickoff to take a look at our operations, and what strengths and weaknesses we need to fix in order to really set ourselves up for success."
×
Related Stories