Estimated read time: 5-6 minutes
This archived news story is available only for your personal, non-commercial use. Information in the story may be outdated or superseded by additional information. Reading or replaying the story in its archived form does not constitute a republication of the story.
SALT LAKE CITY — Salt Lake County's "Stay Safe, Stay Home" order, which advises residents to stay home as much as possible and has closed all of the county's nonessential businesses, will be extended through May 1, Salt Lake County Mayor Jenny Wilson said Thursday.
Her announcement, made in a Facebook Live video stream from her home, came as the order was set to expire on Monday. The county's order enforced Gov. Gary Herbert's statewide directive and went into effect on March 30.
"There will be no substantial changes in that order, which means that we will continue our existing restaurant modifications; we will have specific business closures as we have already stated," Wilson said. "We will continue to allow businesses to run that are able to practice social distancing. … I want to thank everyone for complying with 'Stay Home, Stay Safe.' It's critical that we stay on that."
Shortly after Wilson's announcement, Herbert extended the state's directive through the end of April.
COVID-19 in Salt Lake County
The Utah Department of Health reported Thursday that Salt Lake County, the most populated county in the state, had 935 total confirmed cases of COVID-19, 83 hospitalizations and seven deaths since the pandemic reached Utah.
The county accounts for about 47% of the state's cases and nearly half of coronavirus-related hospitalizations in the state.
Even with more widespread testing available in the county and the state, Salt Lake County Health Department executive director Gary Edwards said officials haven't maxed out the number of tests available each day. He encouraged anyone who has COVID-19 symptoms — a cough, fever or shortness of breath — to go to the state health department's website and find their nearest testing location.
Wilson added that the county had its first positive COVID-19 case at the Men's Resource Center in South Salt Lake on Wednesday. The individual was a man over 60 and was transported to a testing facility. She said the center is temporarily not accepting new individuals, but that may change later Thursday.
There are still positive signs from the data. Edwards explained the county's positive result to test rate has remained below 5% even with more testing available.
"That tells us the virus is not spreading faster. We're just able to identify more positive cases because there are more tests available," he said.
David Schuld, the county's intelligence section chief, added that social distancing has helped to lessen the impact of COVID-19 on the county. Without it, models showed the county would have reached the current number of cases on March 26.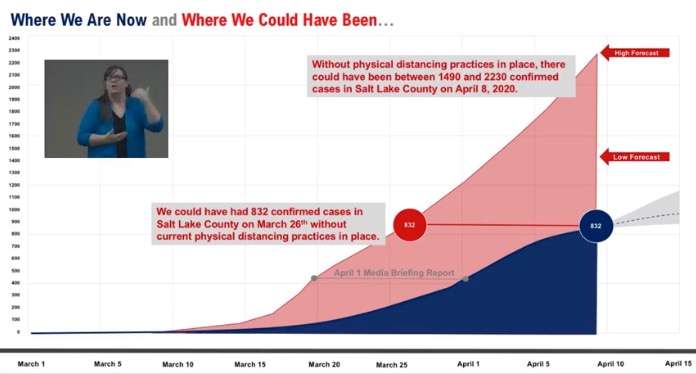 "With that same model, we could have been between 1,490 and 2,230 confirmed cases today had we not begun social distancing," he said. "We would have seen more hospitalizations and more fatalities. Social distancing is working and is effective in limiting the spread of COVID-19."
Instead, Salt Lake County officials have started to see the county's rate of new coronavirus cases stabilize, Schuld noted.
"We're seeing the estimated number of individuals recovering from the virus increase as well,""he added. "Let's stay the course. These next two weeks are critical. This is our counteroffensive to the virus."
While the order is backed by a misdemeanor charge, Salt Lake City Mayor Erin Mendenhall said Wednesday she hasn't heard that anyone has been specifically charged with violating the order.
What happens next?
Edwards recommends anyone who has to leave their home for essential travel to use some sort of face covering, which he said can be found online. He also urged those between the ages of 20 and 40 to follow guidelines issued by the county officials. County health department data shows individuals between 20 and 49 years old account for 60% of the cases, but 82% of those hospitalized are 40 years or older.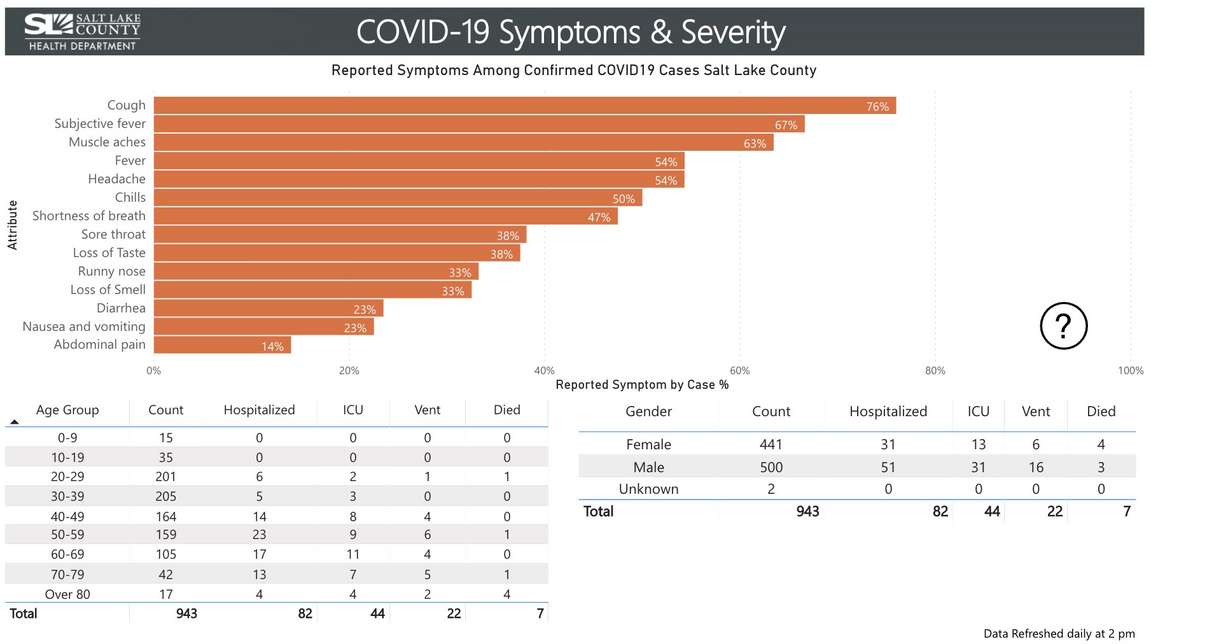 "We need this age group to please, please do your part," Edwards said. "Employers, do not allow sick employees to be in the workplace. Everyone, if you do not feel well, please stay at home. Please avoid holding or attending family gatherings this Easter weekend. … Let's all continue to make a concerted effort over the next two weeks so that we can continue to beat this thing down."
While the stay-at-home order will be extended for at least another 2 1/2 weeks, Wilson told KSL NewsRadio earlier this week she was considering extending the county's order to at least Memorial Day, May 25. She clarified that date would have been a possible furthest-out extention option and that the county would go with that would remain closely aligned with the state and other counties.
Regardless, Wilson said she doesn't see Salt Lake County loosening restrictions in the immediate future. She did, however, say the county is working on a plan for how that will eventually happen. She shared a four-phase process to reopen the county. Currently, the county remains in the first phase, which is aimed at slowing the spread of the disease. The other phases involve loosening the county's restrictions, lifting all restrictions, and preparing for the future.
There still isn't much of a clear timetable for this to happen. If the county experiences a "sustained decline" in both cases and hospitalizations, it will be in "a better position" to make decisions to a new normal, Schuld said.
Wilson added more information about the next phase may come in the next few weeks.
"We don't believe we're going to be able to go from zero to 100, in terms of opening; we're going to have to do it in a phased way," she explained. "I think everyone realizes this pandemic is creating a new way of doing things in the future."
×
Related links
Related stories
Most recent Utah stories