SALT LAKE CITY — Salt Lake County Mayor Jenny Wilson and the Salt Lake County Health Department issued a new public health order Sunday for the county after the state's "Stay Safe, Stay Home" order issued Friday.
Salt Lake County has an essential role in managing the #COVID19 outbreak. As such, Mayor Wilson issued a Public Health Order — "Salt Lake County: Stay Safe. Stay Home." 🧵

— Salt Lake County (@SLCoGov) March 29, 2020
The order goes into effect at 12:01 a.m. Monday and will last until Monday, April 13.
"We are taking this seriously, if we are going to have the light at the end of the tunnel it means we are going to have to go deeper, " Wilson told KSL. "My intent is not to scare anyone. I think it's up to adults to know the sense of urgency."
The order:
"Directs all individuals to stay at home except to engage in essential activities, which includes going to work under the conditions outlined in the order.
"Matches earlier county and state public health orders regarding food service operations.
"Closes certain businesses that act as gathering places or involve close contact between people.
"Closes children's playgrounds and prohibits team sports, including pickup games, though outdoor sport courts and fields will remain open for individual and for individuals that reside in the same household.
"Requires businesses to actively enforce social distancing practices and exclude ill employees from working.
"Defines essential businesses that should do their best to comply with social distancing recommendations but, due to the nature of their operations, may be unable to fully comply and are therefore exempt from order enforcement. Essential businesses must still exclude ill employees from working."
Businesses that are to completely close include beauty salons, barbershops and spas, fitness centers, playgrounds, museums.
"We know that 50% of the cases in Salt Lake County are in the 20-40 age group. That population is the population probably most likely to be frequenting nail salons," Gary Edwards, executive director for the Salt Lake County Health Department, told KSL.
Other businesses, deemed "essential," are allowed to remain open as long as they practice social distancing and keep employees with fever or respiratory symptoms from working. These include grocery stores, pharmacies, auto repair stores, pet stores, veterinarians, religious institutions, childcare services and hotels.
Dine-in food service is prohibited. Curbside pickup, drive-thru and delivery are permitted as long as orders are made remotely in a car, online, telephone or through an app. Cash payments are discouraged.
"This order for health purposes is impacting business; that's not something that we take lightly," Edwards said.
The county "has asked local municipalities to enforce the public health order initially via warnings rather than citations," the order says, but "repeat or egregious offenders may be cited and charged." A first offense is punishable by a class B misdemeanor, and repeat offenses by a class A misdemeanor.
"This order complements both the Governor's directive and the intent of Salt Lake City's current order. Our collective goal is to save lives and keep our health system from being overwhelmed," Wilson said in a statement. "Reducing opportunities for people to congregate is one of the most important things we can do to help 'flatten the curve' and minimize stress on our healthcare system."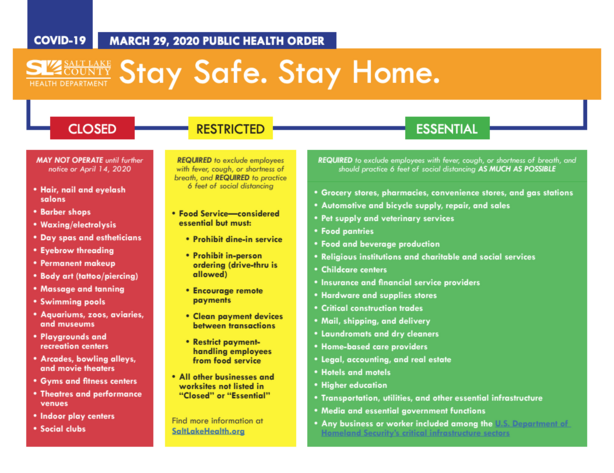 Wilson said the order will be reevaluated and renewed in two weeks.
"Life will not go back to normal on April 13. We will need to renew this order or we will need to put something else in place. At some point when we signed today, we talked about being able to sign downward not upward with less restrictions not more; that is a day we will look forward to," Wilson told KSL.
Sunday night Salt Lake City Mayor Erin Mendenhall issued a sixth proclamation giving additional parking leniency.
Sunday's proclamation "reinstates Salt Lake City specific determinations from Proclamation No. 5, as well as further limiting parking enforcement in the City," according to a statement from the city.
In addition to allowing no time limits on-street parking, city residents will be able to park at meters for free. This is to help downtown residents stay at home and not feel the need to move their cars. Mendenhall said both city residents and the staff of Salt Lake City should work to stay safe, healthy and adhere to the county's order.
My 6th proclamation includes changes to parking enforcement:

1) no time limits on street parking to otherwise legally parked vehicles
2) free parking & no time limits at meters for City residents
3) Citations issued at meters btwn March 23 & today will be dismissed

— SLC Mayor Erin Mendenhall (@slcmayor) March 30, 2020
Contributing: Garna Mejia, KSL TV
×
Related Links