SALT LAKE CITY — We've made it to the end and only two games remain: The age-old classic Monopoly and the family-friendly Ticket to Ride.
In the previous round, Monopoly was in a tough fight with Risk, but prevailed in the end with 53% of the vote. Ticket to Ride, however, cruised to victory with 60% of the vote over party favorite Apples to Apples.
But can Ticket to Ride sustain its success over classic board games — it beat Clue and Connect Four in previous rounds — or will it fall victim to arguably the most recognizable board game in Monopoly?
Don't like the final two games? Share in the comments section your favorite games to play, and maybe it will give others some new games to play as families are stuck home for an extended time. Now would be a great time to check out some of the newer games in this bracket. My family's latest favorite is Sushi Go Party!
As a reminder, the 64 games were seeded based on its ranking on boardgamegeek.com and slated into the bracket in a similar style to the NCAA Tournament. To see how the games were selected, read the first article of the challenge.
The final round of voting will go through Thursday and will conclude at midnight. The winner will be announced Friday.
---
If you can't see the poll, click here.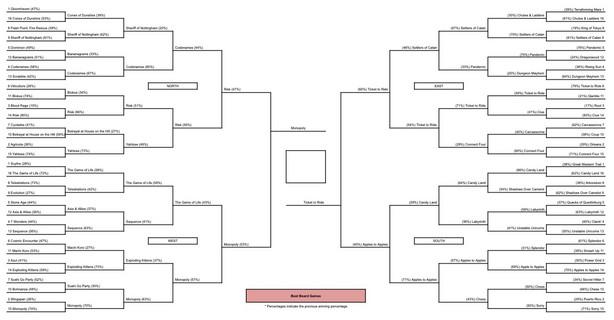 Board games
To learn more about each game, click on its title, which will direct you to its Board Game Geek page. Maybe you'll find a new game to play.
×