SALT LAKE CITY — It's down to the final four board games of the bracket challenge after a relatively uneventful Elite 8 round.
The last four board games standing have been fairly popular throughout the challenge, so it's no surprise they ended up here. It's old school vs. new school-ish (we'll ignore the fact that most of the real new-school games were voted out early 🙄).
The world-conquering game Risk will matchup against the money-driven game Monopoly for a spot in the top two. The pair of games have been around since at least 1959, though Monopoly has been around since 1933, so it's safe to assume they're the most recognizable of the bunch.
And then there's Apples to Apples, a game where you need the right group of people to really have fun, against a game in Ticket to Ride where you're trying to build the longest railway lines to score the most points — two very different games — battling for a top spot.
Apples to Apples had the largest win margin in the Elite 8 round with 71% of the vote, but Ticket to Ride was paired up with other fan favorite Settlers of Catan, so it's anyone's guess as to which game will come out on top.
As a reminder, the 64 games were seeded based on its ranking on boardgamegeek.com and slated into the bracket in a similar style to the NCAA Tournament. To see how the games were selected, read the first article of the challenge.
The Final Four round of voting will go all through Monday and will conclude at midnight. The Championship round will be released Wednesday, and the winner announced on Friday.
---
If you can't see the poll, click here.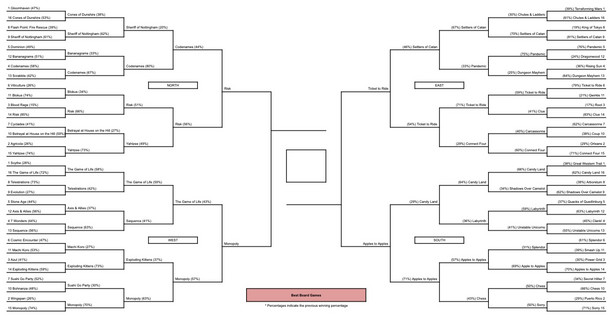 Board games
To learn more about each game, click on its title, which will direct you to its Board Game Geek page. Maybe you'll find a new game to play.
×
Related Stories