SALT LAKE CITY — We've seen what not to do when welcoming home a newly returned missionary for The Church of Jesus Christ of Latter-day Saints — i.e. don't be like the hundreds of Utahns who swarmed the Salt Lake City International Airport earlier this week.
Now we want to see how individuals are following social distancing and other CDC guidelines to welcome their missionary home.
We are no longer accepting submissions. Thank you to everyone who participated.
If you're on a mobile device and can't see the updates below, click on this link.
Copyright disclaimer
By submitting a photo, you affirm you own or otherwise control each photograph/video/image submitted. Once submitted, Deseret Digital Media, the operator of KSL.com, and its affiliates shall have a non-exclusive right and license in perpetuity to use the photo/video/image, or any portion thereof, in any and all media throughout the world. This includes the removal of copyright stamps for on-air use.
See all the safe and fun ways people are welcoming a missionary home below
Throw a parade
To maintain social distancing and still give everyone a chance to celebrate the return of a missionary, this neighborhood threw a parade.
We might have a new tradition for missionary homecomings in our Highland neighborhood. #SocialDistancing#missionaryhomecoming#welcomehome#ElderCooperpic.twitter.com/vMQ2MICYtJ

— Erin Goff (@ErinGoff18) March 25, 2020
— submitted by Erin Goff
Glowstick party
Last week we welcomed home a missionary with a glowstick party! We stood outside with glowsticks and a sign while he drove down the street.
— submitted by Amelia Evans
Heart attacking the room
I had to evacuate my sister from California. I drove to pick her up and brought her home in one day. We came home in the middle of the night, my parents haven't even seen her. They heart attacked the bathroom she'll be using and left flowers, notes, and other goodies in her room for her. After she comes out of her two week quarantine they are going to give her a welcome home with hugs and kisses. We thought this was the best way so that my parents could hug her and welcome her back without the risk of spreading the virus.
— submitted by Jillena Freeman
Sending virtual signs
We made a sign and sent his mom a picture.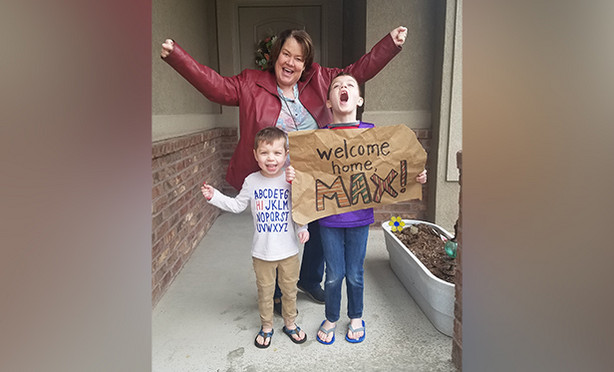 — submitted by Rachelle Frederiksen
Drive-by welcome
We welcome our sweet missionary home by hosting a drive by and honk. It was a huge success and we all stayed safe.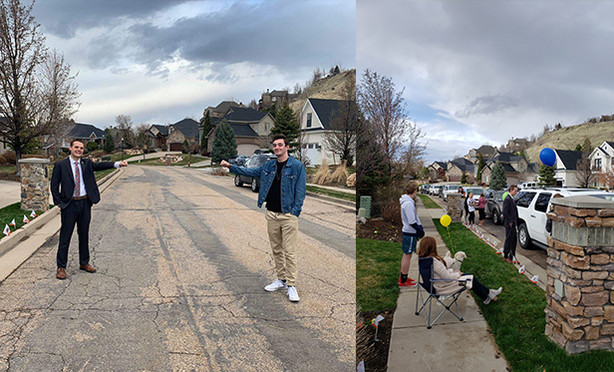 — submitted by SA Honey
Alone at the airport
I picked up my daughter from the airport alone welcoming her home from the Vietnam mission with a giant mom-hug. This means we are both now quarantined — something that has been worth it. There are only a few rooms in our home that we use (space that others do not) but I am able to exercise with her (walking/ jogging outside twice a day) and listen as she continues her missionary work remotely. We are lucky to have others that pass us food on paper plates. It's been a sacrifice and a privilege for our family as we strive to do our part to stop the spread of this virus.
— submitted by Andria Berry
Braving cold weather
This is my wife during the snow storm this week welcoming back our neighbor, Sophie Cottle.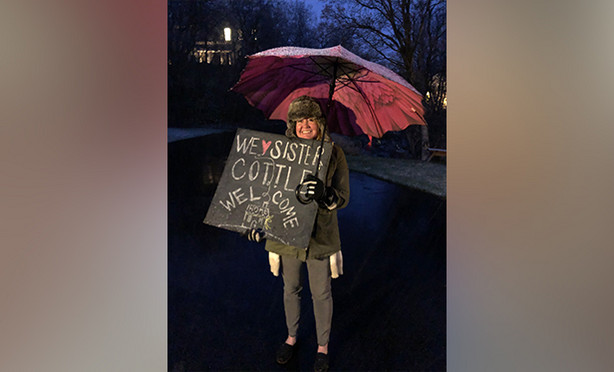 — submitted by Sid R Alvey
Safe distance at the airport
For all those concerned about the number of people picking up their missionary at the SLC airport. Our son was on the 2nd flight that came in from the Philippines on Sunday. Everyone stayed on/in/right outside their cars. 1 missionary came out at a time and everyone yelled his name from car to car as the missionary walked down the center aisle. His family would scream to him and he would run over to their car. We didn't come within 6 ft of anyone, except our missionary, and now we are all quarantining to make sure everyone stays safe. The media captured a very different moment on this same day, but this was our experience.
— submitted by Cristy Bird
×
Related Stories