THE QUARANTINE ZONE — It's not just regular folks who are feeling cooped up during the coronavirus pandemic. Musicians are quarantined, too! Fortunately for us, just because they're stuck in the house doesn't mean they can't make music — or entertain a crowd.
Acts from all different genres have taken to social media to give their fans a well-earned break from the madness of the outside world. Here are just a few of them.
Ben Gibbard (Death Cab for Cutie)
Death Cab for Cutie frontman Ben Gibbard doesn't need a band to play a killer show. From his home studio, he's playing daily full sets of music and answering questions from fans.
Not only are these intimate performances, all proceeds will go to an organization that benefits homeless youth in Seattle. It's less greatest hits and more deep cuts — just like the fans like. You can watch the performances on Death Cab's YouTube channel.
Rufus Wainwright
If you love high drama — sung in a bathrobe — look no further than Rufus Wainwright's Instagram feed. Each day, he bangs out a mini opera on his home piano.
Check out "Grey Gardens" and be dazzled by Wainwright's set of pipes. He's sharing a different song each day.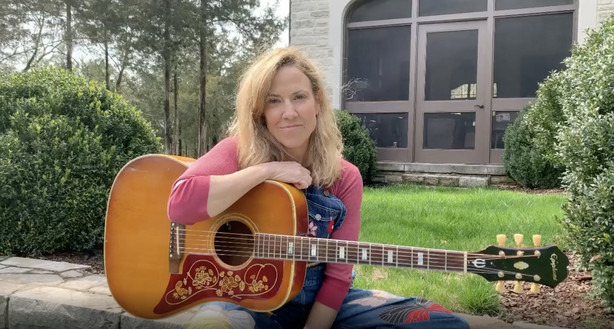 Sheryl Crow
Sherly Crow's playing her daily concerts in her backyard, wind and all. Check out acoustic versions of "God Bless This Mess" and "Summer Days" on her Instagram page.
And she's not just playing music. Crow has been hosting live meditation sessions and donating money to COVID-19 relief funds.
P!nk
Flying acrobatics. Killer dance moves. Hit after hit. P!nk's does it all — and now she's playing the piano on her Instagram.
Plus, she shares her favorite podcasts and apps to stay informed and connected during the pandemic.
Bruce Springsteen & The E Street Band
The Boss isn't playing new live concerts during the quarantine; instead, he's offering up an old one for free — the full version of his Live in Hyde Park show.
Fittingly, it starts off with a fantastic cover of "London Calling" by The Clash. And Spingsteen's originals aren't bad either. Make sure to watch "Born to Run" and "Dancing in the Dark."
Bouncing Souls
Bruce Springsteen isn't the only New Jersey native offering up free concerts. Jersey's favorite punks, The Bouncing Souls, just finished up their 30th anniversary tour. If you missed their show at the Metro Music Hall in Salt Lake, you're in luck. They just shared the full video of their hometown show at White Eagle Hall.
All the classic hits are there — "Kate is Great," "I Like Your Mom," and "Gone," plus "Favorite Everything" and "Crucial Moments" from their new EP.
Have you seen other great quarantine concerts? Share them in the comments.
---
×