SALT LAKE CITY — Rolling it back to the classics!
The opening round of the board game bracket challenge went to the classic games many people played as a kid. These games held strong and toppled every single No. 1 seed, as well as several other top-seeded games.
In fact, only seven top-seeded teams advanced to the next round as the more "familiar" games reigned as king. The game with the largest margin of victory was none other than the continent-conquering Risk, which managed 85% of the vote over Blood Rage. Clue and Settlers of Catan are the only other games to reach at least 80% of the vote — 83% for Clue and 81% for Settlers of Catan.
The closest matchup of the day was between No. 5 Dominion and No. 12 Bananagrams. But the lower-seeded Bananagrams pulled away at the end to claim 51% of the vote.
As a reminder, the 64 games were seeded based on its ranking on boardgamegeek.com and slated into the bracket in a similar style to the NCAA Tournament.
The Round of 32 voting will go all through Friday and will conclude at midnight. The Sweet 16 round will be released Wednesday and the Elite 8 round on Friday. Enjoy!
---
If you can't see the poll, click here.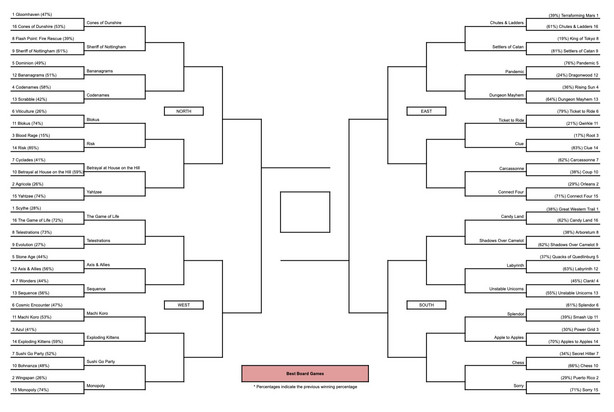 Board games
To learn more about each game, click on its title, which will direct you to its Board Game Geek page. Maybe you'll find a new game to play.
×
Related Stories