SALT LAKE CITY — It was just a few weeks ago that I found myself with a rare, quiet moment, just daydreaming.
In that daydream, I had a series of "wouldn't it be nice?" thoughts: "Wouldn't it be nice if my husband was home more often?" "Wouldn't it be nice if we weren't waking up early to rush off to school, then coming back home to rush somewhere else?" "Wouldn't it be nice if we could eat more meals together?" "Wouldn't it be nice if we could just be a family?"
It was a nice daydream, but I was quickly snapped back to reality. My life was what it was because this was our stage in life. My husband has a job that requires him to travel far. The kids are involved in things they love doing, and we love supporting them. We were living the crazy life because that's life. But the crazy was comfortable because it was what we knew, and it wouldn't change anytime soon.
Oh, how wrong I was.
It was just days later when mayhem hit. Due to COVID-19's march across the U.S., church was canceled, schools were closed, and my husband and kids were forced to do work from home.
The grocery store was out of important supplies. There was an earthquake!
It initially felt like our out-of-control life had gotten worse. But when the dust settled a bit, I looked around and began to see things differently.
Finding good in the bad
For days on end, I woke up to my family at home with me. We ate breakfast together, then lunch and dinner. We went for walks and hikes in areas away from people. We had heart-to-heart talks. We had family movie nights. We had nowhere to go — no practices or games, no meetings to travel to. We were a family.
What I thought was mayhem turned out to be the much-needed calm in my family's storm. And as much as I know life needs to resume some sort of normalcy, I kind of hope this life stays around a little bit longer.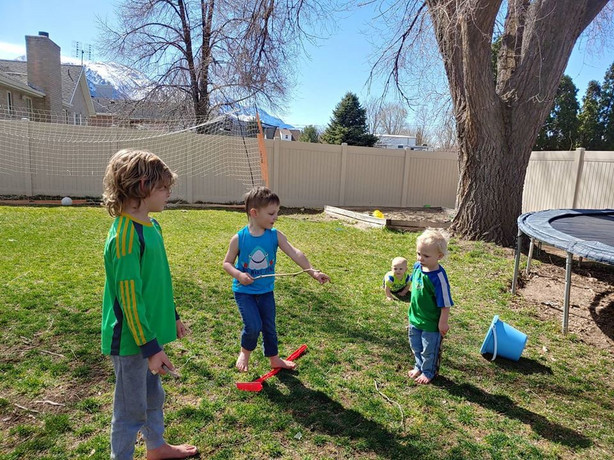 Some of my new loves include:
Seeing my older kids interact more with my younger kids as they both have the same daily desire: to build the biggest and best pillow/blanket/couch cushion fort in the universe.
Congregating with my family in one room, together, while working on homework and work-work. It's been surprisingly awesome to experience firsthand what my kids are learning, and then take "recess" when we feel the need.
Having my husband around more to experience life at home. The experience has helped our marriage and improved upon his relationship with the kids — because time together has a way of binding people together.
Cleaning more, eating better, having more restful sleep and meditating often. Our garden is ready for spring planting. Our sandbox is cleared from fall and spring debris. We have used our time more wisely because we have the time to use.
When life does eventually resume its normal busy ways, I will have this time to look back on as a measure of how I want things to be: a simpler time when we are a family.
Have you had similar thoughts? How has staying home more affected your family for the better? Let us know in the comments.
More from Arianne Brown:
---
×
Photos
Related Stories