Estimated read time: 6-7 minutes
This archived news story is available only for your personal, non-commercial use. Information in the story may be outdated or superseded by additional information. Reading or replaying the story in its archived form does not constitute a republication of the story.
SALT LAKE CITY — It's easy to spot the graffiti near rock art in Coalville or the damage done to Danger Cave near Wendover. They are two glaring examples of a growing vandalism problem Utah archaeologists have documented in recent years.
However, archeologists warn not many people are aware when they are vandalizing land, which is worsening the problem. That's why a campaign will soon be underway to educate Utahns about vandalism in an effort to curb the problem before it spirals out of control.
"Utah's cultural heritage is under threat," said Elizabeth Hora, a public archeologist for the Utah Division of State History, prior to a series of presentations held during a symposium Saturday at the Utah Professional Archaeological Council conference. Experts from across the region shared examples of vandalism and gathered to strategize on how to fix the problem.
A growing problem
In April 2018, archaeologists joined several local and state agencies on a tour of Coalville Ledge in Summit County, where graffiti was threatening to destroy art created by Native Americans hundreds of years ago.
Just last year, someone dug a tunnel under a gate to break into Danger Cave State Park Heritage Site, vandalized it and stole historic items from it. During a presentation about the vandalism, archaeologist Ron Rood estimated the cost of the repair was at least $10,000. Bureau of Land Management officials also reported that someone used spray paint vandalize Shinob Kibe, a sacred site to Paiute Indians local to the area in Washington County.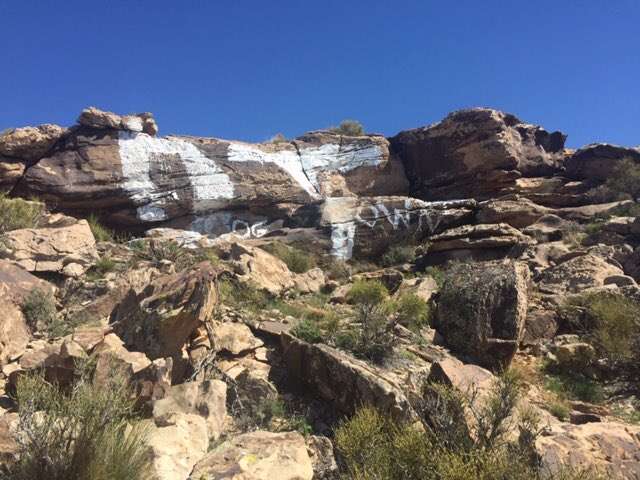 "A lot of the evidence we have is anecdotal. And coming from a science background, that's not really satisfying for us," Hora told KSL.com. "So we have the sense — as people who've been out visiting these sites over and over again, both professionally for our job and personally because we just love them — we see more instances of vandalism."
Mike Cannon, office principal of PaleoWest Archeology's Salt Lake City location, argued people don't have to have a scientific reason to be upset with vandalism. The artwork is something that connects humans who lived ages ago with the people currently living in the region.
"It's a really human way of connecting with the past; and when people do stuff like this, you're like, 'What the heck?' right?" he explained during his presentation showing how vandalism hasn't just affected some of Utah's archaeological sites, but nearly all of them.
The majority of the cases were reported in southern and eastern Utah, which isn't surprising because those are regions home to most sites. San Juan County has the most sites and the most archaeological vandalism, Cannon told the audience. Iron and Washington counties had the highest percentage of vandalism per site.
Cannon said there is also a "really strong" relationship between population density and the rate of vandalism, which isn't much of a shock either. Aside from Salt Lake County, which draws in strong tourism crowds for non-public land activities, there's also a connection between tourism popularity and vandalism rates, he added.
---
(Rock art is) a really human way of connecting with the past; and when people do stuff like this, you're like, 'What the heck?' right?
–Mike Cannon, office principal of PaleoWest Archeology's Salt Lake City location
---
Since people have lived on Utah's lands for thousands of years, it's difficult to find a spot in the state that hasn't been touched by humans over that timespan.
"If you are living in any of the major cities along the Wasatch Front or any of the major rural towns here in Utah, there is archaeology under your feet. Archaeology is everywhere," Hora said. "There's not an inch of this state that hasn't been trotted on by humans and had humans discarding stuff there."
However, archaeologists say most examples of vandalism aren't as noticeable or as malicious as the worst cases; rather, it's vandalism caused by people oblivious that their actions constitute archeological vandalism. It may be looting in areas where people don't know it's illegal to dig, people unaware they shouldn't collect pot shards or arrowheads, or even people creating social trails unaware that contributes to erosion, Hora said.
"I want to believe that obvious kinds of vandalism, like shooting at rock art or carving 'Billy loves Jane' into Delicate Arch is completed by mouth-breathing adults with no conscious values or morals, but I don't know if that's really true," Rood said during his presentation.
"We have the tools to combat it, but I think how we craft our message is going to be really important," he added, noting that what archeologists view as vandalism may not be preserved the same by those who might believe they are doing something positive to preserve an archaeological site.
Finding solutions
So, how do archeologists fix this issue? This summer, state officials will launch a new test campaign in two Utah cities to combat vandalism. They hope to be able to find some sort of number to quantify what impact, if any, an awareness campaign would have on public land vandalism before expanding.
The campaign would be replicated in various languages for the many people who travel from across the globe to Utah to visit its geographical features. These would include tips and tricks on what is vandalism and how to spot it from others.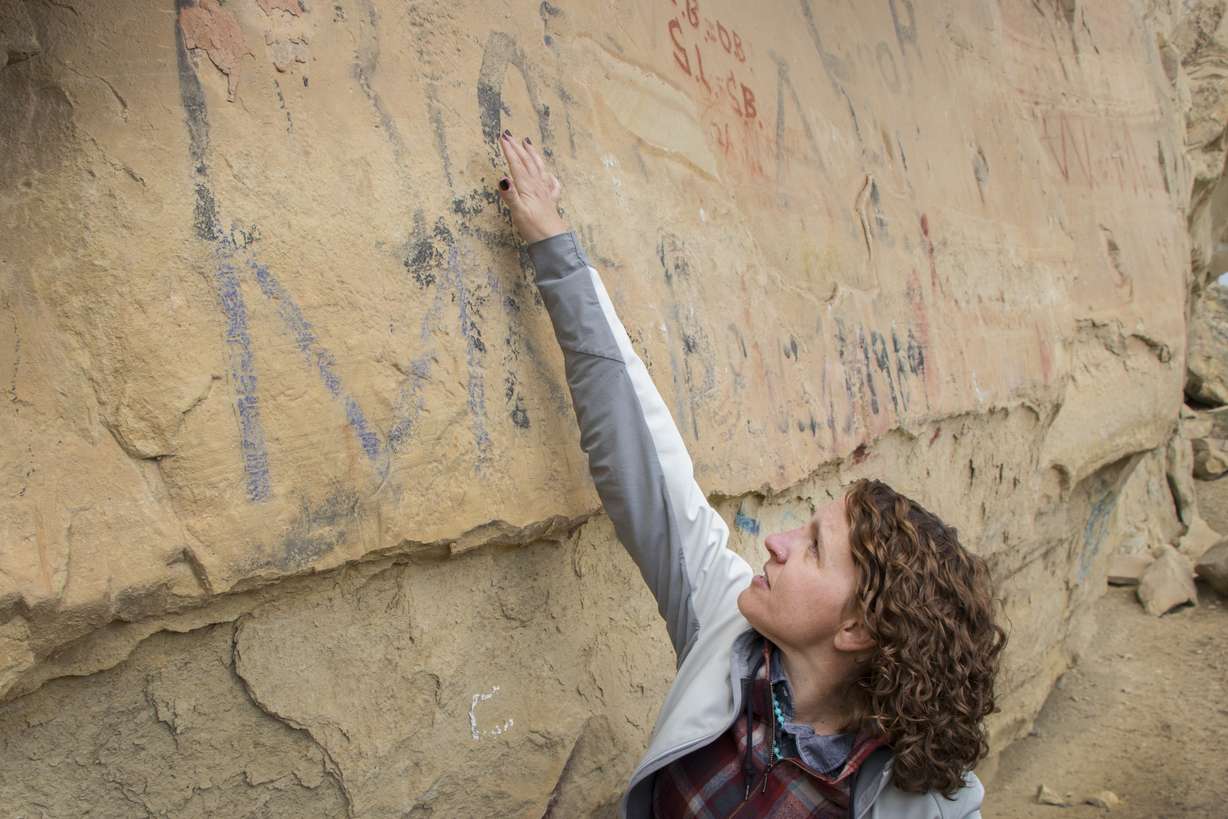 In addition, HB163 passed through Utah's House of Representatives with a 72-0-3 vote on Feb. 13. Should it pass the state's Senate, it would create a cultural site stewardship program that would unite all state and federal land management data and put it into a centralized source, which currently doesn't exist. This would help archaeologists see where vandalism hits hardest and also ensure no agency is accidentally under or over-reporting it.
Those presenting at the conference also shared ideas to help. For example, Tina Hart, assistant director of cultural resources for Arizona-based landscape design and environmental planning company Logan Simpson, shared a company program that helps communities clean up rock art vandalism.
Volunteers use a product known as Elephant Snot that works well but isn't always effective, Hart said. She said they have successfully removed graffiti from three locations in Arizona, and the company plans to do a similar clean-up for free in Utah this year.
"We believe that being protective and cleaning up the graffiti not only enhances or restores the integrity of the site, but it also plays a role in deterring future vandalism," she said.
As for increasing education, Rood and Cannon each recommended campaigns that target either locals or those who recreate in Utah. Cannon used posters from successful anti-poaching campaigns worldwide and suggested that archaeologists take from efforts that are "gut-wrenching" and show the harm created from criminal behavior.
All of these efforts, Hora hopes, will help reduce the problem and help people better appreciate the land.
"These are our shared resources that all Utahns love. We need to learn how to love them," she said. "We need to be more gentle, more loving, so that these sites can last into the future."
×
Photos
Related stories
Most recent Outdoors & Rec stories