Estimated read time: 6-7 minutes
This archived news story is available only for your personal, non-commercial use. Information in the story may be outdated or superseded by additional information. Reading or replaying the story in its archived form does not constitute a republication of the story.
Editor's note: This article is a part of a series reviewing Utah history for KSL.com's Historic section.
COALVILLE — NaVee Vernon seemed unconcerned about the snowflakes swirling around her as she eagerly led a group of about a dozen state, county and local officials up a hill toward Coalville Ledge.
Vernon didn't have time to complain about the poor weather. This was her opportunity to share with others her hometown gem and a forgotten piece of Utah history.
"I've always loved where I've lived — but look out there from this ledge … What do you see? It's beautiful," Vernon said, sitting on a pile of sandstone near the top of the ledge, which separates the small city of about 1,300 from Echo Reservoir.
From this spot, there's a serene view of the surrounding mountains and the sprawling farm plots within the valley. One of the officials points out an osprey that rests on a tree near Chalk Creek, which flows adjacent to the ledge.
Of course, the scenic view is not what brought these officials to the area Tuesday afternoon.
Vernon, with the Summit County Historical Society, co-led a tour with the Utah Division of State History to show members of the Governor's Office of Economic Development, Utah Division of Indian Affairs, the North Summit School District (who owns the land where the ledge is) and other agencies the petroglyphs painted and scratched on the ledge surface. They're concerned because this spot, enjoyed by many for thousands of years, is jeopardized by a growing amount of graffiti and extreme weather patterns.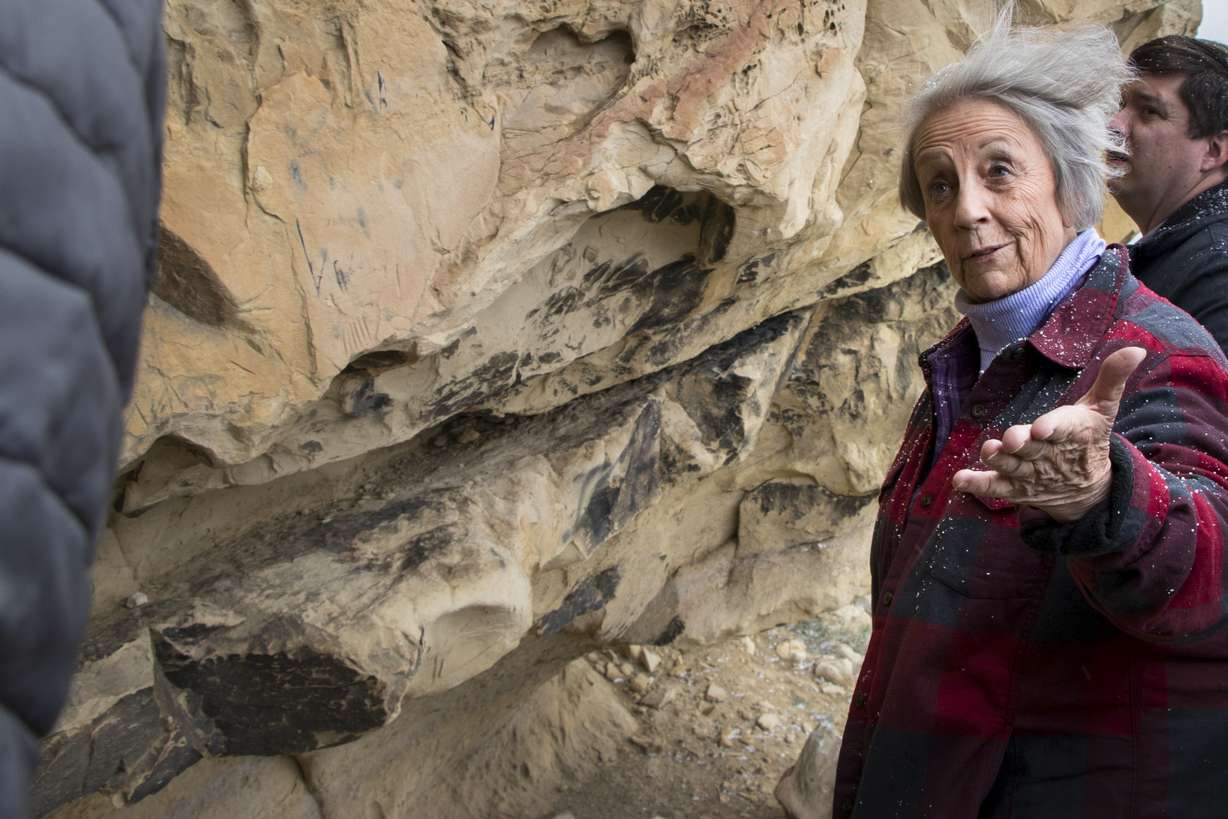 With the reservoir opening as Utah's newest state park likely bringing more people to Coalville this summer, Utah State History officials are hoping to educate others about this ignored piece of history before it's completely destroyed.
"This has been a really well-kept secret and we're really excited to roll it out in a more public way with the proper attention, care and reverence," said Elizabeth Hora, an archaeologist with Utah Division of State History.
Touring the lost petroglyphs
The group pauses about 100 feet from the trailhead, where Hora and Shawn Lambert, another archaeologist with Utah Division of State History, point out tiny scratches on the ledge not far from an opening where an aqueduct once ran through the ledge.
Some of these images are believed to date back thousands of years, where others from Ute and Shoshoni tribes date back to 800 years ago. There's also etches from Utah's early pioneers and townspeople in the 19th and 20th centuries. Vernon laughs, saying that she found her uncle's name on the walls.
"We have several thousand years of history just on this rock face right here," Lambert said, using his fingers to outline some of the fading petroglyphs. "The multiple histories just right here is pretty astonishing. It's very uncommon."
The group moves up the path to where there are a few faded human and animal-shaped pictographs — painted rock art — on the wall. They have red ochre and orange-yellow paint, and officials date them to 200 to 1300 A.D. because of the headdresses depicted in the art.
"We think they may have been mixing it on the spot and applying it to the rock as paint," she said, grabbing dirt from the ledge and mashing the powder in her palm.
Some of the art compares with petroglyphs in Vernal and more in Colorado.
Finding this art can be a difficult task. In fact, some of it isn't even noticed until the group is headed back down the trail and new art is found each trip out, changing the timeframe of the art.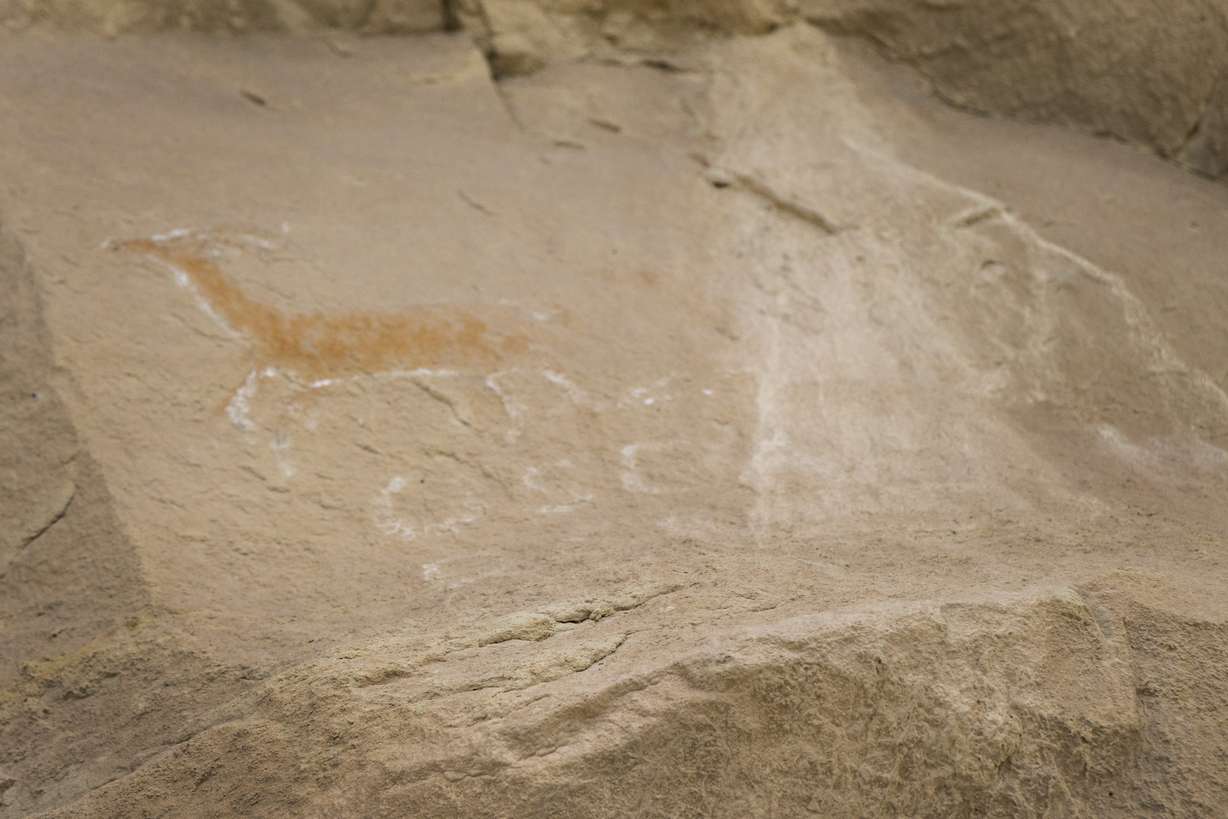 "With rock art, light is so important because you can come here three times and never see it. When the light is perfect, boom! It pops," Christopher Merritt, deputy state historic preservation officer with Utah Division of State History, said.
Markers from early Mormon pioneers are mixed within the art. They left historical inscriptions using axle grease, which was a common practice of the late 19th century. Others carved their names in the rock as early as 1857. For example, a Hyrum Smith — not thatHyrum Smith — engraved his name with a backward "S."
Then there's spray-paint graffiti, which began appearing at the ledge in the 1970s. Since then, people have left everything from love messages to profanity.
Keeping a piece of history alive
Merritt convened the group on Tuesday to help teach them about the ledge's history. Many who knew about the ledge hadn't heard that it had petroglyphs dating as far back as 200 A.D.
He stressed the site differs from the hundreds of the state's other petroglyph sites because of its location in Summit County instead of central or southern Utah. There is currently no state plan on the docket to protect the ledge.
However, with some eyes on protecting similar rock art in Utah County that has been inadvertently damaged from gunfire, state historians wanted to show that there's more threatened rock art in Utah.
"There are no set plans (right now). That's why we wanted to get all these folks together and walk to get more people interested in the preservation of it," Merritt said.
State archaeologists aren't mad at those who previously spray-painted on the ledge. It's more than likely they didn't know they were painting so close to prehistoric artwork, Hora added.
"Maybe if they can step back and see that the moment is a little larger than them, see that the moment extends back 1,000-2,000 years, maybe pause before writing more graffiti on there," she said. "These are their forefathers as these are the forefathers of people who came before us. These are sacred images in a lot of different ways."
She hoped Tuesday's tour and a growing effort to bring awareness to a forgotten piece of Utah history could help save the ledge for future generations and end the graffiti.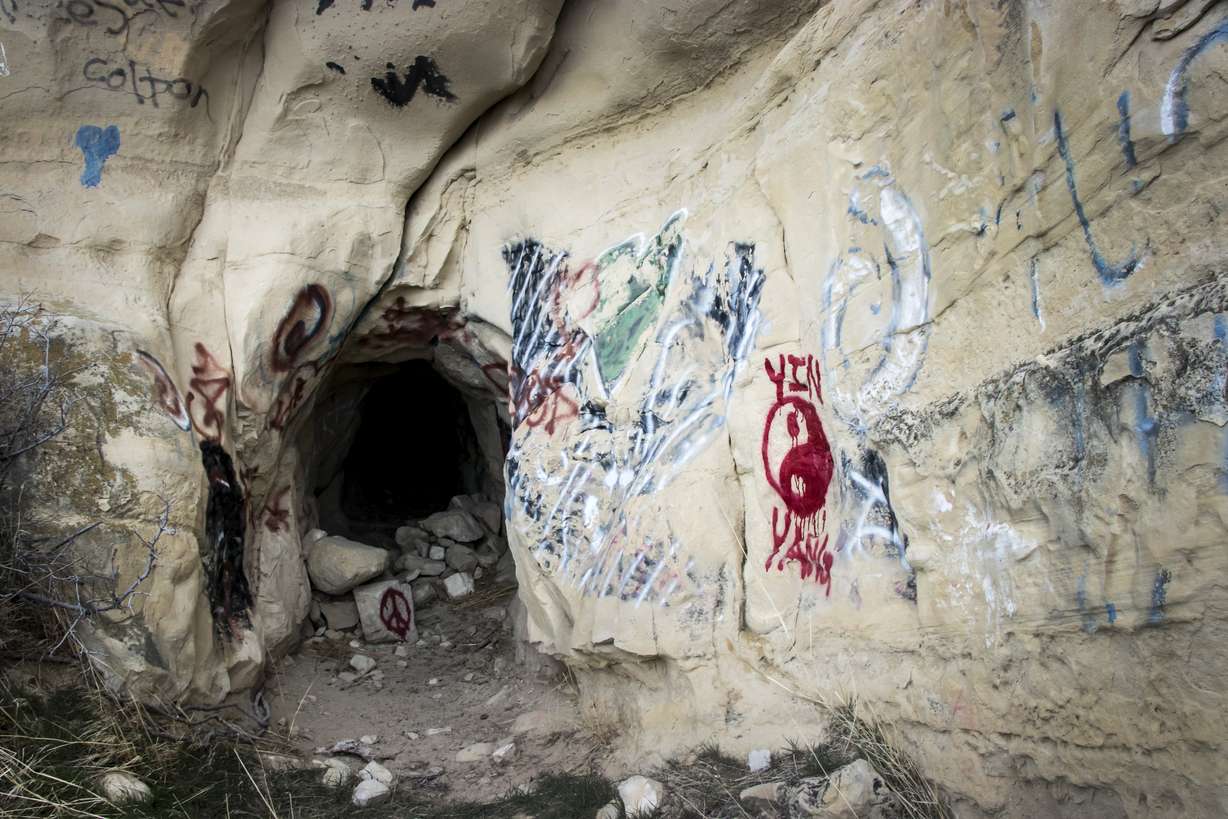 Vernon referenced the anticipated growth in the area as ways that will surely bring more people to the area, as well as more structures and possibly more graffiti on the ledge unless something changes. However, she conceded not all graffiti has been bad, since it has brought generations of people together to the ledge.
In fact, that's perhaps the most intriguing aspect of the area. The ledge has told the story of a small community for thousands of years.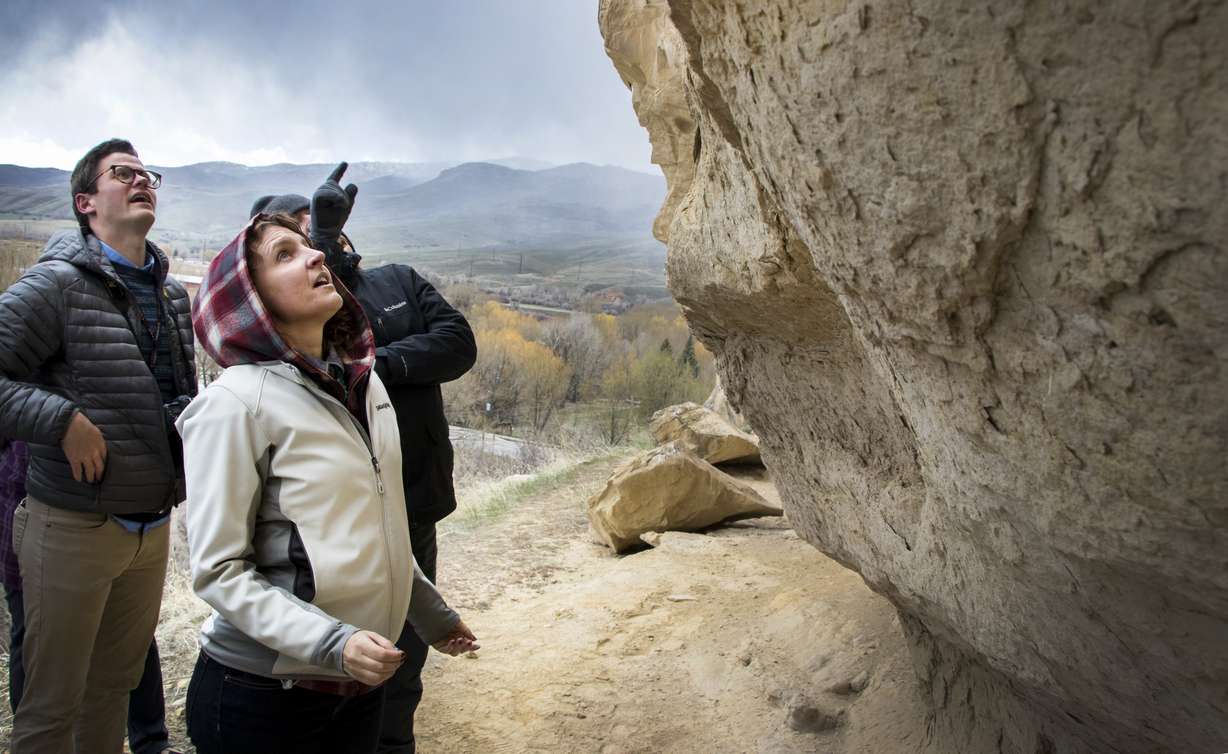 "You see people who are still using it, members of the community who are still loving it," Hora said. "People were coming up here with their family, with their friends, with groups they're associated with, and putting marks on the rock that is meaningful for them."
×
Photos
Most recent Utah stories