Estimated read time: 5-6 minutes
This archived news story is available only for your personal, non-commercial use. Information in the story may be outdated or superseded by additional information. Reading or replaying the story in its archived form does not constitute a republication of the story.
SALT LAKE CITY — Rep. Sandra Hollins, D-Salt Lake City, was a member of Rev. France Davis' congregation for nearly 30 years.
"He guided me spiritually when I made a decision to run for office. When it got tough with the campaign, he was the one that kept on reminding me, 'You know what? You just need to look at the bigger purpose of you running for office and what you're trying to accomplish, and leave all the petty stuff alone.'"
Now that Rev. Davis has retired after 46 years as a pastor at Salt Lake's Calvary Baptist Church, Hollins is hoping to honor him with a House bill that details his lifelong legacy.
HCR10 "recognizes the 46-year career of Pastor France A. Davis at the Calvary Baptist Church and honors Pastor Davis's work as a pastor, teacher, and activist," the bill reads.
The legislation takes a journey through Rev. Davis' life, beginning with his birth in Georgia, his participation in the civil rights campaigns of Martin Luther King Jr., and his ministerial career at Calvary Baptist Church, beginning in 1974.
"Pastor Davis has led his congregation to emphasize the importance of education and supported education by granting thousands of dollars to local students for tuition and necessities," the bill reads, noting that four scholarships were established in Rev. Davis' honor.
The religious leader was also appointed to the Salt Lake Community College Board of Trustees, was the first black member of the Utah Board of Regents and served on the Utah Board of Corrections "where he worked to reduce racial profiling by the law enforcement agencies during his service of a decade," the bill states.
Rev. Davis has also received numerous awards for decades of service, and his "lifelong commitment to ministry, ethics, education, and civil rights activism merits recognition," the bill says.
But how does Rev. Davis feel about the resolution — which not only allows the Legislature to honor him, but also ensures his legacy will be recorded in state history?
"Well, I'm a bit embarrassed, but I think it's an appropriate way to pass a resolution," he said, humbly. "I don't like to be called out and singled out or just talked about in that regard."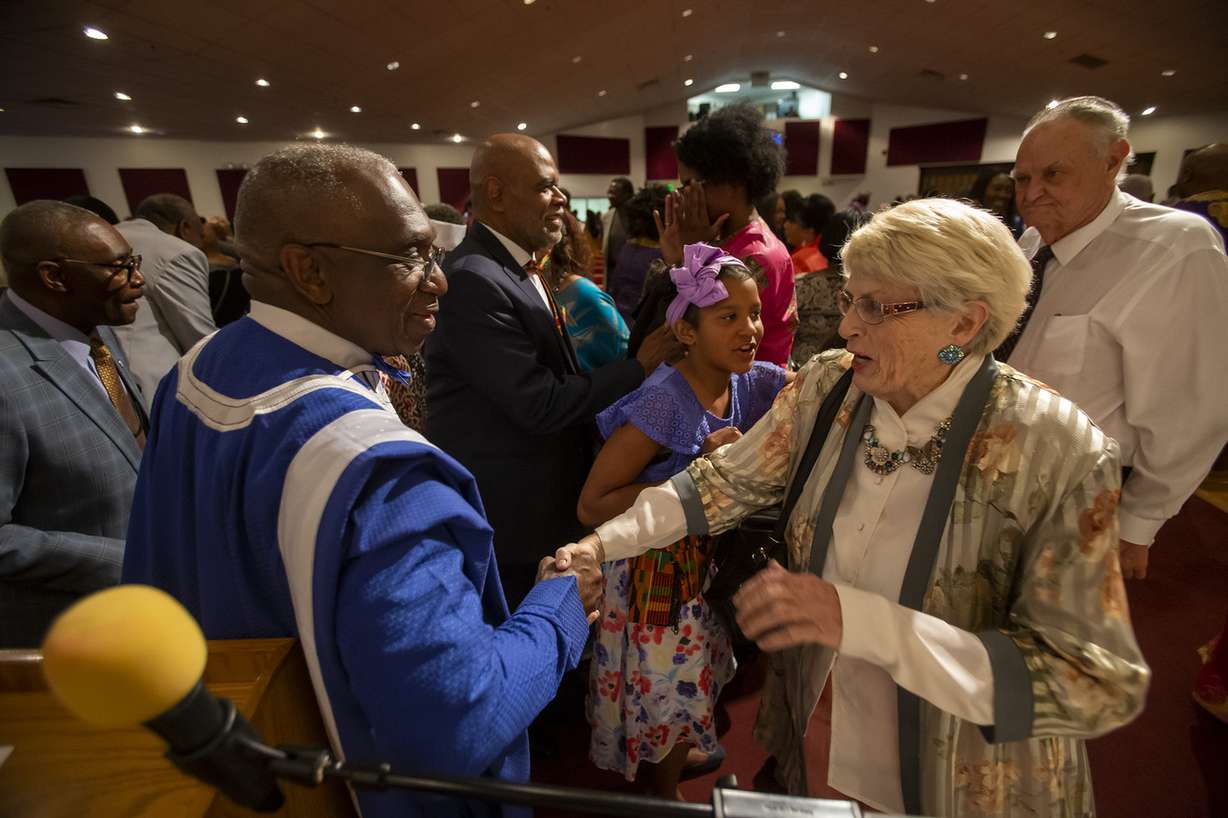 Hollins knows this about Rev. Davis, but she believes he's due a little recognition.
"Because he is so humble, he do(es) not get credit for the giant that he is in our community, and I want to honor him and recognize him for everything that he's done," she said.
The overarching conclusion by many who know Rev. Davis is that he's "always there."
"Whenever our family has needed him, he's always shown up. And most of the times, we don't even have to ask him to show up. He just shows up," Hollins said. "You know, when my daughter was in the hospital, he was there. It just amazes me how he manages to just be there for everyone whenever they need him. And he'd never ask for anything in return."
Shauna Graves-Robertson, a judge on the Salt Lake County Justice Court, told KSL.com in January that she left church early one day because she was worried about her mother, who hadn't shown up. When she did find her mother, she realized she had suffered a serious medical episode.
Graves-Robertson quickly called an ambulance. When the pair arrived at the hospital, there was Rev. Davis.
"I said, 'How did you know I was here? Who even told you that?' And he said, 'Well, I saw you get up and leave church, and you don't leave church, … so I knew something was amiss,'" Graves-Robertson remembered, laughing. "I mean, who would see that, particularly while they're doing their job!"
The House will vote on the bill next Thursday, and Hollins said they hope to send it to the Senate the same day. So far, nobody has been opposed to the piece of legislation, so she fully expects it to pass. Rev. Davis will receive a copy of the resolution once it's signed.
While Rev. Davis is honored by the resolution, the work that's brought him the most pride is "building a housing complex, and a church, and a community, and watching little old ladies who feel like they're nobody change so that they start to feel like they are somebody of worth," he said.
And that's the message the pastor wants to leave with everyone — that they're worth something. During the early years, especially as he fought to have Martin Luther King Jr. Day recognized in Utah, Rev. Davis experienced a lot of persecution, he said.
"But … my parents taught me to believe that I was somebody, that I had something to contribute, and that I was not less than anybody. And so, in spite of what people say or do, I just keep going," he explained.
Though he's retired, he's still working for a better Utah. While the pastor said he's seen some improvement, recent events make him wonder whether it's even close to enough.
A day before Valentine's Day, a lobbyist gave Hollins, the only African American legislator serving on Utah's governing body, a tag that said "slave" as part of a presentation to House Democrats that compared slavery to polygamy.
"When you look at things like what happened to Rep. Hollins … you wonder if there's been any real improvement. I hope so," Rev. Davis said.
Hollins believes Utah needs to arrive at the point where people are no longer comfortable being hateful to others in public.
"When we feel comfortable having conversations around racism and prejudice in this state, I think that will reflect us moving forward," she said. "We are diverse, but I think we could use a little bit more diversity in this state."
×
Related stories
Most recent Religion stories