Estimated read time: 4-5 minutes
This archived news story is available only for your personal, non-commercial use. Information in the story may be outdated or superseded by additional information. Reading or replaying the story in its archived form does not constitute a republication of the story.
PLEASANT GROVE – Inside a firehouse, preparation is paramount.
"Nobody wants to do a shift change and hand off a rig that's not fully equipped," said Eric Nish, a firefighter and paramedic with the Pleasant Grove Fire Department.
Nish spends a good portion of each workday digging through every bag and drawer of the various vehicles he takes to calls.
"We've got to be prepared for anything that comes out the chute," he said.
Every bit of equipment needs to be ready when he is. For Nish, planning is just a way of life.
"I was infantry," he said. "I was a grunt."
Nish spent seven years serving in the U.S. Army, including two trips to Afghanistan.
"On my last tour in the Army in Afghanistan, my platoon was assigned a role where we actually had to learn a lot more medical stuff and provide medical support," he said. "If anything happened, a helicopter went down, somebody went missing, we were kind of that rescue task force."
Nish trained with firefighters on base, and that's what first ignited his interest in the field. Once his time in the military was up, he started studying, and he hasn't looked back.
If there's one thing he's carried from his old life to his new one — aside from his routines of checking his equipment — it's his love of every animal he comes across. Finding a photo on his phone of himself posing with a stray dog in Afghanistan doesn't take but a few moments.
For him, working in Pleasant Grove is a perfect fit, for obvious reasons. One of the full-time members of their team is Arson, the department's fire dog.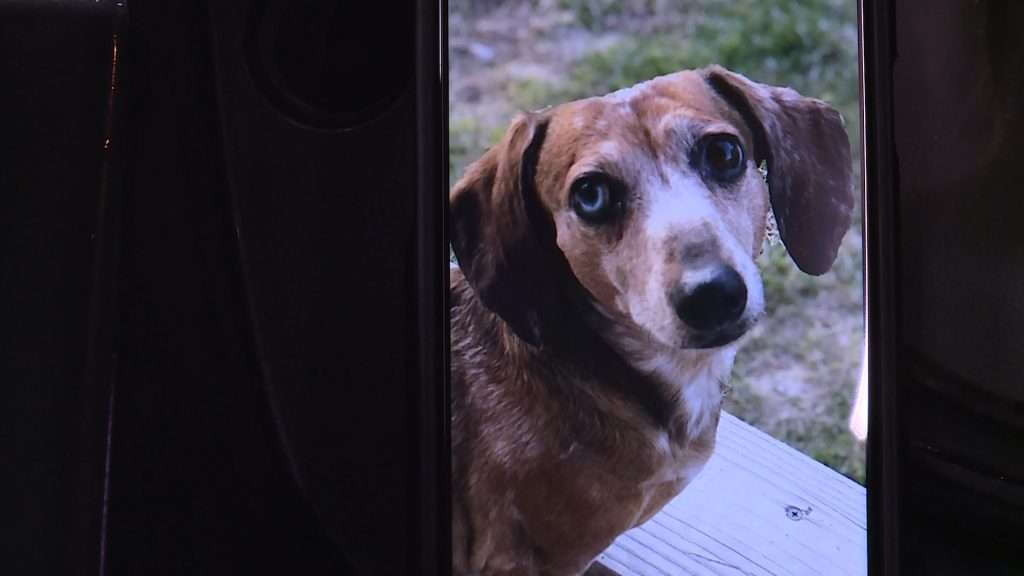 "Usually when someone picks up and dials 911, it's the worst day of their life," Nish said. "We're seeing that every single day. We end up seeing quite a few things, and he's always there to greet us when we get back. He's always happy to see us, he just jumps up on you. He just makes the day go a little bit better."
Dogs are a part of Nish's life, both at the station and at home. As he puts it, his wife would "buy every dog she came across." But when one of his pets was in need, Nish realized one piece of equipment was missing.
"One of my dogs had congestive heart failure and symptoms of respiratory distress," he said. "My wife was looking online for a mask that we could purchase."
During her search, Nish's wife came across a program called "Project Breathe," from the Invisible Fence company. He asked, and a full kit was provided to the fire department, free of charge — including three oxygen masks for animals of different sizes.
Nish demonstrated one of the masks on Arson, placing a cone-shaped piece of plastic over the dog's snout.
"You can see that the rubber membrane seals there," he said, pointing to the sides of the oxygen mask. "It's a maximum delivery system, versus losing a whole bunch around the side of the face.
Nish said many firefighters are forced to use whatever's on hand to help a pet that's been through a fire.
"Something like a solo cup or an adult mask, they would just put it over the animal's snout or nose and hopefully provide oxygen," he said.
According to Nish, many people believe animals will leave a house at the first sign of a fire, but the opposite is often true — they become scared and hide in a place they consider safe. He said the best thing anyone can do to protect themselves and their pets is to make sure their smoke detectors are working. Those give everyone a chance to get out before he and his team even show up.
"There's no actual running statistic, but they estimate between 40 and about 120,000 pets die each year, mostly due to smoke inhalation," Nish said. "Telling somebody that their beloved pet has passed away in a fire is a very difficult part of this job."
As for his family's dog, the mask Nish ordered for Aggie, his 13-year-old Dachshund, didn't make it in time. She passed away just a few months ago.
But he's now able to pack a bit of comfort with him on the next call — knowing that if it's needed, he's a little more prepared.
"Especially in a fire, they're already losing their home or whatever valuables, if we can do anything that can prolong the life of the rest of their family, or what they consider to be family members, then that's a bonus to us," he said.
×
Most recent Utah stories