Estimated read time: 4-5 minutes
This archived news story is available only for your personal, non-commercial use. Information in the story may be outdated or superseded by additional information. Reading or replaying the story in its archived form does not constitute a republication of the story.
PROVO — A study recently released by BYU researchers finds a connection between wildfires and increasing snowpacks, which researchers say has both good and bad consequences for Utah's landscapes and water supply.
The study, published in Environmental Research Letters in December, found that peak snowpack — the amount of water in the snow — increased 15% for every 20% increase in burn severity. Burn severity, BYU professor Sam St. Clair explained, ranges from areas untouched by wildfires to a forest being turned into a "moonscape."
However, the study points out that wildfires leave vulnerability for flooding and other economic concerns.
"In one scenario, it's a benefit in terms of water security; and the other, it's a liability in terms of corrosion, nutrient loss and flooding potential," St. Clair said. "That was really interesting, which helps us understand we need to think in a more nuanced way about what more wildfire means for our natural ecosystems and also for the benefits that it provides to society."
The study, authored by St. Clair and BYU Ph.D. student Jordan Maxwell, acknowledges that wildfires have been growing in frequency, size and severity across the globe, which has altered moisture inputs and energy in the atmosphere. It sought to see what that means for snowpack.
The research team received funding from the National Science Foundation in the early 2010s and Maxwell, as well as other students, started collecting data from the backcountry of the Tushar Mountains in central Utah a little more than five years ago. In some cases, they could only reach research spots on skis.
"We began conducting this study just looking at how the severity of fire impacted snow depth and accumulation and also the amount of water in the snow, which is important for water security — how much drinking water we can take from that snowpack," St. Clair explained. "We were also really interested in the melt rate."
They focused their attention on where the Twitchell Canyon Fire scorched 45,000 acres of Fishlake National Forest land in 2010. The fire was evenly-spread in severity, which gave researchers plenty of places to study its aftereffects based on burn severity. A federal report released on the fire noted 33% of the land was severely burned, 34% was moderately burned, 20% had low burn severity, and 13% was unburned.
The data gathered came from the winters that ended in 2015 and 2016. Researchers found an 85% greater snow depth in areas that burned completely compared to areas that didn't burn at all, in addition to the snowpack increase per severity. That's an important result for Utah, where researchers point out that 65% of the state's water supply comes from snowpack.
St. Clair said there are favorable outcomes for fires on north-facing slopes, which aren't as exposed to sunlight. These burned areas could help boost the state's water supply. However, fires on south-facing slopes may lead to more flooding and land erosion risks each spring.
Other scientists are also finding factors that can speed up snowmelt other than just sunlight itself, which could factor into the results discovered in the BYU study. For example, a study authored by a University of Utah researcher and published in the same research outlet in 2018, found that dust, including from the Great Salt Lake, can increase snowmelt rate. Another paper published in Nature Communication last spring found wildfire soot has the same effect.
---
We'll get some watersheds that will benefit from wildfire and there'll be other watersheds … that could really be affected adversely by this.
–BYU professor Sam St. Clair
---
The studies say dirt and soot on top of snow absorb sunlight and heat up faster than snow, which leads to the snow beneath the particles to melt faster. It's another aspect St. Clair said could create problems with increased snowpack from fires.
"Even though we're getting more snow, we may actually — because it's melting faster — not benefit, or maybe experience some adverse effects from it like, again, flooding, erosion and those kinds of things," he said.
Now that the team's findings are published, the group is focusing on trying to replicate those findings with samples a bit closer to BYU's campus.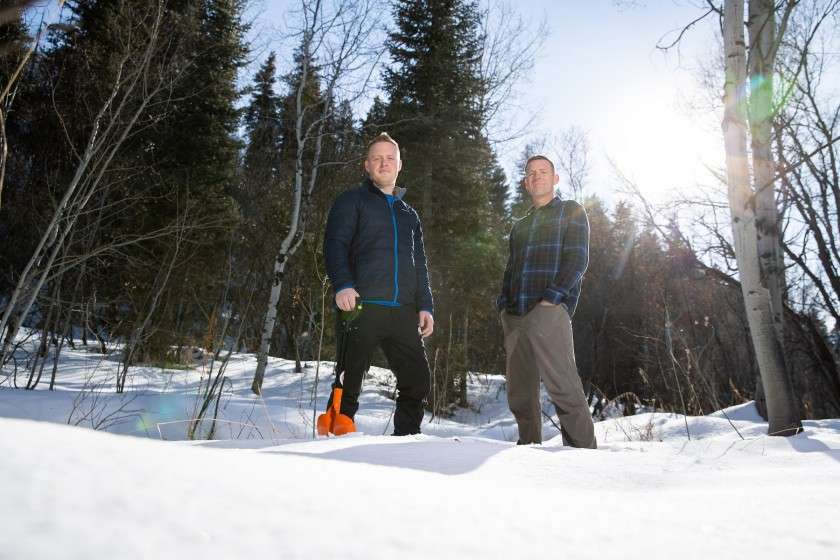 In 2018, the Pole Creek Fire burned about 100,000 acres in southwest Utah County. The team recently received funding to follow up its research by gathering data related to that fire and to look at their work in more detail, St. Clair said. They're hoping to understand how that fire has affected water quality, water yields and changes to the watersheds.
St. Clair added that the research from their study or future work may help map out what to expect once a fire has been contained.
"(We'll be able) then to look at how water security may be improved or where the liabilities — erosion, flooding — may occur. It will allow us to map out, at a much finer scale, areas of opportunity and areas of vulnerability," he said. "We'll get both of those. We'll get some watersheds that will benefit from wildfire and there'll be other watersheds … that could really be affected adversely by this."
×
Photos
Most recent Features stories