SALT LAKE CITY — Utah is known for having "the greatest snow on earth," as demonstrated in this week's storm. The state is also known for its great warm-weather recreational opportunities, such as hiking or skiing.
The Wasatch Mountain Club's goal is to teach Utahns how to "live and play" in the beautiful outdoors, and it's something the club has been doing for 100 years.
Bruce Parsons was 18 years old when he joined the club in 1940. At 98 years old, one of his goals is to live to 100. "My life has been built on goals and achieving goals," he said.
This year, Parsons celebrated the club's centennial with fellow outdoor enthusiasts at its kickoff event last month at the State Capitol building. The club received a Congratulatory State Proclamation for being the oldest mountaineering club in Utah and for 100 years of service to Utah's canyons and communities.
Parsons said nothing about the club has changed in his 80 years of membership. "Those mountains are still out there," Parsons said.
In his younger days, Parsons enjoyed skiing and hiking with the club all over the world. It wasn't until age 70 that he quit because he "hadn't broken anything yet" and wanted to keep it that way.
Parsons' start with the club is a story like many other members. Bill Riedley's love for hiking came after he moved to Utah from California. Anxious to discover the mountains, Riedley joined in 2018. He and his wife consider themselves unseasoned hikers and yet "never have a bad time" with the club. A favorite experience for the couple was watching wolves in Yellowstone last year.
With 12 to 15 activities a week on the club's calendar, Riedley enjoys the unique variety of outdoor expeditions. "The breadth of offerings it's got," Riedley said, "there's everything from hardcore mountaineering and canyoneering to slower pace foothill hikes."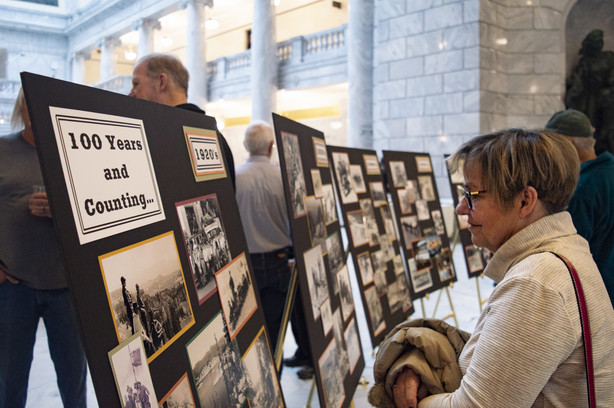 During the winter, members and friends can ski, snowshoe, bike and night hike with the club. Volunteer members teach newbies everything they need to know about the necessary equipment and proper technique for any physical activity they do.
Carol Masheter, a member for 30 years told KSL.com she learned how to use ice and snow mountaineering crampons and ice axes through the club.
The average age for club members is 50 years old. But with 1,000 members, ages range from 18 to 100 years old. Members of the Wasatch Mountain Club welcome all adults of all skill levels to join its comradery and appreciate the beauty of the outdoors.
Julie Kilgore, president of the Wasatch Mountain Club, grew up in Utah. She's been the club's president for 3 years and on the board for 10. Considering the next 100 years, Kilgore said the club will continue to provide opportunities for outdoor recreation and to keep passion, education and awareness for Utah's environment alive.
"If you want to learn anything about outdoor recreation in Utah, this is the place to make that happen," Kilgore said.
Correction: The previous version said Carol Masheter has been a member of the club for 40 years and that Julie Kilgore has been president of the club for 10 years. The years have been corrected.
×
Photos