Estimated read time: 7-8 minutes
This archived news story is available only for your personal, non-commercial use. Information in the story may be outdated or superseded by additional information. Reading or replaying the story in its archived form does not constitute a republication of the story.
LOGAN — More than a year after complaints were reported against Nyman Funeral Home, the owners of the business are facing criminal charges.
Charges filed by the Utah Attorney General's Office state 45-year-old Lonnie Nyman and his father, 72-year-old Kent Nyman, mishandled funds they collected for clients' pre-needs funeral plans by failing to put them into trust accounts, as indicated would be the case in their contracts and according to state law.
Both men were charged with a pattern of unlawful activity, unlawful dealing with property by fiduciary, and communications fraud. Lonnie Nyman faces two additional charges, including theft by deception and financial exploitation of a vulnerable adult. All of the charges are second-degree felonies.
The filings allege the men deposited the funds into the funeral home's operating account, which the men used for their personal expenses.
Hundreds of thousands missing
Between August 2014 and December 2018, Nyman Funeral Homes, LLC sold pre-need funeral contracts to 111 clients and deposited payments for those plans in the amount of $772,320.08. The KSL Investigators obtained financial statements showing the Nymans were spending money from that operating account on everything from sporting goods to shoes, fast food and even miniature golf. At last report, Utah AG records reveal the account had less than $1,000 remaining.
"My job at the time was to find the money," Logan Police Detective Andrew Soelberg said. "I've spent a year trying to find the money – to confirm where it was."
However, the lead detective on the case says his efforts have been unsuccessful.
"It was like the money in the operating account was spent with reckless abandon," said Gary Knighton, the son-in-law of one victim, Margaret Phillips. "There's so many things that are not business related."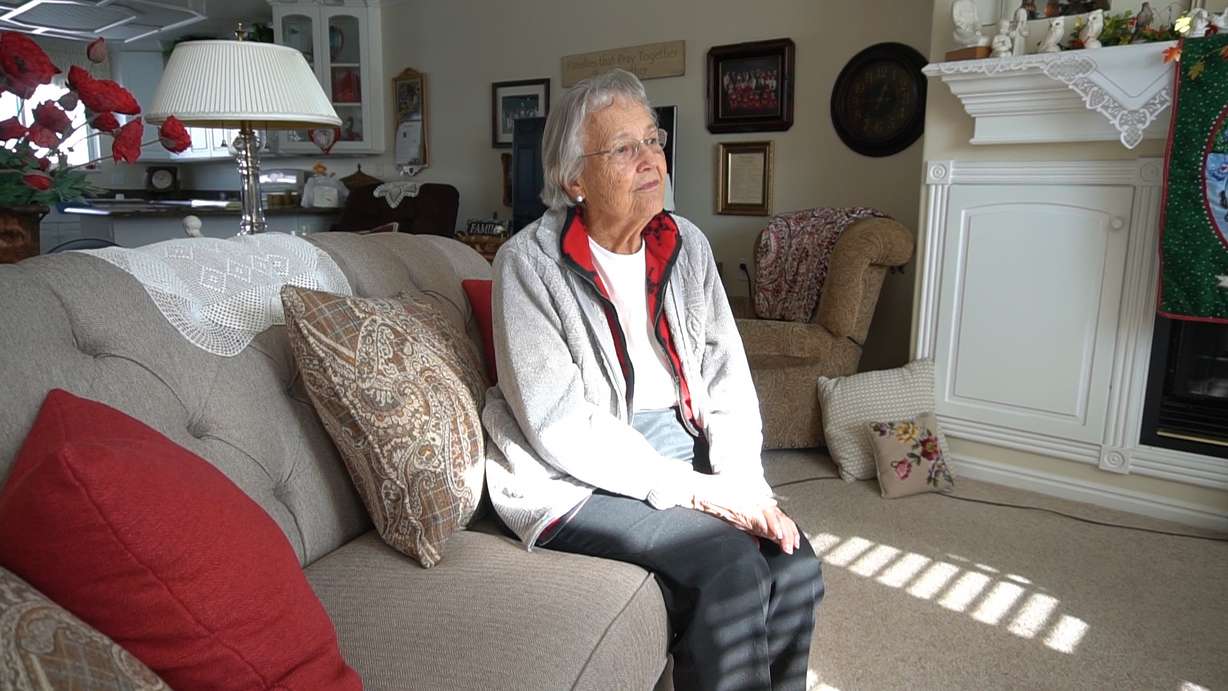 Phillips, 91, knew and trusted Kent Nyman so she didn't think twice when he encouraged her to set up and sign a prepaid funeral contract with his funeral home.
On May 27, 2016, she signed a contract and wrote a check for $8,485 directly to Nyman Funeral Home. It was deposited the same day, according to bank records obtained in a lawsuit filed against the business.
It wasn't until Kent's son, Lonnie – the co-owner and funeral director at the business – made the news in October 2018 after his arrest and subsequent prison sentence for arranging to have sex with a minor, that Phillips told her family about the contract she'd signed.
"(She) wanted to make sure that it was OK," Knighton said.
In November 2018, Knighton discovered Phillips had set up a trust account — not an insurance policy as she thought.
Knighton is currently acting as Phillips' power of attorney.
Licensing and regulations
Kurt Soffe, a long-time funeral director, sits on the Utah Funeral Service Board, which oversees funeral regulations across the state. He owns two funeral homes — one branch in Murray and the other in South Jordan. His family business, Jenkins-Soffe Mortuary, has been in operation since 1915.
Although Soffe does not know the Nyman family personally, he says he knew about the funeral home and the expectations the business is believed to have failed to meet.
"They were licensed as a funeral service establishment, there was a licensed funeral service practitioner, and there was a licensed pre-need sales agent. And yet, they did not follow the rules," Soffe said. "For them to have violated that trust truly is unconscionable."
Kent Nyman's license to sell pre-needs plans was surrendered on Dec. 20, 2018. On Sept. 27, 2019, the funeral home's license was also surrendered.
However, this action was not taken until after the Utah Division of Occupational and Professional Licensing (DOPL) received complaints about the business following Lonnie's arrest. After issuing pre-needs licenses, the state division does not do much to follow up on funeral homes and their financial practices.
When asked how DOPL holds funeral homes accountable to ensure businesses are selling contracts correctly and accurately maintaining finances of their clients, a spokesperson with the state agency provided this answer via email:
"DOPL investigates unlicensed practice in regulated professions or occupations, acts or practices inconsistent with generally recognized standards of conduct, allegations of gross negligence or incompetence, and patterns of negligence or incompetence."
The KSL Investigators were also told that funeral homes, unlike pharmacies, are not required to have inspections on-site to guarantee good business practices.
The email also stated:
"As with all DOPL professions and regulated establishments, complaints against Funeral Service Establishments, Funeral Directors and Apprentices, and Preneed Funeral Providers/Sales Agents, are assigned, investigated, and resolved in the same appropriate and professional manner."
In April 2019, Nyman Holdings filed for bankruptcy.
When the KSL Investigators asked Soffe whether the clients would receive the services they'd already paid thousands of dollars for, he replied, "I would think that, unfortunately, that the families are going to be far down the creditor list before they would be made whole."
"A very frustrating thing about working fraud is that, a lot of times the money's gone," Soelberg added.
Although Lonnie Nyman remains in state prison on unrelated charges, Kent is a free man. He's living at home near the family's business.
Kent Nyman did not want to speak with KSL on camera nor did he wish to provide a statement in response to the charges against him.
Although Lonnie agreed to speak with the KSL Investigators on-camera, the Utah Department of Corrections would not allow a camera inside the Gunnison facility. Over the phone, he said he's never denied anyone a funeral, or a refund — if and when one has been requested.
Protect your investment
Knighton says the state needs to do more to protect consumers.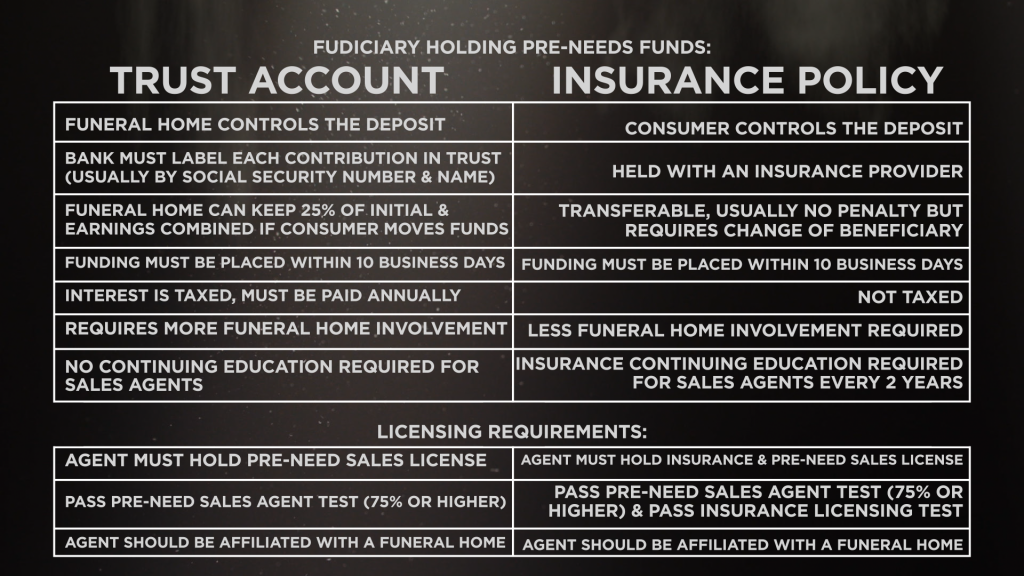 "They signed up for a trust that was supposed to be dedicated money that couldn't be touched," he stressed.
The Nymans were selling prepaid funeral plans two ways — funding them through either trusts or insurance.
Investigators say any money they collected through insurance is likely safe. Trusts, however, are controlled by funeral homes, which is why the Nymans arguably had more control of the money that currently is nowhere to be found.
Kent Nyman still has an active life insurance license. It was renewed in September last year.
If you believe you've been a victim of the Nyman Funeral Home and have questions, you're urged to contact the Logan Police Department at (435)716-9300.
Advice for consumers when pre-planning a funeral
1. Don't go alone
Don't sign anything by yourself. Make sure you have more than one person with you if you're going to go make these decisions. A second or third set of eyes and ears is always a good thing. Understand what you're getting into before you go.
2. Stop by a funeral home and ask questions
If you're interested in signing up for a pre-needs funeral plan, ask the funeral home how and where your funds will be kept and by whom. It may feel like it's difficult to know the right questions to ask. "Where's my money?" is an easy one. Find out the name of the institution and their location. If you don't get a satisfactory answer, leave. Any reputable funeral home should welcome any and all questions you have. If they don't, that may be a red flag.
Make sure that a pre-needs sales agent is affiliated with a funeral home in order to guarantee that full service, rather than an agent who is selling a final expense policy. Some consumers will unknowingly purchase a level benefit of death that has no ties to a funeral home. A death benefit is simply applied toward funeral expenses, the funeral is not necessarily arranged.
3. Do your research on the funeral home and financial institution
Has the company been in business for an extended period of time? Has it provided funding and/or services for multiple funeral homes and/or consumers?
Decide whether it's important to you that your funeral home be a member of the Utah Funeral Directors Association.
About 92% of funeral homes in Utah are part of the state association.
Funeral industry licenses in Utah
There are four different licenses that the state supervises when it comes to funeral services. They include:
Funeral Service Practitioners License
Funeral Service Intern License (that would be assigned to a Funeral Service
Practitioner; there are internships that someone who wants to become a director must fill.)
Funeral Service Establishment License (for the facility to operate as a funeral home); And then –
Pre-Need Sales Agent License.
There are 145 licensed funeral establishments and 390 licensed funeral directors in the state.
The KSL Investigators started looking into this issue after receiving a tip from one of our viewers.
Have you experienced something you think just isn't right? The KSL Investigators want to help. Visit KSLInvestigates.com to submit your tip, so we can get working for you. You Ask. KSL Investigates.
×
Related stories
Most recent Utah stories