Estimated read time: 3-4 minutes
This archived news story is available only for your personal, non-commercial use. Information in the story may be outdated or superseded by additional information. Reading or replaying the story in its archived form does not constitute a republication of the story.
SALT LAKE CITY — In response to a decline in deer populations in some pockets of the state due, in part, to adverse weather conditions and the animals falling prey to cougars in recent years, state wildlife officials issued an "emergency" increase of 117 cougar harvest objectives in 11 areas across Utah Thursday.
They hope the change will help bolster those areas where deer populations are struggling, such as Cache Valley and Ogden in northern Utah, the Book Cliffs region in eastern Utah, and Beaver County in southern Utah.
"We basically wanted to increase some of our cougar harvest in those areas since they're the primary predator for deer, just as kind of a way to stabilize and help some of those mule deer populations that are struggling to recover more quickly," said Faith Heaton Jolley, Utah Division of Wildlife Resources spokeswoman. "It's just been different pockets of the state that have either been hit really hard by these heavy winters or by drought seasons."
The change, which is effective immediately, means hunters with a harvest-objective permit can take one cougar until the season ends or the state's quota for that region is met. The 2019-2020 cougar harvest object season began Nov. 6, 2019, and runs through Nov. 3 this year.
DWR director Mike Fowlks issued the change to the division's 2019-2020 Utah Cougar Guidebook. In an amendment to the guidebook, the division explains that drought and heavy winter conditions between 2017 and 2019 resulted "in significant declines" of mule deer populations. Some of the division's units in the state experienced a steeper decline due to high cougar populations.
"The units with emergency permit changes have exhibited deer population declines of 15% or greater and have either already filled their harvest objective for cougar or are expected to based upon previous harvest success," the amendment says.
The DWR boundaries where additions went into effect include:
Beaver, East: Total harvest up to 23 cougars.
Beaver, West: Mineral Mountains to consolidate with Beaver, West. Unit reopened with an objective of 14 cougars.
Book Cliffs, East: Harvest objective increased to 44 cougars.
Box Elder, Desert: Harvest objective increased to 38 and unit reopened.
Cache: Harvest object increased to 38 cougars.
Chalk Creek: Harvest objective increased to 30 cougars and unit reopened.
Monroe: Total harvest up to 23 cougars.
Morgan-South Rich: Total harvest up to 23 cougars.
Nine Mile, North: Harvest object increased to 38 cougars.
Plateau, Boulder: Total harvest up to 24 cougars.
Ogden: Harvest objective increased to 24 cougars and unit reopened.
The Utah Wildlife Board increased cougar permits in 2019, issuing a total of 640 permits for the 2019-2020 season. That decision came as DWR saw a spike in cougar numbers over the past decade, while deer numbers have stagnated around 400,000 total.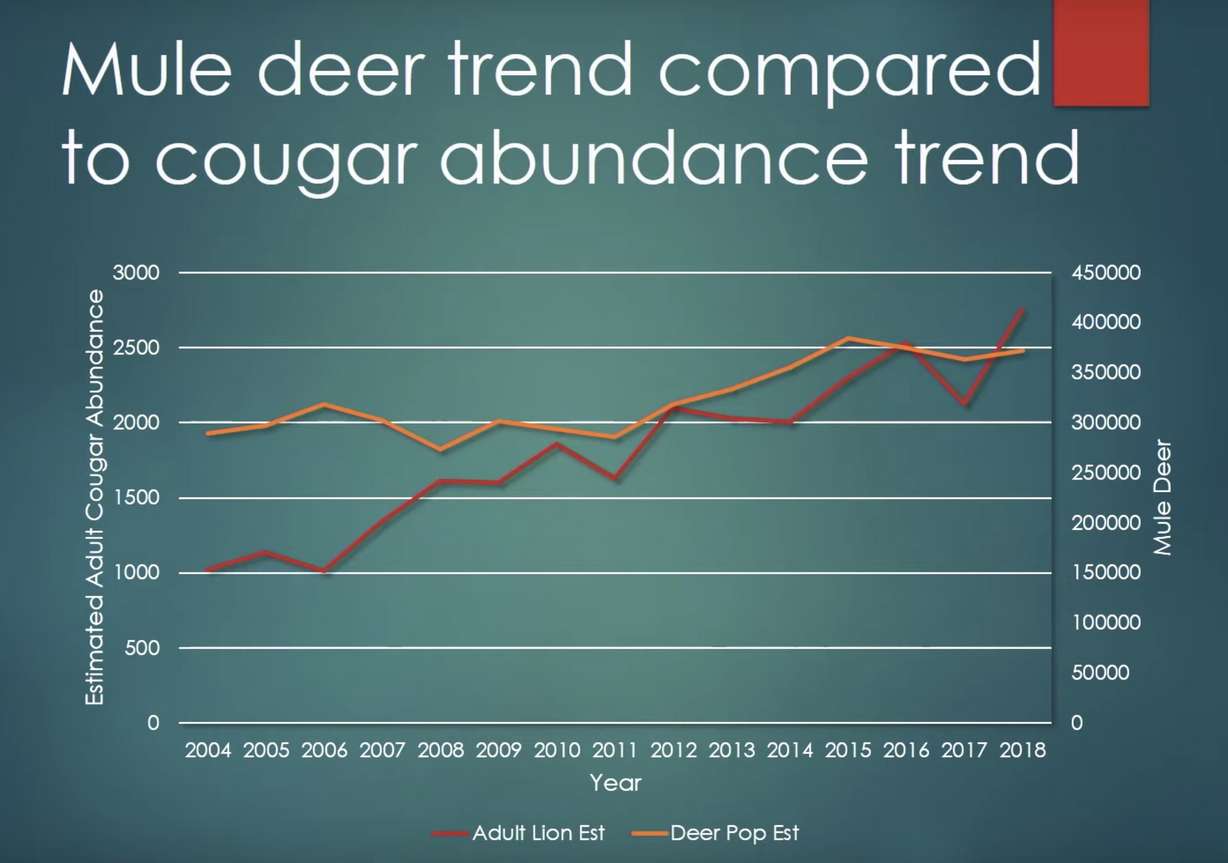 The board also approved new bear permits for the Beaver, Book Cliffs, Chalk Creek and Plateau Boulder regions, which were also issued, in part, to combat deer population declines in those areas earlier this month.
Despite the increase of permits or harvest objectives to deer predators, Jolley noted that the division is still making sure they are keeping healthy bear and cougar populations.
"There's sometimes controversy with hunting predator species," she said. "The biggest thing is we're trying to reduce some of these populations where these deer are struggling, and it can help facilitate them to recover more quickly, but it's also all these quotas we've set will help (maintain) sustainable management for both these predator and prey populations."
×
Related stories
Most recent Outdoors stories