Estimated read time: 5-6 minutes
This archived news story is available only for your personal, non-commercial use. Information in the story may be outdated or superseded by additional information. Reading or replaying the story in its archived form does not constitute a republication of the story.
ANTIMONY, Garfield County — After already meeting once, Garfield County authorities and state wildlife officials plan to meet next week to figure out how to best address wild animal calls after a small town's beloved deer was shot by a conservation officer last week.
The deer survived the incident and was reportedly doing OK as of Wednesday, according to Utah Division of Wildlife Resources spokeswoman Faith Heaton Jolley. However, the incident on Jan. 8 caused a stir that prompted a need for the two sides to sit down and address communication and protocol, Garfield County Sheriff Danny Perkins said.
"Their information wasn't quite as good as it should have been — to kind of go down there, without notifying anybody and trying to kill the deer in the middle of town by the elementary school, it just couldn't have gone any worse," he told KSL.com on Wednesday.
The incident is now leading the DWR to review how it handles its euthanasia policy, especially in cases involving potentially domesticated wildlife.
"It's something we could have obviously have handled differently," Jolley said.
The bizarre story centers around Sadee, a doe that can be seen frequently around Antimony, which is near the Garfield-Piute county line. She often lives on the property owned by the Montague family after Cole Montague, a town resident, rescued her after he struck and killed her mother with his truck a couple of years ago. When he went out to check the deer he struck, he found it was dead but its stomach "was going crazy."
"I did a little emergency C-section with a pocketknife and brought two baby deer home," he told KSL TV on Friday.
One of the deer died a few months after that, but Sadee is now almost 3 years old. Nearly everyone in town knows her and she often visits the post office or the little store down the road to say hello.
"She's had free roam of this town," Montague added. "She's never been penned up. We don't have a collar on her. We don't chain her up."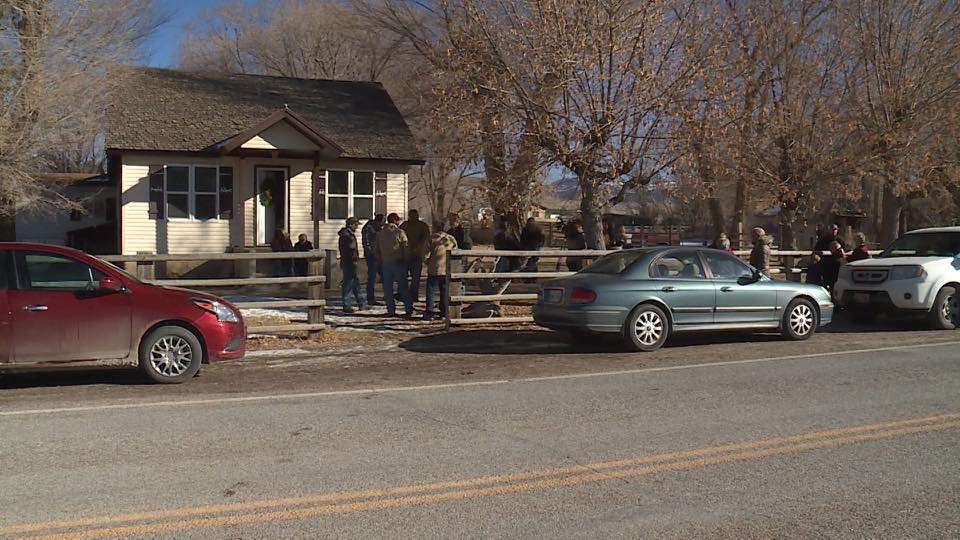 On Jan. 7, the Utah Division of Wildlife Resources received a report that a deer had stomped and killed a dog outside a home in Antimony. Jolley said the information DWR received came from the Garfield County Sheriff's Office. The following day, a DWR officer responded to a home where the incident reportedly occurred but did not receive a response from the homeowners, DWR Capt. Wyatt Bubak told KSL TV.
The officer then located a deer, which was Sadee, and attempted to capture it. The officer was unsuccessful before he began following the agency's euthanasia protocol, Bubak added. He fired a shot and the bullet went through Sadee's nasal cavity, but it missed hitting any of her vital organs and she lived.
The incident sparked controversy from Montague and also many residents who believed the conservation officer acted inappropriately.
"I'd like to see his badge jerked from him and him never having to deal with the public again. The DWR needs to apologize to us," he said on Friday.
DWR's law enforcement chief has already spoken over the phone with the family and agency officials hope to meet with the family next week, Jolley said. The case still remains under investigation.
There are a couple of aspects of the story still being worked out. First, Perkins said the dog reportedly killed was actually just injured after chasing the deer, and there was some form of miscommunication between the sheriff's office and DWR prior to the Jan. 8 incident. Jolley confirmed the dog in question's health remains unknown to the DWR.
Second, Bubak said it's illegal for anyone to keep a deer or any wildlife as a pet. Jolley explained that this case is a bit tricky because Sadee may not necessarily be a pet, but the deer appears to be domesticated.
---
Especially down here in southern Utah, we know these people. We can talk to these people. We get along with these people, and this could have all been avoided.
–Garfield County Sheriff Danny Perkins
---
While officials sort out the case, Perkins hopes the division will reevaluate how it handles wild animal calls and also how it communicates with outside agencies. He said he knew the officer involved prior to the incident and had no previous problems with him or the DWR in the past; he also expects to keep a good relationship with that agency in the future.
"What I'm asking for is maybe a little bit more information-sharing; maybe a little bit more cooperation between their agency and us when things come up. If I had been involved in this, I think there would have been a lot better outcome," he said. "Especially down here in southern Utah, we know these people. We can talk to these people. We get along with these people, and this could have all been avoided."
Jolley confirmed the two sides plan to meet again next week to address possible solutions, including a review of its euthanasia policy and it can be improved. Both Jolley and Perkins said no changes have been set in stone yet.
Even a week after the incident, Perkins still doesn't agree with the conservation officer's actions. However, he said he also doesn't condone some of the online backlash and scorn the officer has faced it happened, including at least one death threat. That's something he believes is unacceptable.
"He's just getting unjustifiably slammed on social media. There have been some horrible things said. This officer was following directions from a supervisor. This is not like we have a rogue officer going out there just taking the law in his own hands," Perkins said. "He's getting kind of a raw deal … it's getting to a point that they've threatened bodily harm. That's not good and I won't tolerate that."
×
Related links
Most recent Outdoors stories