Estimated read time: 6-7 minutes
This archived news story is available only for your personal, non-commercial use. Information in the story may be outdated or superseded by additional information. Reading or replaying the story in its archived form does not constitute a republication of the story.
SALT LAKE CITY — Erin Mendenhall was sworn in to office Monday, officially becoming Salt Lake City's 36th mayor.
Mendenhall, previously a city councilwoman who pitched herself on the campaign trail as a passionate air quality activist with nuts-and-bolts knowledge of city government, took her oath of office on a brisk but sunny afternoon — the January air uncharacteristically clear.
Many wearing sunglasses to shield their eyes from the bright sun, a crowd of onlookers welcomed Mendenhall into office with applause after she took the oath on the steps of the Salt Lake City-County Building.
Mendenhall becomes Salt Lake City's third female mayor, following in the footsteps of Jackie Biskupski and Deedee Corradini.
"This is the most humbling moment of my life," Mendenhall said. "I accept this responsibility with honor and gratitude."
In her speech, Mendenhall painted an optimistic future for Salt Lake City while also calling on residents from all walks of life to join her in "an ambitious work of love for this city."
"We need each other. None of us can do this work alone," Mendenhall said. "Without your unique experience in this city helping to guide us, we will not be able to bridge the gaps, mend where there have been holes, and scaffold to heights we have yet to reach."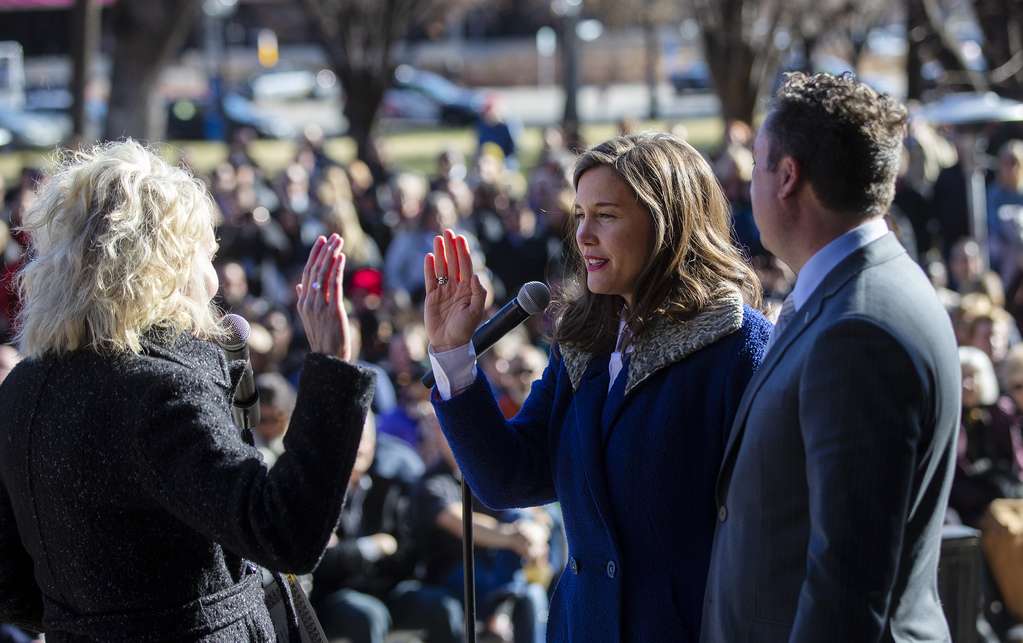 Mendenhall pledged to build a "thriving" city, "harness growth for the good of all" and to "build environmental resiliency into every action and investment we make."
"A fundamental work of being mayor is to ensure that the city runs well for its people — all of its people — every hour of every day," she said. "The next step is to build a better tomorrow."
As part of her speech, Mendenhall made two promises for her administration. The first, starting with her first day in office, was it will be the "policy of Salt Lake City government to ensure the impact on our air quality is a consideration in every choice we make."
"The kind of big structural change we need to deliver on air quality can't happen overnight, but we have to start somewhere," she said.
She also pledged to start tearing down the "silos" that separate city government into a dozen different departments and to build a government that is more accessible for all.
"We can do this if we work together with love and dedication as one city committed to reaching its greatest potential," she said. "Let's get to work."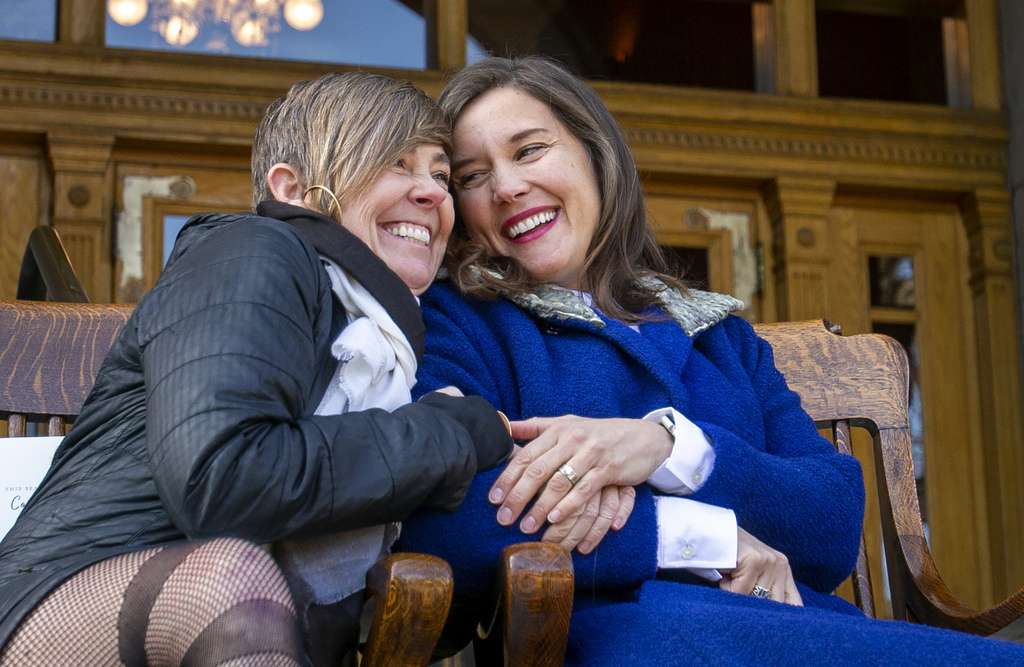 Pressing challenges
As Mendenhall takes office, she inherits many tough issues facing Salt Lake City — issues she's familiar with as a former city councilwoman. Those include challenges continuing to face Utah's evolving homeless system, as well as the contentious lawsuit over the Utah Inland Port Authority.
A few protesters holding signs stood in the crowd watching Mendenhall's swearing in. One sign read, "Shelter for all, Mendenhall."
On the eve of her swearing in, 17 protesters were arrested after a clash with police in riot gear outside of the Salt Lake City-County Building as officers cleared out several tents that had been set up as a display of criticism of the new homeless system. Even though Biskupski and Mendenhall invited the protesters to speak with city officials about their concerns, protesters declined, seeking to draw attention to what they say are a lack of available shelter beds following the closure of the downtown homeless shelter.
Critics have long worried the new homeless centers wouldn't have enough beds to replace the downtown shelter, and some nights some of those centers have reached capacity, but providers also report difficulty coordinating to fill all the beds on other nights. Some people experiencing homelessness have also refused to leave the downtown area, though they are given an option to sleep on overflow mats at the St. Vincent de Paul Dining Hall, or wait in a chair at the Catholic Community Services' Weigand Center for services.
Mendenhall has said homelessness is among the immediate issues she plans to tackle in her first days in office. She has said she plans to quickly explore solutions to better publicly track bed availability in real-time and provide better transportation solutions for people camping on the streets.
"Ultimately we all want the same solution, which is that no one is turned away from shelter when they seek shelter, particularly during these winter months," Mendenhall told reporters after her inauguration.
Mendenhall pointed out she long ago, as a councilwoman, expressed the same concerns about the Road Home closing that the protesters are now demonstrating, but since that decision was made at the state level, she said she aims to explore more "emergency overflow opportunities" with city, county and state partners as they head deeper into winter.
"Because I don't doubt in the next two months as blizzards come through ... that we will be short on beds in the homeless resource centers and people would be turned away," Mendenhall said. "I don't believe that sitting up in a chair sleeping at the Weigand Center is the best humane option that we're offering. We need to actually provide opportunities for people to lay down and sleep."
"I don't believe there is a shortage of resources," she added. "It's really figuring out what steps do we need to take to get there."
A new day for Salt Lake City
As the outgoing mayor, Biskupski sat with other city leaders when her replacement was sworn in. Biskupski, after initially announcing a bid for a second term, withdrew from the race last year citing a "private and complex" family matter.
Addressing her predecessor, Mendenhall thanked Biskupski for her leadership over the last four years "and the courage you've brought to the values of equity, environmental sustainability, and expanding access of affordable housing" throughout Salt Lake City.
Biskupski didn't linger or mingle with officials after Monday's ceremony, but earlier in the day she posted a message on Facebook reflecting on her first and only term as mayor, saying she leaves office "full of gratitude," thanking her supporters and her family, and reflecting on her accomplishments.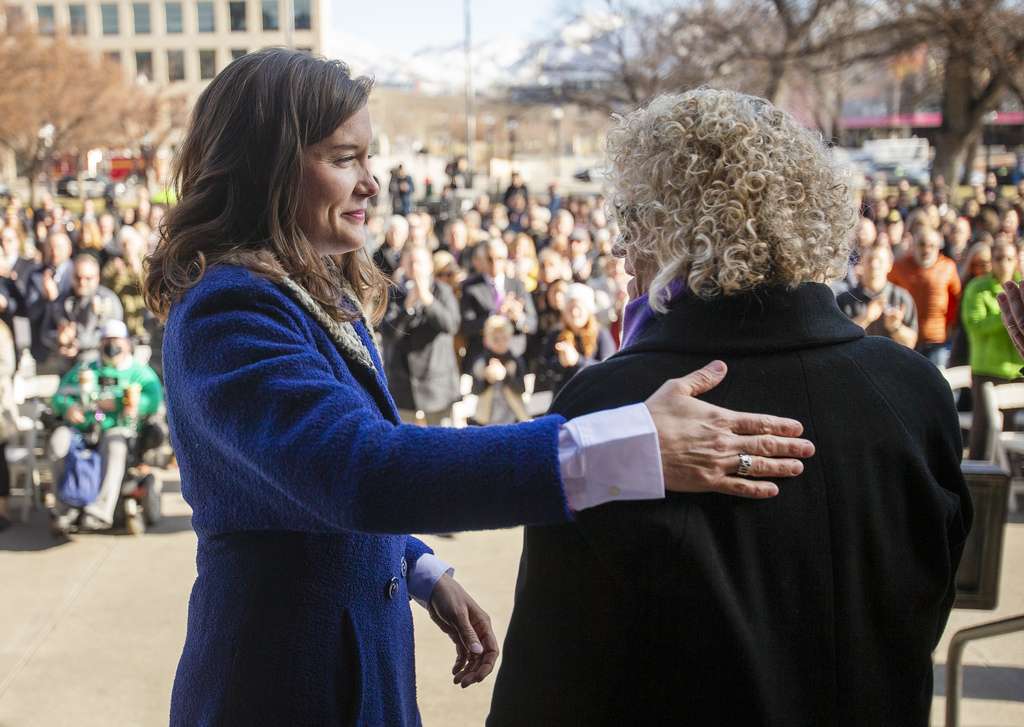 "Four years ago, I swore an oath to serve and defend this city," Biskupski said. "With the support of residents, my team and I set out to address issues that were hard but that would help make this place stronger."
After an administration of many conflicts with the Salt Lake City Council — a majority of which endorsed former Mayor Ralph Becker in the 2015 election before he faltered to Biskupski — Mendenhall takes office with many supporters and old friends on the council. She promised to work well with the council, saying she knows of council members' "commitment to the good of this city."
"We have been through a lot as a council family, as a city, and I know that we will go through high waters," Mendenhall said.
Three members of the Salt Lake City City Council were also sworn in Monday, two of which won reelection: Councilman Andrew Johnston and Councilwoman Ana Valdemoros. A new face was also welcomed to the City Council, Dan Dugan, as he took the oath of office for District 6 after unseating Charlie Luke in the November election.
Other dignitaries who attended Monday's ceremony included Becker and former Utah Gov. and Ambassador to Russia Jon Huntsman Jr., who is running to be Utah's next governor.
Becker, in an interview with the Deseret News after the ceremony, said Mendenhall has had a "promising" start, applauding her approach to the transition by taking recommendations from a committee of community experts.
"I really believe that she brings the qualities that we need to be successful," Becker said. "It's great to see her embark on this journey."
×
Photos
Most recent Utah stories